It's skidded or rather crashed. But is now really a good time to back up the truck in Nikola (NASDAQ:NKLA)? Let's take a closer look at some of what's happening in NKLA stock both off and on the price chart, then offer a risk-adjusted determination aligned with those findings.
Before GameStop's (NYSE:GME) moonshot earlier this year, or the more durable second coming of Bitcoin (CCC:BTC-USD) of the past several months, for a brief time and for investors seeking a high-octane investment, it was all about NKLA.
And for a couple very alluring reasons too.
Nikola. It wasn't the first SPAC or special purpose acquisition company. The initial public offering alternative actually dates back to 1993. But shortly after last March's novel coronavirus bottom in the stock market, SPACs seemingly began to take on a life of their own.
DraftKings (NASDAQ:DKNG) and Virgin Galactic (NYSE:SPCE) had already been gaining some notoriety prior to Wall Street's brief but spectacular market crash. But relatively speaking, investors hadn't seen anything yet.
Enter Electric Vehicles
It was the injection or marriage of electric vehicles with blank-check companies that made SPAC stocks almost a household name, and which sent investors over the top. Workhorse (NASDAQ:WKHS). ChargePoint Holdings (NYSE:CHPT). QuantumScape (NYSE:QS). Hyliion Holdings (NYSE:HYLN). Canoo (NASDAQ:GOEV). And NKLA, led by its PR hungry front man Trevor Milton, was the ringleader.
Nearly one year ago, NKLA, which proclaimed itself as the company that would commercialize the big rig, long-haul transportation market into a greener one with its EV platform, began it's ascent. A breakout in early May sent shares through Nikola's pre-Covid high of $16.25 set two months prior. And for one month, shares barely looked back as NKLA soared by more than 475% to a high of $93.99.
Wall Street was hooked. But NKLA was a line with a sinker attached.
Today of course, most any investor with even a passing knowledge of SPACs knows things went dreadfully wrong for NKLA. In a nutshell, it "mostly" turned out Nikola was better at manufacturing deceit. This famously included a video of a faked gravity-assisted Nikola big rig moving under its own power, than in producing road-worthy EV vehicles.
Fast forward 10 or so months and there's been a handful of volatile bumps in the road where bulls briefly got the better of short sellers and General Motors (NYSE:GM) nearly looked like a crash test dummy. But today, shares of Nikola have not only made a complete U-turn of their spectacular rally, NKLA stock has continued to reverse toward its pre-merged days as VectoIQ Acquisition and its original $10 offer price.
NKLA Stock Daily Price Chart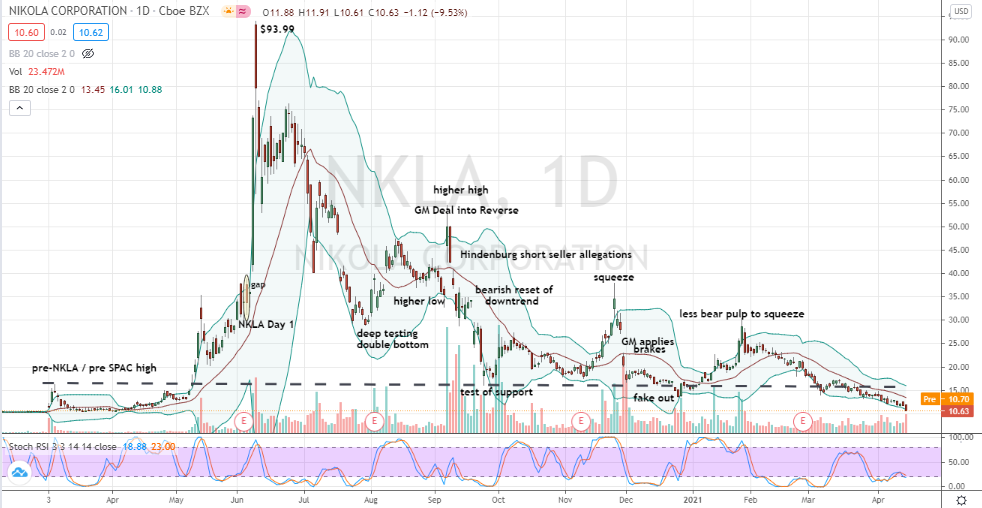 Source:
Charts by TradingView
Today and for some investors, the question might be whether at a price of $10.63 or for that matter $10 a share, is an appropriate time to back up the truck in NKLA stock. Larger institutions that bought into VectoIQ may be crossing their fingers for that kind of support by investors. I'd warn otherwise and look past any possibility of a tantalizing double-bottom in-the-works as the Nikola saga remains plagued with problems.
This past month, the struggling SPAC saw strategic partner Hanwha Group announce plans to liquidate half its holdings. And in February, NKLA reduced its projected output for its first commercial zero-emission vehicles. The company also stated it may raise additional capital. And if that weren't enough, the icing on the cake is Nikola's most recent trials and tribulations following an internal probe revealing several inaccurate statements.
Bottom line, NKLA stock's real-life downhill journey looks nowhere close to being finished. But if investors fancy the stock as an extreme contrarian play and can't help but buck bearish trends, off and on the price chart, in motion – risk capital sizing and a vertical bull call spread would be the approach and cargo of choice.
On the date of publication, Chris Tyler holds, directly or indirectly, positions in DraftKings (DKNG) and its derivatives, but no other securities mentioned in this article.
Chris Tyler is a former floor-based, derivatives market maker on the American and Pacific exchanges. The information offered is based on his professional experience but strictly intended for educational purposes only. Any use of this information is 100% the responsibility of the individual. For additional market insights and related musings, follow Chris on Twitter @Options_CAT and StockTwits.