Fintech stocks are only growing in popularity as millions turn to mobile payments to manage their financial needs.
In fact, the technology is disrupting traditional banking and finance as many of us reduce the use of banknotes thanks to that pesky pandemic. Not only can we process payments, but we can also bank from our phone, transfer money between parties, and lend money.
The industry is heating up so fast, the global market could be worth up to $305 billion in the next five years, according to Market Data Forecast.
"Banks … are facing extensive competition from Silicon Valley, both in the form of fintechs and Big Tech companies," according to JP Morgan CEO Jamie Dimon. "Fintech companies, in particular, are making great strides in building both digital and physical banking products and services. From loans to payment systems to investing, they have done a great job in developing easy-to-use, intuitive, fast and smart products."
With the industry growing fast, here are three of the top fintech stocks to consider.
Top Fintech Stock – PayPal Holdings (PYPL)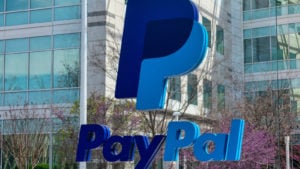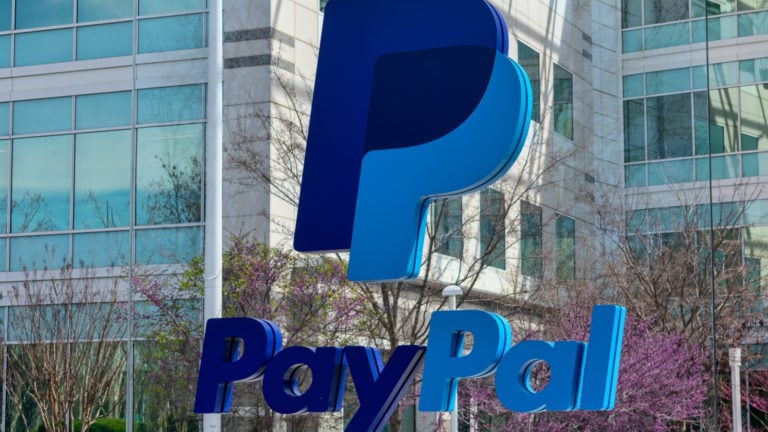 PayPal has been one of the most explosive fintech opportunities, PYPL stock could easily see higher highs.
In its most recent quarter, the company posted adjusted EPS of $1.22, as compared to estimates for $1.01.
Revenue came in at $6.03 billion, as compared to expectations for $5.9 billion. Total payment volume was $285 billion, as compared to estimates for $265 billion.
With fintech demand through the roof, these numbers are only likely to get better. For the full year, PayPal sees revenues up about 20% to $25.75 billion, and adjusted EPS growth of about 21% to $4.70. Analysts were looking for $4.57 on sales of $25.71 billion.
That's growth you don't want to bet against. I'd also use recent weakness as a buying opportunity. Currently sitting at double bottom support, I'd like to see the PYPL stock back to $270 near-term. From there, if it can break above double top resistance, we could potentially see a test of about $310 set back in February.
Square Inc. (SQ)
Square is another red-hot fintech stock to consider.
Since bottoming out around $32 in March 2020, the SQ stock exploded to a high of $275. It now trades just under $200 a share at support dating back to January.
I'd use weakness here as an opportunity to buy, as SQ becomes ridiculously oversold on relative strength, MACD, and Williams' %R. From here, I'd like to see a test of $280 again, near-term.
In its most recent earnings report, the company posted EPS of 41 cents a share, blowing 17-cent estimates out of the water. Revenue of $5.06 billion was well above expectations for $3.36 billion. Cash App gross profits were up 177% year over year to $495 million.
Better, according to CNBC contributor MacKenzie Sigalos, "With respect to guidance, the company expects gross profit to grow by more than 135% year over year for its seller ecosystem and by approximately 130% year over year for its Cash App, in April."
Again, I'd use any weakness as an opportunity to buy the Square stock.
Fintech Innovation ETF (ARKF)
Whenever I'm investing in a hot industry like fintech, I always pick up an ETF for diversification at less cost.
The ARKF ETF for example trades just under $46 a share. If I buy 100 shares, it's $4,600. Plus, I'm offered diversification with fintech names such as Square, Shopify (NYSE:SHOP), PayPal Holdings, Pinterest Inc. (NYSE:PINS), and MercadoLibre (NASDAQ:MELI).
If I were to buy 100 shares of just the SHOP stock, it would cost me $109,100. Or, I could just buy 100 shares of ARKF and gain exposure to SHOP, and all of the other holdings.
On the date of publication, Ian Cooper did not have (either directly or indirectly) any positions in the securities mentioned in this article. The opinions expressed in this article are those of the writer, subject to the InvestorPlace.com Publishing Guidelines.
Ian Cooper, a contributor to InvestorPlace.com, has been analyzing stocks and options for web-based advisories since 1999.