Now is the perfect time to take a deep dive into major gun stocks as the firearm industry experiences a major spike in sales.
Last year, Americans purchased about 23 million guns, according to Small Arms Analytics, as reported by CNN. So far this year, FBI background checks have increased by 41% year-over-year, a clear inductor that we are in for another massive cycle.
However, much to everyone's surprise, gun stocks have not done as well this year, vexing Wall Street analysts. This is possibly because investors are skeptical of investing during President Joe Biden's administration, which has an ambitious gun-control agenda.
But it's important to note that sometimes, that can actually help. Anand Gopal, professor of information systems at the University of Maryland's Robert H. Smith School of Business, who recently published the study "Traders, guns, and money: The effects of mass shootings on stock prices of firearm manufacturers in the U.S.," wrote in an email to InvestorPlace, "Stock prices for U.S. firearm manufacturers appear to fluctuate based on two factors — an increase in the probability of firearm regulation and the short-term perception of danger to life and property."
So for a value investor, the time is right to strike. Background checks peaked last September, after record-breaking new gun applications in the previous two months. And that was the moment when most investors decided to go ahead and book their profits.
At this point, we know very little of how the Second Amendment debate will end. But one thing is for sure. Fear of gun control is part of the reason for record-breaking gun sales. As long as the fear of restrictions hangs over the sector, gun stocks will do well.
As Gopal wrote, "This raises the question — are the current prices already factoring in the Biden Administration's intentions and the ongoing crises with the pandemic and unrest on the southern border? My sense is that no, these prices will continue to rise till we hit the next inflexion point — the 2022 mid-term elections."
Here are seven gun stocks that are some of the top stocks to consider from the firearm industry:
Gun Stocks to Buy: Smith & Wesson Brands (SWBI)
One of the few pure plays left in the industry, SWBI has novelty among gun enthusiasts purely because of the iconic firearms it manufactures. At the height of the pandemic in March 2020, shares of the gunmaker fell to $4.42 a pop.
But they exploded to a high of $23.57 in early 2021. However, there has been a price correction in the last few months, and the stock is trading at a more reasonable valuation now.
Much like the other gun stocks on this list, earnings are rock-solid due to the heightened demand.
On March 4, the leading firearm brand reported net sales of $257.6 million, an increase of 102.2% compared to $127.4 million in the year-ago period. The gross margin was 42.6%, compared to 28% in the prior-year quarter.
The company generated $60 million of cash from operations, which was used to complete a $50 million share-repurchase program and pay its second-quarter dividend.
And if you thought the company was done giving back to shareholders, then think again. Management has authorized a new $100 million dollar share-repurchase program and a 5-cent-per-share dividend when reporting its earnings. It's important to underline here that this performance should not come as a surprise.
In the second fiscal quarter, gun sales more than doubled, and margin growth was also excellent.
Sturm Ruger (RGR)
Another favorite among gun stocks is RGR. Shares have recovered nicely from their 52-week low of $50 a pop and closed at $65 on Friday.
However, the stock is still trading at a steep discount from its July high of about $90.74. Value investors will find this one particularly exciting, considering the two times price-to-sales (P/S) ratio.
RGR is one of the most puzzling companies in the space. For all intents and purposes, it's a solid performer. In the last three years, sales have increased by 5.4% and 26.5%, respectively. In the most recent quarter, net sales came in at $568.9 million and diluted earnings were $5.09 per share, versus net sales of $410.5 million and diluted earnings of $1.82 per share in 2019.
The company also announced a dividend of 71 cents per share, approximately 40% of net income. It's in line with the gun maker's historic policy of strong dividend payments. Due to this reason, the dividend yield stands at a very healthy 4.3%.
Despite all this, the stock trades at very reasonable multiples.
Big 5 Sporting Goods (BGFV)
If you are looking for more diversification when investing in gun stocks, look no further than BGFV. More of a sports retailer than a gun maker, the company has struggled for a while due to the rise of e-commerce and a general change in preferences.
According to a Pew Research Center poll, 50% of millennials between the ages of 18 and 36, believe gun laws in the U.S. need to get more strict. That does not bode well for the long-term prospects of a stock like BGFV.
However, there are two positives for the business. First, as I mentioned in the intro, gun sales are at an all-time high, and even though young men and women are more in favor of gun control, they are just marginally ahead of the overall U.S. population on the subject.
But if you are still skeptical, BGFV should be right up your alley. Since it is more diversified, you can cover a lot of bases with this one. Plus, it's trading at a very reasonable 7.5x trailing price-to-earnings (P/E) ratio.
Vista Outdoor (VSTO)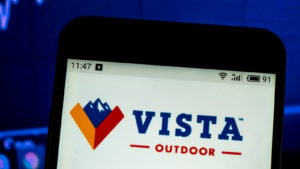 Vista Outdoor will strike you as being close to BGFV in many ways. However, the one area where it struggles is valuation.
Shares closed last Friday at $32.61, which is not that far from their 52-week high of $38.36. Aside from the limited upside, the company is firing on all cylinders. The Anoka, Minnesota-based outdoor sports company has beaten analyst estimates six times in the last six quarters, per CNBC data.
Moreover, the top-line has grown 17.1% in the last year and is expected to increase by 22.8% and 28.2% in fiscal 2021 and 2022, according to analyst estimates. However, at 38.4x trailing price-to-earnings, I would wait for a dip before buying in.
Olin Corporation (OLN)
One of the more curveball ways to play gun stocks is Olin Corporation, which is primarily a manufacturer and distributor of chemical products. Now you might be thinking, what gives? This is a list of gun stocks.
Well, what many may not know is that under its Winchester brand, Olin produces and sells sporting and small caliber military ammunition. That is one of the main reasons the stock is up 70% over a three-month period.
Due to the specialized nature of its product, Winchester products command premium pricing, which is why the company has enjoyed consistently high margin growth. Earnings, too, have been solid. In the first quarter, net income came in at $243.6 million, or $1.51 per diluted share, versus a net loss of $80 million, or $0.51 per diluted share, in the year-ago quarter.
Much of this blockbuster performance is down to Winchester, which recorded sales of $389.2 million compared to $188 million in the 2020 first quarter. Consequently, segment earnings ballooned to $85.1 million from $10.5 million. And with gun sales at record highs, expect the segment to contribute heavily to the bottom line moving forward.
Ammo (POWW)
One of the tougher gun stocks to analyze is Ammo. Not too long ago, this was a penny stock that had very little chance of long-term success. However, due to political uncertainty and the prospect of stricter gun laws, it has taken the limelight as one of the more exciting gun stocks out there.
Shares ended last week at $7.39 a pop. In the past year, the stock has shot up by 311%. Some of that success is warranted. After all, this is a company that has seen a 500% increase in sales for its third quarter and is forecasting revenues of $120 million for the fiscal year ended March 31, 2022.
Considering the supply-demand dynamic, it makes sense that an ammo company will do well during this time. But the larger issue is whether POWW is a long-term winner for your portfolio, past this unprecedented surge in firearms sales. Hence, this is one of the riskier gun stocks out there.
American Outdoor Brands (AOUT)
We polish off this list with yet another strong performer. Spun off from Smith & Wesson Brands less than a year ago, American Outdoor could not have hoped for a better debut year.
In the first two fiscal quarters of 2021, sales jumped over 60%. And anyone thinking that the momentum will stall was in for a rude awakening since the top-line gained 91% in the third quarter.
Last year saw a massive increase in the number of people pursuing shooting sports. Hence, it makes sense that AOUT did well.
However, what is important to note here is that the company is still new. The fact that it is generating such strong retail sales within a year of its debut mean that the company is doing something right.
Plus, at 13.3 times forward price-to-earnings, I will say that it's still trading at an attractive valuation when you consider its growth prospects.
On the date of publication, Faizan Farooque did not have (either directly or indirectly) any positions in the securities mentioned in this article.
Faizan Farooque is a contributing author for InvestorPlace.com and numerous other financial sites. Faizan has several years of experience in analyzing the stock market and was a former data journalist at S&P Global Market Intelligence. His passion is to help the average investor make more informed decisions regarding their portfolio. Faizan does not directly own the securities mentioned above.