Shares of Amazon (NASDAQ:AMZN) looked to have found some semblance of support after a sharp sell-off. AMZN stock has fallen more than 10% this month after making new all-time highs at $3,554 on April 30.
The weakness was despite the fact that the company once again blew past EPS and revenue estimates.
Certainly the stock may have rallied a little too much to start the year and was due for a pullback. The selling looks to have finally abated, however.
Time to be a buyer of Amazon on any further weakness.
AMZN Stock and Valuation
Amazon has absolutely crushed earnings expectations over the past four quarters. Other fundamental metrics, such as revenues, cash flow, and operating income, have also soared past consensus. Yet in that same time frame AMZN stock has barely budged. This combination of blow-out earnings with a stagnant stock price means valuations have become much more attractive.
Amazon is expected to continue to grow at a very healthy pace. The company guided for 2021 Q2 revenues of $110 billion to $116 billion. This is well above the current analyst consensus estimate of just $108.7 billion. It also represents a solid 24% to 30% year-over-year growth rate. Important to remember that Amazon benefited greatly from the stay-at-home lockdown, making the comparisons even more valid.
Amazon just completed an eight-part $18.5 billion debt offering. The longest maturity was 40 years and was priced at just 95 basis points over Treasurys.
Although Amazon didn't need to borrow any money, it makes sense given the comparative differential between their operating margins and borrowing costs. Plus it should serve to fund the $5 billion in announced stock buybacks. The ability to borrow at such cheap rates for such an extended period certainly bodes well for future earnings.
Technical Take on AMZN Stock
Amazon is starting to firm after reaching deeply oversold readings. Nine-day RSI is nearing 30 but has turned higher. MACD is approaching the lowest levels of the past year. AMZN stock is trading at a big discount to the 20-day moving average. The last three times these indicators aligned in a similar fashion marked a significant low in Amazon stock.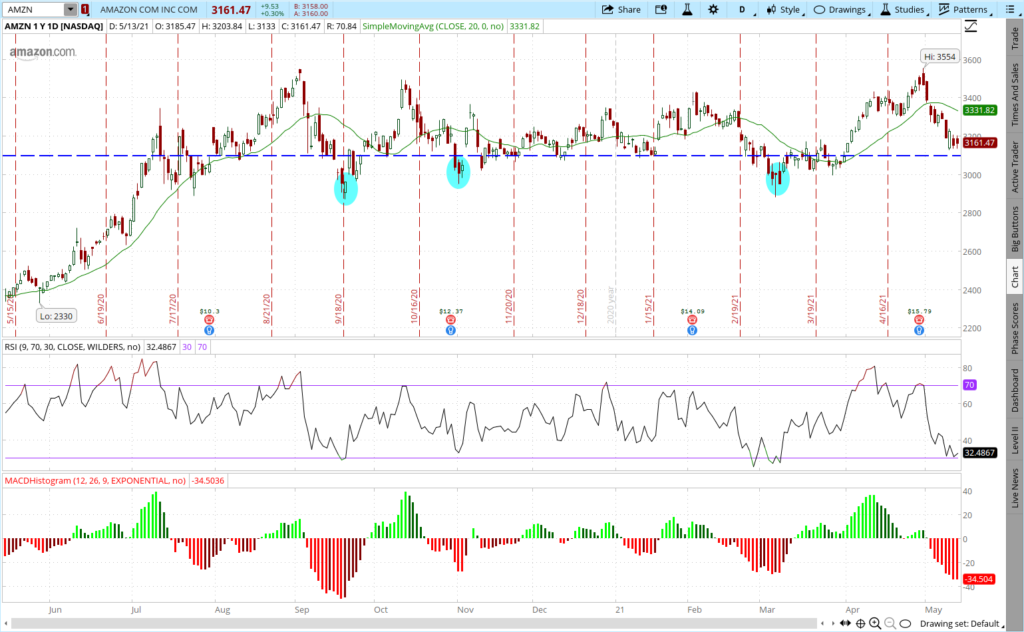 Source: The thinkorswim® platform from TD Ameritrade
There is major horizontal support at the $3,100 area. Interesting to note that the last three days AMZN stock traded down to the $3,130 area intra-day before bouncing and heading higher. This type of price action, especially near major support, is many times a sign that buyers are beginning to step in. It is an even more powerful signal given the ferocity of the previous selloff.
Buying AMZN stock outright requires a massive amount of margin. Purchasing just 100 shares at current prices would require over $150,000, and that would be going fully margined. So rather than using the stock, the options market offers a much more affordable way to take a long position in AMZN.
The options market also provides a method to get paid now to be a buyer at even lower levels in a defined risk manner. So, to position to be a buyer of AMZN stock on a further drop, a bull put spread makes probabilistic sense.
How to Trade Amazon
Sell AMZN June $3010/$3000 put spread for a $2 net credit
Maximum gain on the trade is $200 per spread. Maximum risk is $800 per spread. Return on risk is 25%. The short $3,010 strike price is well below major support at $3,100 and provides a $151.47 point downside cushion to the $3161.47 closing price of AMZN stock.
Earnings are next expected in late July, so the spread has no embedded earnings related risk. I would use a meaningful break of the $3,100 support level as stop out level for the trade.
On the date of publication, Tim Biggam held LONG option butterfly positions in AMZN. The opinions expressed in this article are those of the writer, subject to the InvestorPlace.com Publishing Guidelines.
Anyone interested in finding out more about option-based strategies or for a weekly option and volatility newsletter can visit the Options and Volatility Newsletter website.