Second chances for investors don't come along every day. And when that sort of opportunity shows up in Advanced Micro Devices (NASDAQ:AMD) stock, it's a bullish occasion that's likely head and shoulders above the rest. Let me explain.
It's been a tough couple of weeks for AMD stock investors since peaking on July 7 at $95.44. At their weakest during Monday's short-lived Covid glad bagged action, shares had shed nearly 12%. Nobody of course is bringing out the world's smallest violin for AMD's long-term shareholders.
Over the last several years AMD has gone from worst to first among large-cap semiconductor stocks in terms of returning value back to investors in the form of massive stock gains. From its multi-decade low of $1.65 in September 2015, AMD stock is up more than 5,000%.
Even peer and today's most-favored semiconductor momentum play Nvidia (NASDAQ:NVDA) can't hold a candle to AMD stock. It's up just over 4,000%. And Advanced Micro's gains, as well as today's $108 billion market cap have been every bit deserved.
Undeniably, AMD has thrived under the stewardship of CEO Lisa Su. But some refuse to throw in the towel.
Despite doubters the entire ride up and continued bearish short-interest totaling more than $8.25 billion, the company's increasingly competitive chips have enjoyed taking more and more market share. This has been in major growth areas ranging from data centers to gaming, cryptocurrency mining, AI, machine learning, genomics and much, much more.
AMD Stock in the Spotlight
What's next for AMD? Officially, next week Advanced Micro will once again be in the earnings spotlight. The company is set to report its Q2 results.
A brief sneak peek at what to expect offers street expectations of profits surging roughly three-fold from the year-ago period on earnings of 54 cents. At the same time, burly mid-point sales guidance of $3.6 billion represents an increase of 86% over 2020. Nice, right? Yup. But figuring out what comes after the release is never easy.
As any investor familiar with Wall Street's earnings circus is aware, there's more to earnings than meets the eye than simple headline beats and misses.
Sentiment, guidance, perceived and real disappointments or an obscure metric suddenly receiving undue attention can all play a part in how investors react from one quarter to the next. And the odds of packaging it all together correctly are much worse than a goalkeeper making a save on penalty kicks.
That being said, I'd prefer to read today's price chart and focus on another body part of importance offering investors a nice-looking second chance opportunity.
AMD Stock Weekly Price Chart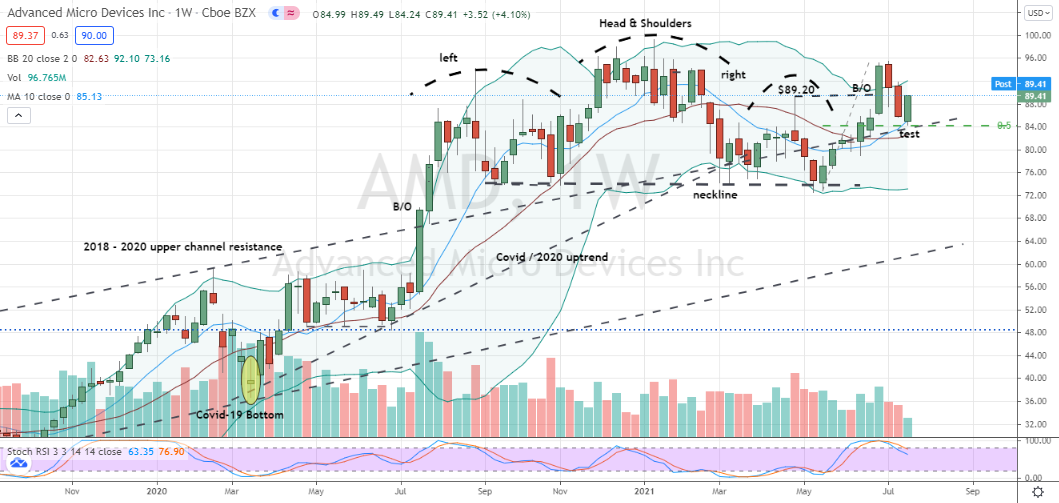 Source:
Charts by TradingView
Broken patterns on price charts can be powerful technical events. And logically that idea carries more weight when the pattern is larger and is able to trap a bigger group of traders.
As this relates to AMD, fairly high dollar-based short-interest and a failed bearish head and shoulders pattern nearly a year in-the-making pattern suggest a significant opportunity could be at hand for bullish investors. But it gets better.
Technically, shares have smartly rebounded off a pullback test of AMD's 50% Fibonacci level tied to May's bullish neckline failure, as well as prior channel resistance dating back three years. And favorably, today the rally has put AMD shares in a key re-cross position.
AMD has just cleared the high of its failed right shoulder at $89.20 for a second chance opportunity.
As the pattern breach also marks the reaction high of AMD stock's Q1 earnings release, the stars are aligning for shares which remain down on the year by 2.50% to play catch-up with an overall strong semiconductor market led by NVDA's near 50% year-to-date return.
For likeminded investors bullish on AMD's prospects, realizing the limitations of price charts and wanting a stronger risk-adjusted strategy to trade shares successfully through the best and more trying of times, an August $92.50/$97.50 collar is one favored route to begin that campaign.
On the date of publication, Chris Tyler holds (either directly or indirectly) positions in Advanced Micro Devices (AMD) and its derivatives. The opinions expressed in this article are those of the writer, subject to the InvestorPlace.com Publishing Guidelines.
Chris Tyler is a former floor-based, derivatives market maker on the American and Pacific exchanges. For additional market insights and related musings, follow Chris on Twitter @Options_CAT and StockTwits.