Editor's Note: this article was updated on July 28, 2021, to remove erroneous information and adjust the headline.
Fisker (NYSE:FSR) is getting closer to bringing its electric vehicle to the market, so the fact that FSR stock has flat lined at the $15 level for most of the year is puzzling.
It's puzzling that investors are hesitant to bid FSR stock to at least a $10 billion market capitalization.
Tesla (NASDAQ:TSLA), even after trading well off its yearly high, still has a market capitalization in the $600 billion range.
Investors are in a wait-and-see mode with Fisker. Instead of buying a "show me" company, EV investors could hold XPeng (NYSE:XPEV) or Nio (NYSE:NIO) instead.
Last month, Chief Executive Officer Henrik Fisker officially opened several Fisker-dedicated operational areas at Magna (NYSE:MGA) in Graz, Austria, where the Ocean program will include prototype manufacturing and test facilities.
The engineering, manufacturing, purchasing, and quality assurance team will review the manufacturing process on-site.
Underwhelmed traders are not ignoring the manufacturing milestone. Fisker is on schedule with getting its facilities ready for its global launch. As it completes its prototype manufacturing, Fisker is might face unanticipated snags. Speculators may prefer to trade the volatility in FSR stock instead of holding it for the long term.
Given the more established Nio's market capitalization dwarfs that of Fisker by more than 10 times, investors should look at Fisker's prospects differently.
Growth Opportunity and FSR Stock
Fisker Ocean is a very good growth opportunity. The company chose Magna and Foxconn, two of the most established manufacturers in the world. Fisker is leveraging the knowledge from its partners instead of suffering from high capital costs by starting from the ground up.
Fisker's Ocean SUV production is only around a year away. With Magna's carbon-neutral facility, the EV firm will appeal to Environmental, Social, and Corporate Governance investors.
More importantly, the premium EV SUV will cost less than $38,000. By comparison, Tesla's Model Y starts at $39,000.
Fisker also has a quality edge. Magna's Graz plant assembles premium vehicles including the Mercedes-Benz G-Class and Jaguar I-PACE. Customers need not second-guess getting a Fisker EV over a Tesla.
Vehicles are relying more on software as a differentiating factor. Fisker will launch the Ocean SUV with Intelligent Pilot.
This will support over-the-air updates, which facilitate hardware and software supports. Customers also get features including digital imaging radar, higher levels of autonomous driving, and compliance to cybersecurity.
Risks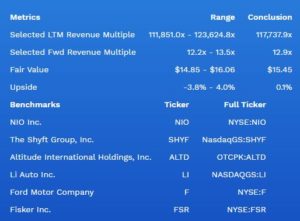 Click to Enlarge
Volatility in FSR stock depends on the market sentiment for EV companies as a whole. Speculative companies like Lordstown Motors (NASDAQ:RIDE) and Workhorse (NASDAQ:WKHS) fell, pulling Fisker down with them.
The stock benefited from a temporary rise after Fisker's addition to the Russell 3000 on June 28. From here, the stock may face profit-taking as investors sell on the news.
On Wall Street, five of the eight analysts have an average price target of $24.29 (per Tipranks). Conversely, investors may compare Fisker's enterprise value to revenue multiples with this benchmark.
In the metrics shown above, investors are taking a leap of faith by paying over 12 times forward revenue multiples.
This is justified so long as markets are willing to overlook unfavorable valuations. Fisker is in the pre-earnings phase. The revenue forecast is an educated guess.
Your Takeaway
Fisker is more than a year away from selling its first production vehicle. After announcing the start of prototype manufacturing the unit, the company is on schedule to begin sales starting next Nov. 2022.
In the near term, Fisker's stock price is at the mercy of market volatility. Sentiment will vary wildly, depending on Nasdaq's performance.
Investors who hold Fisker stock for the long term may ignore the noise.
Conversely, those who did not start a position may patiently wait for the stock to re-test the lows. Fisker traded as low as $10 in Nov. 2020 and again in mid-May 2021.
Though it's unlikely, if the stock falls by that much again, investors could start a position from that price.
On the date of publication, Chris Lau did not have (either directly or indirectly) any positions in the securities mentioned in this article. The opinions expressed in this article are those of the writer, subject to the InvestorPlace.com Publishing Guidelines.