Whenever I cover a company for the first time, I like to check out the people behind it—management, the board, insiders, etc. In the case of Corsair Gaming (NASDAQ:CRSR), the provider of gaming and streaming products may have an Environmental, Social, and Corporate Governance (ESG) issue that's putting the brakes on CRSR stock.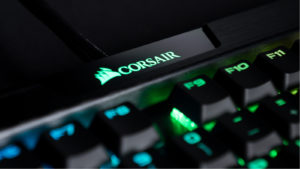 Let me explain what this ESG issue is and why it matters to the future appreciation of Corsair's share price.
Corsair has only been a public company for 11 months.
It went public on Sept. 22, 2020, at $17 a share, precisely in the middle of its $16 to $18 pre-IPO marketing price range.
CRSR didn't get off to a fast start in its IPO, losing 16.2% on its first day of trading, but has bounced back nicely, up almost 63% through Aug. 13.
However, in 2021, it has struggled to maintain momentum after getting out to a fast start, rising to an all-time high of $51.37 in early February. From its high, it's lost around 48% of its value, and trades today at around $26.
One of the reasons its share price might be sputtering is that institutional investors realize its board composition is anything but gender diverse.
If you look at its 2021 proxy, you will see that of the eight board members, only one is a woman. Her name is Diana Bell. She joined the board when it went public last September.
Aged 68, she spent most of her career at Hewlett Packard (NYSE:HPQ), rising in the ranks to Senior Vice President in charge of the customer experience and corporate affairs.
Two big positives are that she's African American, which ticks both the gender and race diversity boxes, and she's got a technology background, albeit on the customer relations side rather than in a more product-related position.
Diversity and CRSR Stock
If Bell were only one of several women on the board, I wouldn't think twice about her appointment, but as it stands now, it reeks of political correctness rather than good governance.
The positive in all of this is that Corsair can easily fix its gender diversity problem by adding one or two more qualified women to the board.
The company could either increase the total number of board members or replace one or two of the three board members up for re-election in May 2022.
Obviously, the easier of the two solutions is to expand the board from eight members to 10. One of the three up for re-election on May 22, 2022, is Anup Bagaria.
What makes Bagaria special is that he is the Co-Managing Partner of EagleTree Capital. He has been on Corsair's board since September 2018. Most importantly, EagleTree owns 67% of its stock, so nothing will happen unless Bagaria pushes for the change.
Over at EagleTree's website, it posts the names and pictures of the company employees, or at least the ones senior enough to be included.
Of the 33 people, 13 are women, with a female participation rate of 39%. A decent amount until you realize that there's not a single woman in the ranks amongst the seven Co-Managing Partners, Senior Partners and Partners.
Yet, right there on its main page, it has a link to its ESG Policy. Nowhere on that policy page does it refer to gender or race diversity.
The Alliance for Board Diversity (ABD) produced a multi-year report that studied the progress of Fortune 500 boards in terms of the representation of women and minorities.
ABD found in 2020 that women represented 26.5% of the total board members. Further, minority women accounted for just 5.7% of the total board seats.
So, getting back to Corsair, it has a 12.5% participation rate for women directors and 12.5% for minority women on its board.
I suppose it could slap itself on the back for having a higher inclusion rate for minority women, but that would be nothing but window dressing.
The reality is that both Corsair and EagleTree Capital exhibit some tendencies of what could be called "white man syndrome," and even though I don't think that's the case here, serious ESG investors are likely to give CRSR stock a pass as a result.
The Bottom Line
Most technology companies aren't very progressive. This we know. Neither are a lot of technology investors. So, it shouldn't come as a surprise that Corsair isn't pulling its weight when it comes to gender diversity.
I hope it changes this situation because anyone who doesn't pass the ESG muster will be left behind as the months and years pass.
That said, I'm sure there are plenty of other reasons CRSR stock has gotten knocked down in 2021.
The next time I cover Corsair, I promise to focus on its business and financial performance.
On the date of publication, Will Ashworth did not have (either directly or indirectly) any positions in the securities mentioned in this article. The opinions expressed in this article are those of the writer, subject to the InvestorPlace.com Publishing Guidelines.
Will Ashworth has written about investments full-time since 2008. Publications where he's appeared include InvestorPlace, The Motley Fool Canada, Investopedia, Kiplinger, and several others in both the U.S. and Canada. He particularly enjoys creating model portfolios that stand the test of time. He lives in Halifax, Nova Scotia. At the time of this writing Will Ashworth did not hold a position in any of the aforementioned securities.