Given Marin Software's (NASDAQ:MRIN) lack of revenue growth and high losses, along with the absence of strong, concrete growth catalysts for it, investors should sell MRIN stock.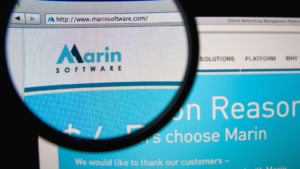 Marin develops enterprise marketing software. In recent months, Marin has been embraced by the Reddit crowd, becoming a so-called meme stock.
Meme stocks have seen better days and people wonder whether the fad is passed or just fading. Either way, it's rarely an attribute that makes one recommend a stock.
Another development likely to hurt MRIN stock over the short-term to medium-term is the weakness of meme stocks. I expect the latter trend to only intensify going forward.
In 2017, Marin's sales came in at $75 million. In 2018, 2029, and 2020, its total revenues were $58.6 million, $49 million, and $30 million, respectively.
Over the 12 months that ended in March, the software maker's top line was $27.6 million. Over the course of the last few years, Marin's revenue has trended downward.
On the other hand, the company's operating losses have fallen in recent years, dropping from $25.2 million in 2018 to $13.2 million over the 12 months that ended in March.
Still, given the simultaneous declines of Marin's revenue totals, it appears that cost-cutting was primarily responsible for the improvement. Also noteworthy is the fact that, over the 12 months that ended in June, Marin's operating loss came in at nearly 50% of its top line.
That's a very unfavorable metric, particularly for a company that's been around for more than 15 years. By now, the software maker should have developed a sufficiently strong business to at least keep its operating losses relatively limited.
Nor do Marin's fortunes appear to be turning in recent months. On July 15, the company reported preliminary Q2 revenue of $6.1 million, down from $7.3 million during the same period a year earlier.
The software maker estimated that its Q2 loss from operations would be $2.8 million to $3.1 million. That's meaningfully below the company's operating loss of $3.6 million in Q2 of 2020.
Marin still expects its Q2 loss from operations to be close to 50% of its total Q2 revenue.
The Future and MRIN Stock
For the most part, MRIN stock appears to have soared earlier this year based on the meme stock phenomenon, but the Reddit craze seems to have run its course.
In recent weeks, nearly all of the previously high-flying meme names have sunk meaningfully. For example, in the month that ended July 28, GameStop (NYSE:GME) tumbled 22%, AMC (NYSE:AMC) plummeted 31%, Clover Health (NASDAQ:CLOV) gave back 37% and Koss (NASDAQ:KOSS) retreated 20%.
Unsurprisingly, MRIN stock has not been spared from the carnage, tumbling 30% during the same period.
Although the meme stocks may experience some temporary bounces over the next few months, I expect most of these names to continue to trend downwards.
The last stimulus checks from the federal government are fading while the end of the government's extra unemployment aid is due to expire in September.
What's more, most Millenials have gone back to spending large portions of their money on social recreational activities, leaving less money for playing the market.
The only substantial, fundamental, potentially positive catalyst for MRIN stock that I was able to discover was in a story by our own Robert Lakin. It involves Marin's announcement that its clients can now stream ads on Instacart using one of its products.
But it's very difficult to estimate to what extent this innovation will boost Marin's financial results. While Instacart doubtlessly has many millions of page views per week, it's hard to know whether Marin's integration with the tool will cause many marketers to adopt the company's offerings.
The Bottom Line
It's not a good time to be a meme stock with poor financial results and no strong fundamental catalysts. Therefore, investors should unload MRIN stock.
On the date of publication, Larry Ramer did not have (either directly or indirectly) any positions in the securities mentioned in this article. The opinions expressed in this article are those of the writer, subject to the InvestorPlace.com Publishing Guidelines.