Shares of Roku (NASDAQ:ROKU) look to have finally found some footing. ROKU stock has seen some severe selling over the past several months. The price of ROKU has been effectively cut in half since making all-time highs in late July.
Certainly, some of the sell-off was warranted given the unrealistic move higher. But the selling has now come too far, too fast. Look for ROKU stock to rebound over the coming weeks.
The current price per earnings (P/E) is still a very rich 110.66x. It is important to remember, however, that this is right at its all-time low.
ROKU has absolutely crushed earnings over the past four quarters — yet ROKU stock is significantly lower. The combination of continued blow-out earnings reports coupled with a dramatically lower stock price makes valuations increasingly attractive.
Technical Take
ROKU stock is looking attractive from a technical standpoint as well. Shares actually put in a positive day on Friday while the overall markets suffered the worst Black Friday loss in years. This followed a key reversal day on Thursday. Roku opened lower Thursday and at new recent lows only to reverse course and close higher on the day. This type of price action indicates the sellers have become exhausted and the buyers have taken control. It is an even more powerful signal given the magnitude of the previous selling.
The 9-day relative strength index (RSI) reached the most oversold readings in the past year but has finally firmed and headed higher. Bollinger Percent B dipped into negative territory but is back positive. Moving average convergence/divergence (MACD) reached an extreme but has improved as well. ROKU is trading at a big discount to the widely followed 20-day moving average.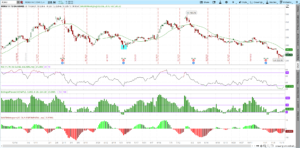 Click to Enlarge
The last time all these indicators aligned in a similar manner marked a significant intermediate-term bottom in the stock (highlighted in the chart).
Expect the same over the coming weeks. A move back to the 20-day moving average at the $270 area would be the initial price target. Secondary price target would be the major resistance level at $300.
Buying ROKU stock is expensive and risky, even after the big drop. Luckily the options market provides a way to take a guardedly bullish stance in a cheaper and less risky way.
Implied volatility (IV) has spiked over the past two weeks from 46 to 62. This means option prices are more expensive. The sharp increases in prices favors option selling strategies when constructing new trades. A bearish put credit spread make probabilistic sense. It positions the investor to be a buyer of ROKU stock on even further weakness while collecting rich options premium upfront — all in a risk-defined manner.
How To Trade ROKU Stock
Sell the Jan $195/$200 put spread for a $1.10 net credit or better.
Maximum gain on the trade is $110 per spread. Maximum risk is $390 per spread. Return on risk is 28.2% for 50 days. The short $200 strike price provides a nearly 15% downside cushion to the $227.61 closing price of ROKU stock.
The spread expires well before the next earnings release due in early February. This eliminates any earnings-related risk.
On the date of publication, Tim Biggam did not have (either directly or indirectly) any positions in the securities mentioned in this article. The opinions expressed in this article are those of the writer, subject to the InvestorPlace.com Publishing Guidelines.
Tim spent 13 years as Chief Options Strategist at Man Securities in Chicago, 4 years as Lead Options Strategist at ThinkorSwim and 3 years as a Market Maker for First Options in Chicago. Tim has appeared on PBS and the Nightly Business report, while maintaining weekly appearance on Bloomberg TV and CBOE-TV to discuss everything from volatility to LEAPs. Tim has also been invited for reoccurring appearances on CNBC's Volatility Playbook.