This article is excerpted from Tom Yeung's Moonshot Investor newsletter. To make sure you don't miss any of Tom's potential 100x picks, subscribe to his mailing list here.
Market Goes Up… Market Goes Down…
On Monday, the Dow Jones Index mounted one of its strangest moves yet. After dropping 1,000 points in the morning, the index rallied to finish the day up 0.3%… before falling 1.2% the next day.
Welcome to 2022.
Crypto investors are understandably less enthused about the volatility. Bitcoin (CCC:BTC-USD) is still down 50% from its all-time peaks. And though cryptocurrencies are slightly up this week, try cheering up a Dogecoin (CCC:DOGE-USD) investor who just lost another thousand dollars.
So when people ask whether it's time to get back in, I refer them to my Momentum Master strategy:
Never buy the dip in cryptocurrencies (or other momentum-seeking assets).
But other crypto experts at InvestorPlace.com have better ideas. To them, Bitcoin's stumble is a buying opportunity for high-quality altcoins.
So, though I won't abandon my Momentum Master rule, today we're going to take a look at three coins that two of InvestorPlace's crypto wizards want you to buy right now.
The 3 Altcoins to "Buy the Dip"
"History has a funny way of repeating itself," wrote Luke Lango and Charlie Shrem in their Crypto Investor Network Newsletter last week. "Bitcoin is 35% off its recent highs… it's ugly [but] not unprecedented."
And right they are. Bitcoin has seen nuclear winters before in 2015 and 2018. And both years turned out as amazing buying opportunities.
2018: "Bitcoin proceeded to rise more than 1,000%"
2015: "Over the subsequent two years, the price of Bitcoin rocketed 7,000% higher,"
As Charlie sees it:
"Behavior in the crypto markets is predictable because human psychology is consistent. Bitcoin goes through "cycles," and those cycles follow the same four-step process:
Bitcoin goes on a tear for a few years, humans suffer FOMO (fear of missing out), and everyone gets bullish.

For various reasons, the price of Bitcoin falls precipitously for about a year. Human despair sets in. Everyone gets bearish.

Bitcoin bottoms out rather quickly. Humans reach the "acceptance" phase. Bitcoin rebounds.

Bitcoin returns to Step 1."
But Moonshot investors will likely notice a problem. If we had bought the dip in 2018 after prices fell from $19,750 to $9,875 (a 50% decline)… we would have lost another 66% by the end of the year. As my first boss once quipped, the difference between an asset down 80% and one down 90% is the 50% drop in between.
In other words, losses have a habit of magnifying in bad times. That's why my short-term trading strategies all involve hopping off the moment we see trouble.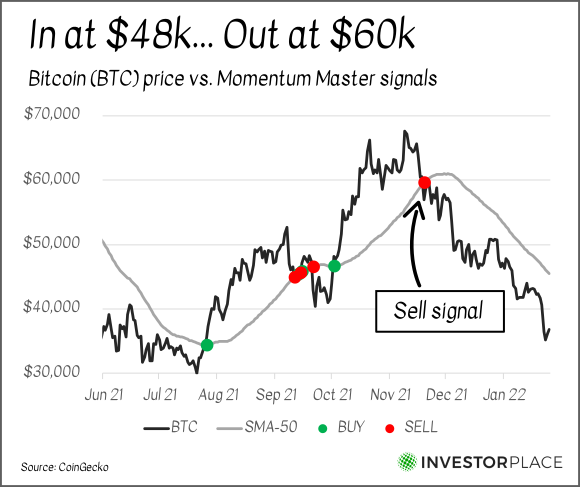 Sell on the downcycle… and don't buy the dip.
Good News for the Long Term Buyer
If, however, you're in it for the long run, Luke and Charlie have it right. You won't get rich checking your bank balance every day.
Here's more from them:
"There is good news amid the recent crypto sell-off — and, in our opinion, the good news carries much more weight for long-term investors… In particular: 1) VC funding continues to soar, 2) The NFT/Metaverse craze won't stop, and 3) Crypto payments are gaining traction."
— Crypto Investor Network, January 22
In other words, if you're willing to buy coins today and avoid checking up on them for long enough, there's a good chance you'll be quite happy with the result.
Polygon (MATIC)
At the top of Luke and Charlie's list is Polygon (CCC:MATIC-USD), a cryptocurrency up 8,000% over the past year:
"That's no misprint. It's also no fluke. This cryptocurrency has seen days where it has traded up more than 2X in less than 24 hours, and these rallies could really be just the start of a much bigger, much longer uptrend in the crypto."
That sounds great. But how do we know MATIC isn't just another NEM (CCC:XEM-USD) or Dash (CCC:DASH-USD) that fades after a Bitcoin-led selloff?
Here's why:
"Polygon is a multi-chain network of sidechains, each of which serves a slightly different purpose, and all of which are compatible with Ethereum.

"In other words, Polygon is a bunch of side roads which Ethereum developers can use to more quickly and cheaply develop apps on the Ethereum blockchain. It's a very valuable network.

"We firmly believe that the best of this growth narrative is yet to come, and that when all is said and done, Polygon has a chance to be one of the most valuable cryptocurrencies in the world.

"And that's why — if you have the patience and are willing to see the Blockchain Revolution to its end over the next decade — you may want to consider taking a long-term, buy-and-hold position in Polygon coin today."
Personally, I might wait until market sentiment stabilizes a little. But If MATIC shoots back up before then, you can be sure Luke will be nudging me and saying, "I told you so."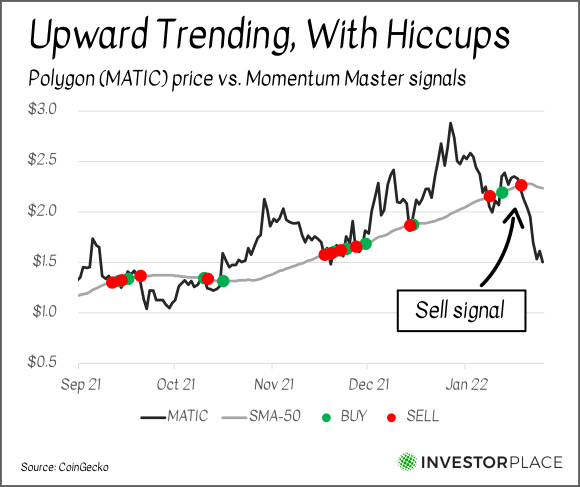 Solana (SOL)
Regular readers will be familiar with Solana (CCC:SOL-USD), a cryptocurrency that I've jumped in and out of time and again. After recommending investors buy in September when prices were at $110, I then reversed course after prices ballooned 90% to $210 the following month.
"With such massive gains under their belts, investors should also consider taking SOL profits off the table."
— Moonshot Investor, October 2021
I've since been cautious about Solana, calling it "game-changing," but avoiding establishing a new position.
But Luke and Charlie have different ideas:
"Now is a good time to buy [Solana] with the valuation at much more reasonable levels, the fundamentals as strong as ever, and the stock chart showing signs of support at its 200-day moving average."
In other words, they're long-term investors who care more about the quality of a cryptocurrency than whatever Mr. Market feels on any given day.
"Solana has something that many of those other Layer-1 blockchain projects don't have, and that's its signature proof-of-history (PoH) consensus.

"The technical details are quite complex, but at its simplest level, the novel PoH consensus allows Solana to solve one of the main issues with proof-of-work (PoW), which is at the center of various other blockchain projects, like Bitcoin. The issue is the agreement on time and order of transactions."
And perhaps they have a point. Now that Solana is below $93, it's below the price where I first recommended a position. And if you're in it for the long haul, know this:
Five years from now, no one will remember what happened to SOL prices in January 2022.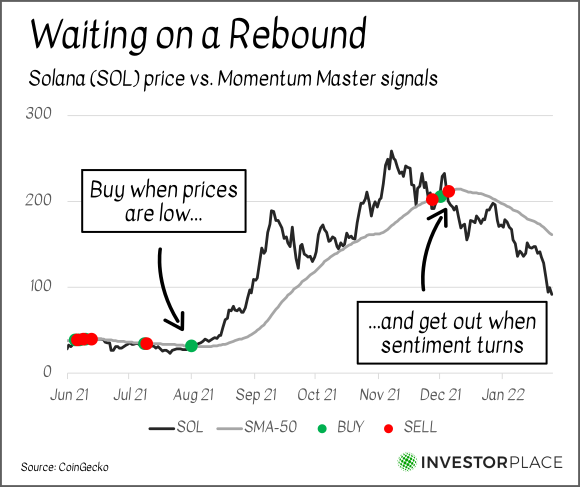 Momentum Master exercise caution
Hive (HIVE)
And now for a Crypto Investor Network pick that even I had to ask permission to publish: Hive (CCC:HIVE-USD).
"Hive is a Web3 blockchain on top of which developers can build, deploy, and scale decentralized applications (dApps).

"The unique thing about Hive is its novel stake-based Resource Credit mechanism that creates a fee-less model — and therefore makes Hive not just one of the fastest but also one of the cheapest Web3 blockchains in the world."
That makes it a fascinating coin, even for me. Most of the Web3 cryptos I recommend are those like Filecoin (CCC:FIL-USD) which run Web3 infrastructure. HIVE, on the other hand, is powering the dApps themselves.
"[Hive's] mechanism allows for the verification and execution of transactions without fees, which means that Hive transactions are ultra-fast — they take less than 3 seconds.

"It's no wonder, then, that Hive's blockchain has been used to build some of the most popular decentralized applications in the world today, including the ultra-popular NFT trading card game Splinterlands."
Of course, it's not all good news. Hive prices are down 76% from their all-time highs, and Momentum Master recommends avoiding the coin until prices rebound.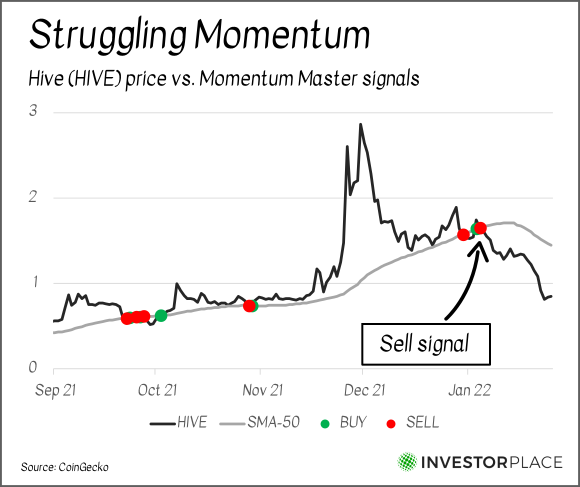 But high-quality cryptocurrencies have a habit of eventually turning around. So, regardless of whether you follow Luke's advice and buy today, or follow Momentum Master and buy a month or two from now, there's a good chance we'll all end up in the same place.
Do You Have Diamond Hands?
If one of your stocks rose from $10 to $50… would you sell? Or would you wait for greater gains?
Latecomers to Reddit's r/WallStreetBets have a clear preference: diamond hands.
These younger investors held onto shares of companies like GameStop (NYSE:GME) and AMC Entertainment (NYSE:AMC) even as more experienced traders sold out.
But when prices of stocks drop from $50 back to $10, these same diamond-headed investors tend to lose hope. A study by JPMorgan strategist Peng Cheng found that retail investors sold out right before markets rebounded on Monday.
"In a spasm of panicked selling early Monday, retail investors offloaded a net $1.36 billion worth of stock by noon, most of it in the first hour," Lu Wang of Bloomberg News recounted. "There were signs that monolithic buying by amateur traders — a bulwark against losses during the pandemic period — was beginning to crumble."
That's why I like following analysts like Luke and Charlie. Not only are they thinking about coin prices (which any market technician can do). They're also combing through the real-world use and the underlying code quality of these modern Moonshots. Put another way, they're the ones who are doing "diamond hands" investing.
So if you haven't followed them yet on the Crypto Investor Network, make sure you do today.
P.S. Do you want to hear more about cryptocurrencies? Penny stocks? Options? Leave me a note at moonshots@investorplace.com or connect with me on LinkedIn and let me know what you'd like to see.
FREE REPORT: 17 Reddit Penny Stocks to Buy Now
Thomas Yeung is an expert when it comes to finding fast-paced growth opportunities on Reddit. He recommended Dogecoin before it skyrocketed over 8,000%, Ripple before it flew up more than 480% and Cardano before it soared 460%. Now, in a new report, he's naming 17 of his favorite Reddit penny stocks. Claim your FREE COPY here!
On the date of publication, Tom Yeung did not have (either directly or indirectly) any positions in the securities mentioned in this article.
Tom Yeung, CFA, is a registered investment advisor on a mission to bring simplicity to the world of investing.