Has Wall Street gotten ahead of itself? So far in 2022, that's the case for the benchmark averages and their large-capitalization constituents. But in three large-caps that are among the most-shorted stocks, the case for buying more of the Roaring '20s is just taking shape.
The start to the new year has been filled with new highs for large-cap stock investors. But the past two year's ode to that new Roaring '20s era appears to be running out of gas. Temporarily at least.
Today and after a brief fling at new highs in early January, the large-cap S&P 500, Nasdaq and Dow Jones spent much of the day underwater. And maybe for good reason. The market isn't exactly cheap.
But regardless of whether stocks are nosebleed expensive, insanely cheap or somewhere in between, stocks also correct all the time. Even large-cap stocks and, of course, the market's most-shorted stocks.
Let's combine large-caps and the market's most-shorted stocks to find businesses whose shares offer bullish investors a better leg to stand on.
Most-Shorted Stocks to Buy: Wayfair (W)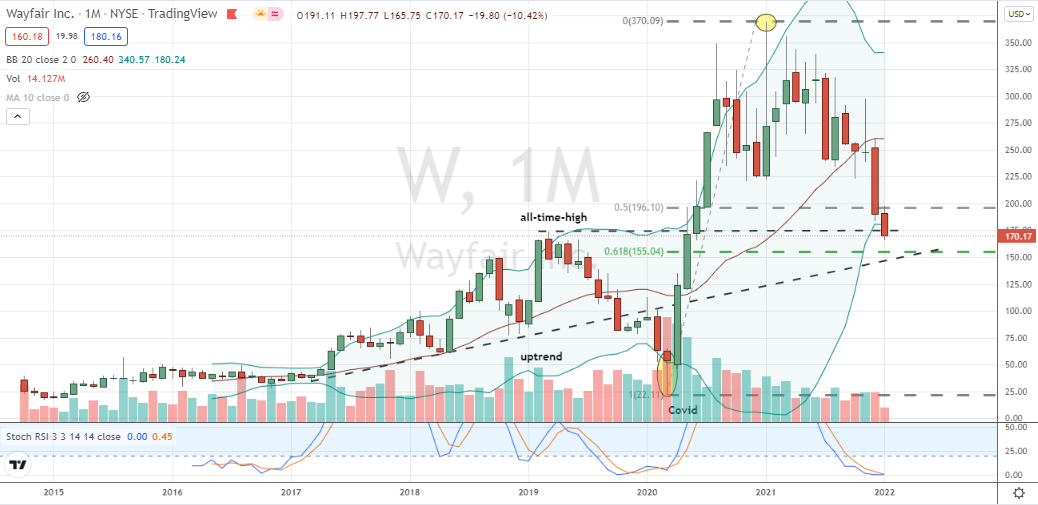 Source: Charts by TradingView
The first of our large-cap, most-shorted stocks to buy is e-commerce home goods outfit Wayfair.
Shares of Wayfair maintain a valuation of almost $18 billion. With short interest of around 25%, the stock also owns the top spot as the market's most-heavily shorted large-cap. W stock also offers a bullishly beneficial days-to-cover ratio of nearly 12 days.
Today, there's also the price chart in W stock, which should assist in forcing bears to begin closing their shorts, as well as bring in bullish technical buyers.
In 2021, this most-shorted stock finished lower by 16%. That's not exactly a correction to get excited about given bear markets require a minimum decline of 20%.
Also, for a heavily shorted stock of W's caliber, larger phases where the bears take control should be accepted as routine business. They're not in the business of saving the manatees, right?
But Wayfair's yearlong decline of 54% from last January's all-time-high of $369 agreeably has that covered.
With shares of this most-shorted stock also sandwiched between Fibonacci and key price support, coupled with an oversold monthly stochastics on the cusp of a bullish crossover, the chance for a new bull market in 2022 appears increasingly strong.
Sirius XM Holdings (SIRI)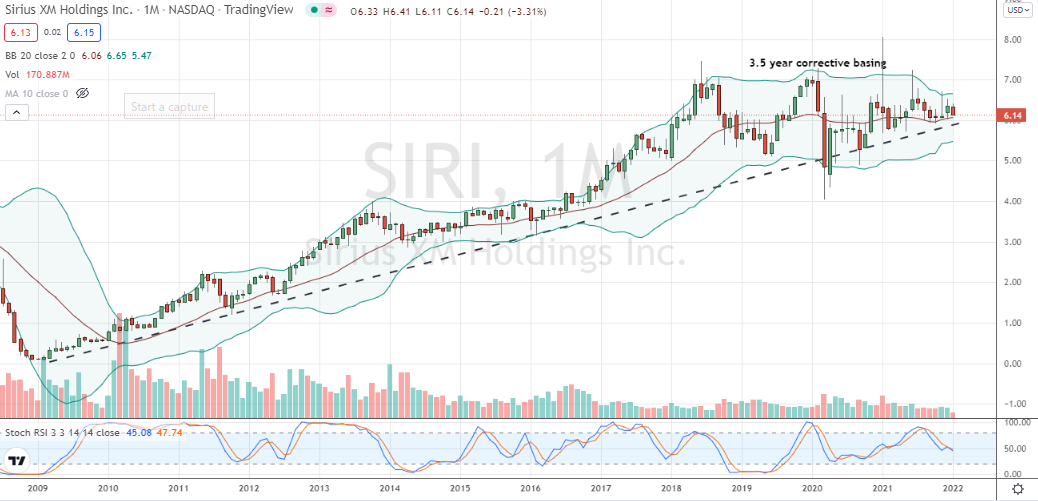 Source: Charts by TradingView
The next of our large-cap, most-shorted stocks to buy is satellite-radio veteran Sirius XM Holdings. Shares of Sirius sport a market cap of around $25 billion and short interest of 22%. That's enough to put shares in the number two spot of large-caps with a bearish audience.
This most-shorted stock also features a short-to-cover ratio of 10.5 days.
But before you think SIRI as a has-been from the days of TiVo or even VCRs, think again. On the back of its Pandora streaming service and ever-popular podcasts, SIRI stock has turned into a successful turnaround play.
And from the brink of bankruptcy more than a decade ago, today this media stock is a steady and profitable enterprise that's growing revenues, generating attractive free cash flow.
What's more, a shareholder-friendly management is aggressively buying back stock and even teasing investors with a growing dividend.
Lastly, a 3.5-year corrective phase is holding uptrend support dating back to the 2008–2009 financial crisis. That's not exactly music for investors ears, but it should be a sight for sore eyes straining to see value in today's large-cap market.
Most-Shorted Stocks to Buy: GoodRx Holdings (GDRX)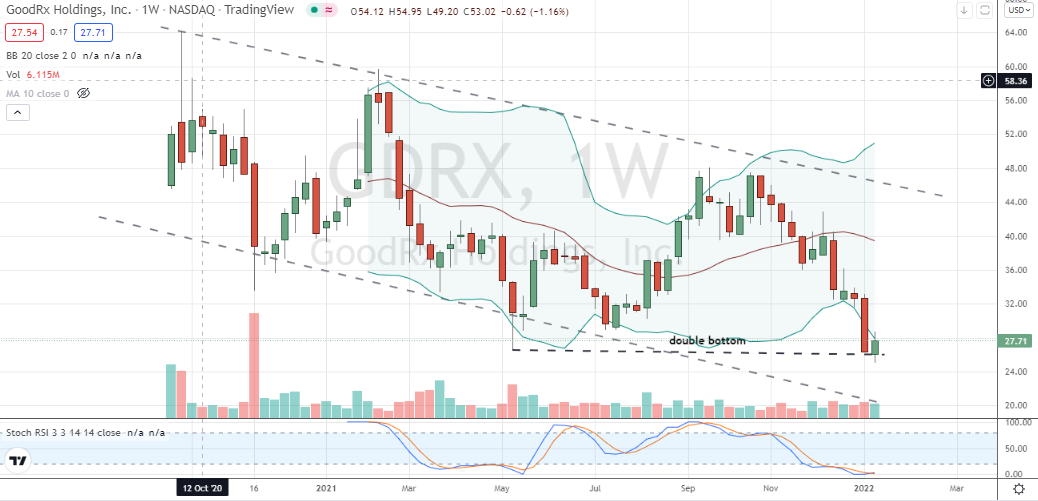 Source: Charts by TradingView
The last of our large-cap, most-shorted stocks to buy is online meds comparison platform GoodRx Holdings.
Shares of GDRX are valued north of the $10 billion large-cap threshold and harbor short interest of about 22%. The naysaying base is enough for a bronze medal in today's market. As with our other most-shorted stocks to buy, GoodRx also sports a hefty days-to-cover ratio of just over 10 trading sessions.
To be fair, the recent IPO has been a punishing stock to own. Shares are off by 39% since GoodRx's opening print of $46 a share back in October.
But technically, GDRX stock's downtrend appears to be over.
Today, this most-shorted stock offers bullish investors the chance to buy a lower-low, double-bottom pattern backed by an oversold stochastics crossover.
And bottom line, given its healthy profits and rapid double-digit monthly active user and sales growth, GDRX looks like a prescription for solid bullish upside.
On the date of publication, Chris Tyler did not have (either directly or indirectly) any positions in the securities mentioned in this article. The opinions expressed in this article are those of the writer, subject to the InvestorPlace.com Publishing Guidelines.
Chris Tyler is a former floor-based, derivatives market maker on the American and Pacific exchanges. For additional market insights and related musings, follow Chris on Twitter @Options_CAT and StockTwits.