Shares of Tesla (NASDAQ:TSLA) certainly have calmed down following the latest earnings report. TSLA stock is at basically the same price it was pre-earnings release. While Tesla continues to be the dominant player in the EV space, challengers are definitely beginning to emerge. This will certainly be a bigger headwind going forward. Look for a tired and toppy Tesla to continue to consolidate over the coming weeks.
Valuations are still at ridiculous levels for Tesla even after reporting record earnings. Current earnings per share (EPS) is over 180x. Price/Sales sits at a nearly 19x. Nosebleed levels indeed.
Tesla has always been a stock based on the future and belief. No question that the future is bright for Tesla. The real question is just how bright, especially now that rising interest rates have dimmed the light generally for growth stocks going forward.
Perhaps that is why the stock had such a muted reaction to the big earnings beat. EPS came in at $2.54 per share versus expectations of $2.38. Revenues were also ahead of consensus at $17.72 billion. This was well ahead of the estimates for $16.57 billion in sales. Yet the stock yawned.
InvestorPlace Financial News Writer Samuel O'Brient touched on the three top takeaways from the latest earnings release. He noted the mixed bag that could be found within the results. O'Brient also noted that many of the analysts upped their price target for Tesla. Interesting to note that none of these analysts cared much about valuations in their analysis. That might get in the way of their bullish thesis.
I think a look at comparative market capitalization provides much better insight than traditional valuation metrics when comparing Tesla to other auto companies. Tesla is far and away the biggest automaker on a market cap basis. It checks in at $886.10 billion based on the Feb. 10 close. The second largest automaker is Toyota (NYSE:TM) with a capitalization of just $265.95 billion.
In fact, Tesla is now worth more than the next nine automakers combined! The total market cap of numbers 2-10 adds up to $926.7 billion, roughly $8 billion less than Tesla alone. Toyota sold 9.5 million cars in 2021 while Tesla delivered just shy of a million.
Toyota stock is valued at $28,210 per car sold based on 2021 sales ($268.41 billion market cap divided by 9.5 million cars sold). For the sake of argument, let's say Tesla should be worth twice as much per car sold. That means Tesla would need to sell 16.5 million cars to justify the current stock price even given the dubious assumption that Tesla is worth twice as much per car sold as Toyota. Priced for hyperbolic growth is an understatement.
Technical Take
Tesla is consolidating following the latest earnings release. TSLA failed to break above the 20-day moving average at $938.14. Shares continue to trade sideways with a series of slightly higher lows. A break below the uptrend line could lead to a re-test of the recent lows near $800.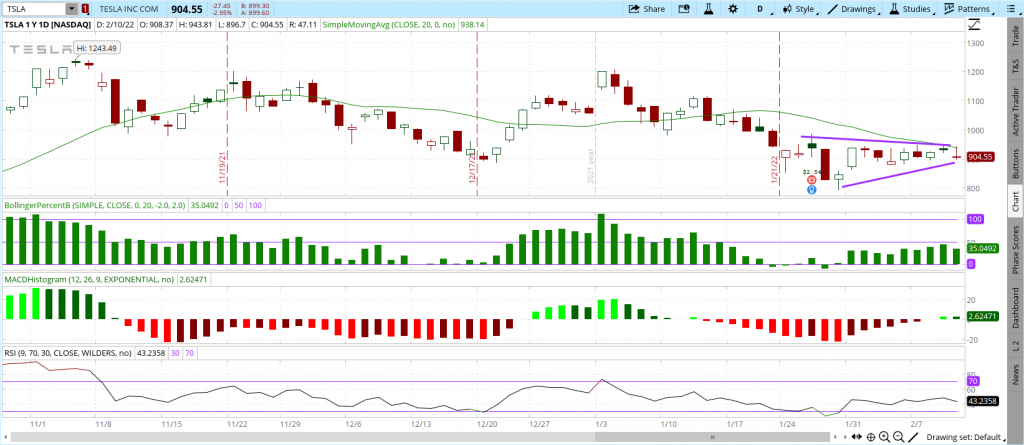 Source: The thinkorswim® platform from TD Ameritrade
TSLA once again failed to break out past the $950 area yesterday after trading up to $943.81 intra-day. Tesla stock pulled back sharply to close lower and near the lows of the day. This type of price action is many times a sign of exhaustion. The buyers have tired and the sellers have taken control.
Implied volatility (IV) has fallen recently which is the norm following earnings. It is still at the 28th percentile so option selling strategies remain viable. Selling an out-of-the money call spread to be a seller of TSLA stock at higher prices in a defined risk manner makes probabilistic sense.
How To Trade TSLA Stock Now
Sell TSLA March $1000/$1010 call spread for $2.00 net credit
Maximum gain is $200 per spread. Maximum risk is $800 per spread. Return on risk is 25%. The short $100 strike price provides a 10.5% upside cushion to the $904.55 closing price for TSLA stock.
On the date of publication, Tim Biggam did not have (either directly or indirectly) any positions in the securities mentioned in this article. The opinions expressed in this article are those of the writer, subject to the InvestorPlace.com Publishing Guidelines.
Tim spent 13 years as Chief Options Strategist at Man Securities in Chicago, 4 years as Lead Options Strategist at ThinkorSwim and 3 years as a Market Maker for First Options in Chicago. Tim makes weekly appearances on Bloomberg TV "Options Insight", Business First AM "Trader Talk", TD Ameritade Network "Morning Trade Live" and CBOE-TV "Vol 411" to discuss everything from volatility and option related. He has also been invited for reoccurring appearances on CNBC's Volatility Playbook.