The show has largely ended for Reddit's meme stock traders. But when it comes to featured star AMC Entertainment (NYSE:AMC), could there be a sequel? If so, is it worth the price of admission today? Let's look at what the bears, bulls and price action are saying about AMC stock, then offer a risk-adjusted determination aligned with those findings.
After struggling with the pre-show Federal Open Market Committee (FOMC) hypotheticals for weeks, many investors have the Federal Reserve to thank. Wall Street has been giddy following Wednesday's "just right" policy change.
Mid-caps have rallied by about 6% since Monday's low. $7.85 billion cast member AMC stock, the world's largest theater operator, tripled that performance, flying higher by 18%.
But it wasn't always that way. AMC has been a horror show because of its notorious meme-trading fanbase and other bulls that failed to head for the exits after a strong 2021.
Shares of AMC remain down 44% in 2022 despite the intraweek rally. They remain more than 70% below June's action-packed $28.5 billion valuation. So, what went wrong — and what went right — in AMC stock?
What the Bears Say About AMC Stock
Like buttered popcorn or a sugary soda that's bad for your health, a momentum trade feeding AMC and other meme stocks was already suspect as shares surged higher last May and into June.
The go-go days of January's GameStop (NYSE:GME) show, which took dozens of lower quality, lower float and/or highly shorted stocks to the bank, has long since passed.
And no matter how well AMC's turnaround was going, or how swell bullish tidbits from social-media-savvy and meme-friendly CEO Adam Aron might be, a rally of about 625% into a very decent size large-cap stock was ripe for failure.
But there were other reasons to cause a delighted Reddit crowd to back away from AMC's hefty admission price. A massive four-fold in dilution, insider selling and weak market sentiment all conspired against its shares to varying degrees.
What the Bulls Say About AMC Stock
More recently, AMC has come up with more than just popcorn and non-fungible token (NFT) favors smartly proffered to its investor core. Its fourth quarter was its strongest in two years, with an earnings loss of 11 cents topping street views by 5 cents. It saw modest, but much-improved revenue of $1.17 billion, with moviegoers totaling nearly 60 million.
The report also revealed positive adjusted EBITDA of nearly $160 million and a record year-ending liquidity position north of $1.8 billion. In total, the quarterly snapshot solidified AMC's status as the market's 800-pound gorilla.
Last year, it drew audiences into theaters even during pandemic-challenged operating conditions. All told, the results bode well for this year's pipeline featuring hotshot flyboys, vampires, dinosaurs, superheroes and other big screen favorites.
The Price for Admission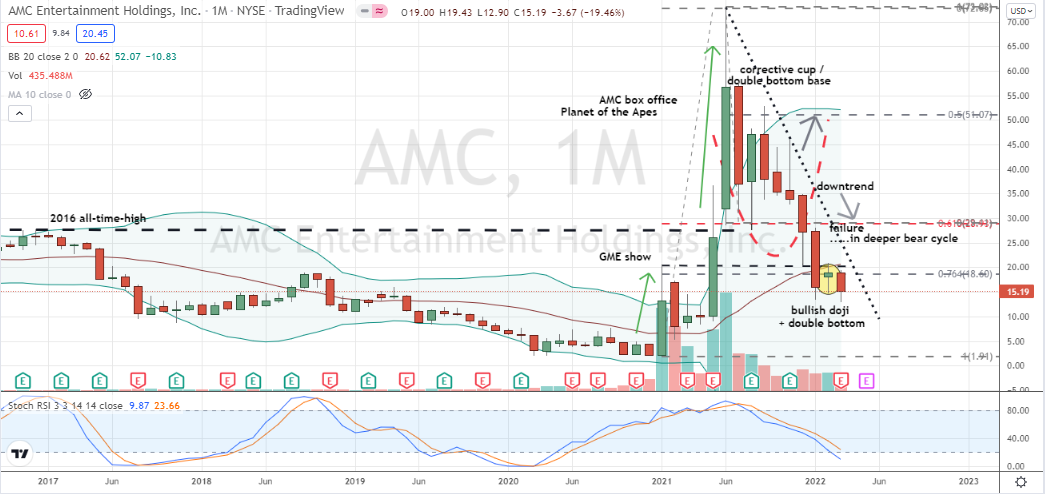 Source: Charts by TradingView
As an investment today, AMC stock is still a work in progress for bulls other than the Reddit crowd. Complementing the cinema operator's improving business prospects, the monthly price chart shows a possible double bottom.
The pattern has formed around AMC's 76% retracement level, with a small bullish doji wedged between the two bottoming candles. Overall, it's potentially bullish, but still missing technical confirmation.
What's needed at this juncture is monthly price confirmation, which would also help break shares above AMC's downtrend line. That price signal could happen in the next couple weeks as April comes on the board.
Should a pattern bottom be constructed, a stochastics crossover would make the price of admission — and the idea of a bull market emerging in AMC stock — a great deal more compelling.
On the date of publication, Chris Tyler did not have (either directly or indirectly) any positions in the securities mentioned in this article. The opinions expressed in this article are those of the writer, subject to the InvestorPlace.com Publishing Guidelines.