MULN stock has a great back story
Mullen Automotive is the worst kind of meme-stock
Risk tolerance will determine MULN's suitability as a trade or investment
Electric Vehicle (EV) play Mullen Automotive (NASDAQ:MULN) is down 6.3% today. On Monday, shares were up almost 11% after rising as much as 44% intraday. And volume has been huge as investors attempt to assign a fair market value to MULN stock.
MULN traded upwards of 550 million shares to start the work week, marking the stock's second largest session of transactions between buyers and sellers ever. So, what gives?
Behind this week's volatile price swings in Mullen shares, investors continue to react to favorable press from CarBuzz following a late February chat with the outfit's Chief Executive Officer (CEO) David Michery.
But MULN stock also rode the story to a gain of roughly 90% in the past five days. And despite calls and grandstanding of Mullen being a 'Tesla Killer', it remains to be seen, literally and figuratively.
| | | |
| --- | --- | --- |
| MULN | Mullen Automotive | $3.01 |
Mullen Has the Appearance of a Winner
Still, roughly two years before Mullen Automotive's $55,000 Mullen FIVE attempts to hit the road, the compact, luxury EV crossover has the earmarks of something special. Already, MULN's FIVE EV won the prestigious Top SUV ZEVAS award at this past year's LA Auto Show. Moreover, it is easy to see why.
The vehicle's stunning exterior, eco-friendly design and fully-capable, cutting edge technology includes all-wheel drive, a top speed of 155 mph and zero to 60 in 3.2 seconds. Additionally, it offers purported solid state 95kWh lithium-sulfide battery pack enabling a 260 mile driving range from a zero to 80% fast charge of about 21 minutes.
The FIVE also boasts a level 2.5 advanced driver-assist system, noise cancellation, facial recognition, sentry mode, voice control and is 100% born and made in the U.S.A. Nice!
All said, it seems as though MULN can give Tesla (NASDAQ:TSLA), Lucid Motors (NASDAQ:LCID), Kia Motors and others a run for consumers checkbooks in this coveted and competitive market.
Lastly, Mullen isn't just about the consumer either. Mullen's Class 1 EV and 2 EV cargo vans for fleet customers are claimed to be on track for delivery this year.
Fake it Until You Make it With MULN Stock
Now for an important message: "Danger! Danger! Will Robinson!" Plopping down $100 to reserve your Mullen FIVE is vastly less risky than taking ownership of even 100 shares of MULN stock.
Today, and as MULN stock burns through cash in an attempt to go from a cool concept to real world product, Reddit, StockTwits and other chat forums have made MULN stock one of their favored tickers. And understandably so, too.
MULN stock is a special purpose acquisition company (SPAC) and the result of a reverse merger with Nete Element this past winter. It is a good one, too, in a bad sort of way.
SPACs, of course, have been a favored stomping ground of Reddit's apish, long-oriented traders. But MULN stock has other coveted features in spades that apes love and which many of its peers lack.
For one, MULN is a micro-cap stock sporting a very low share float. That makes the stock easier to push around. The shares are also apparently among the market's more heavily-shorted stocks. Reports suggest as much as 45% of MULN stock float is held short. Short-squeeze!
Also and despite the gains this past week, MULN stock features a low-priced ticker of around $3 with little in the way of Wall Street coverage and institutional interest.
Yup. It is the so-called perfect investment. Well, among a subset of investors, at least.
Should You Buy MULN Stock?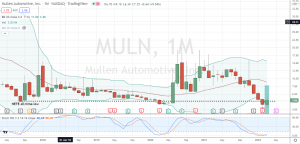 Click to Enlarge
From what has been discussed, it should be easy to appreciate who you're getting in bed with if you decide to buy Mullen Automotive. My advice would be to stay away from MULN stock.
Even if you do accept the shares' ignominious company and those risks, the decision could still be more than you bargained for.
Given MULN stock's weaker financial position, future dilutive or debt raising efforts to get the FIVE's rubber to meet the road is all but set in blacktop.
And while insider selling is difficult at best to make sense of, with MULN's CEO taking a small bit of his stake off the table and selling 200,000 shares into the rally, that should make investors pause.
If you're of the mind that owning Mullen Automotive has a place in your portfolio, please refrain from getting overly-excited with MULN stock's strong-looking monthly bottoming pattern.
Realize and respect in advance that charts aren't infallible. And despite a trifecta of price, volume and stochastics confirmation, the roughly $2.25 to $2.50 in embedded candlestick risk isn't a dollar amount worth being relaxed about.
On the date of publication, Chris Tyler did not have (either directly or indirectly) any positions in the securities mentioned in this article. The opinions expressed in this article are those of the writer, subject to the InvestorPlace.com Publishing Guidelines.