These are the growth stocks to buy if you're the diamond hands type.
Iamgold (IAG): Although IAG has been beaten up, the precious metals sector is ideal for uncertain times.
Rivian Automotive (RIVN): Rivian's current focus on the high-end market gives it an advantage.
Hut 8 Mining (HUT): Despite the drop in cryptocurrency prices, the long-term upside is tempting.
Barnes & Noble Education (BNED): BNED could gain relevancy post-pandemic.
Fiverr (FVRR): Fiverr's freelance marketplace is attractive as work-from-home comes to an end.
IonQ (IONQ): IONQ is one of the growth stocks to buy to bank on the future of computing.
Forian (FORA): Forian could be intriguing for those who want to dive deep into the discount bin.
The recent volatility in the capital markets has presented distinct opportunities for high-risk, high-reward growth stocks to buy.
We're talking about companies that are attempting to build a presence in their industries, often eschewing actions such as paying dividends.
What makes this list of growth stocks to buy particularly treacherous is that there's a good chance these ideas could crash even more than they already have.
During market cycles when risk-off sentiment dominates, Wall Street typically gravitates toward relatively stable or reliable names. The growth sector tends to suffer, making this arena inappropriate for conservative investors.
At the same time, as the meme-trading phenomenon proved more than a year ago, moving against the grain can catch even hardened investors off guard. Therefore, diving into some of the high-risk, high-reward growth stocks to buy can generate massive upside.
Remember to only invest what you're comfortable losing.
| | | |
| --- | --- | --- |
| IAG | Iamgold | $2.28 |
| RIVN | Rivian Automotive | $29.61 |
| HUT | Hut 8 Mining | $3.16 |
| BNED | Barnes & Noble Education | $2.35 |
| FVRR | Fiverr | $39.66 |
| IONQ | IonQ | $5.83 |
| FORA | Forian | $2.93 |
Iamgold (IAG)
Precious metals mining firm Iamgold (NYSE:IAG) was originally on an upward trek this year.
Unfortunately, its results for the first quarter of 2022 failed to impress. While the mining firm delivered strong numbers compared to the year-ago level, analysts became concerned about Iamgold's future viability.
Costs for its new gold project located in Ontario are expected to rise more than management initially planned. At a time when the broader global economy itself is struggling with higher costs everywhere, analysts were disappointed.
Naturally, IAG took it on the chin. The end result is that rather than being in the black for the year so far, shares are down nearly 25% year to date. t
Nevertheless, the precious metals sector is a tried-and-true arena for investors to park their funds when troubles arise. Given how few viable options exist, IAG could be one of the growth stocks to buy.
Rivian Automotive (RIVN)
Rivian Automotive (NASDAQ:RIVN), the once-promising EV play has tumbled 74% on a year-to-date basis.
Some of the problems were not exclusive to Rivian. Its most recent quarterly earnings reports disclosed that raw material costs and supply chain pressures stymied the business. But those are headwinds that also are hurting all other automakers.
Currently, the tough pill to swallow is that EVs are not ready for mass consumer adoption due to high prices.
However, Rivian at this moment is focusing on the premium end of the scale, which might make it one of the speculative growth stocks to buy.
Hut 8 Mining (HUT)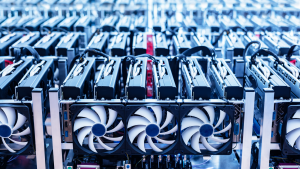 As a cryptocurrency miner, Hut 8 Mining (NASDAQ:HUT) enjoyed a strong correlation to the underlying sector.
In the early spring of 2021, HUT was easily one of the top-performing growth stocks to buy.
After a lull during which cryptos entered a consolidation phase, HUT again bounced higher in the summer as digital assets turned on the afterburners.
Indeed, the correlation took HUT to all-time highs in November last year. Since then, it's been a horror show.
On a year-to-date basis, HUT has hemorrhaged nearly 70% of its market value. As mainstream cryptos struggled for traction, many investors abandoned Hut 8. It's tough to mine and sell a rapidly depreciating asset.
I don't expect HUT to turn around for very long given the crypto sector's notorious wildness. However, the blockchain cat is out of the bag so if you have the patience, Hut 8 could be one of the more intriguing growth stocks to buy.
Barnes & Noble Education (BNED)
Barnes & Noble Education (NYSE:BNED) provides study tools and writing resources for students, and retail-related services for academic institutions.
The problem for Barnes & Noble Education is that the academic world suffered mightily from the disruption that the coronavirus pandemic imposed.
Now that soaring inflation is crimping household budgets, the longer-term risk is that families may start rethinking the return on investment regarding higher education.
Still, the go-to-college-and-succeed mantra will be a tough nut to crack. In the meantime, you could gamble on BNED stock.
Fiverr (FVRR)
Prior to the pandemic, freelancing marketplace Fiverr (NYSE:FVRR) fundamentally represented an enticing opportunity among growth stocks to buy.
For one thing, the gig economy was booming and will likely continue to boom. Second, many worker bees sought work-life balance. Then Covid-19 made its rude introduction, forcing white-collar employees to operate remotely.
For the last two years, several folks got their dream — a steady salary and not having to show up at the office.
For a while, FVRR did extraordinarily well because of the uncertainties of the labor market when Covid struck. But with the labor force somewhat normalizing, FVRR has suffered a reversal of fortune, plummeting 70% year to date.
However, such negativity might not last indefinitely because the workforce itself might recall its employees to the office.
Prior to the global health crisis, workers wasted more than two hours daily, translating into billions of dollars of lost productivity. It's hard to imagine that these same workers are more productive at home.
Invariably, a conflict will ensue, meaning that those who really want to work from home must give freelancing a try.
IonQ (IONQ)
A recent bump won't make investors forget that IonQ (NYSE:IONQ) is down nearly 67% year to date.
Part of the problem is that the underlying company may be too aspirational for some investors. Specializing in quantum computing, IonQ may take some time before it's a truly comfortable name among growth stocks to buy.
The other component is that IONQ entered the public market via a reverse merger with a special purpose acquisition company (SPAC).
SPACs generally have stunk up the field. Post-business combination, these shell companies have significantly underperformed the benchmark equities index.
But for the bold contrarian, not all hope is lost. Essentially, quantum computing features a long upside pathway. Some experts project that the sector will grow from $486.1 million in 2021 to $3.18 billion in 2028, representing a compound annual growth rate of 30.8% during this period.
Forian (FORA)
A data analytics and software management provider, Forian (NASDAQ:FORA) looks relevant on paper, but its one of the IPOs from last year that hasn't panned out that well.
Since the beginning of this year, FORA has plunged almost 66%, making it among the riskiest growth stocks to buy.
Forian targets both the healthcare and cannabis markets, which are lucrative but also challenging. Regarding the former, the arena is incredibly competitive. For the latter, the black market is going to be a problem. Since illegal operators are not paying required licensing fees and taxes, they can box out the legal folks.
If you're an optimist, I suppose it's possible that law enforcement agencies could start cracking down on black market botanicals given that this segment threatens tax revenues.
In that scenario, FORA might win out as one of the growth stocks to buy. However, I would still be extremely cautious.
On the date of publication, Josh Enomoto did not have (either directly or indirectly) any positions in the securities mentioned in this article. The opinions expressed in this article are those of the writer, subject to the InvestorPlace.com Publishing Guidelines.