Warner Bros. Discovery (NASDAQ:WBD) emerged from the recent spin-off of the folks who brought us Bugs Bunny from AT&T (NYSE:T) and subsequent merger with Discovery. This corporate repositioning has done little to stop the slide in WBD stock, which is now down 44% since the April 12 separation.
Shares are getting hammered for a variety of reasons. Valuations are coming down across the media industry. Investors fear the impact of a recession on advertising budgets. Also, the content game has gotten more costly as additional players rush to compete for the best actors and shows.
Against this backdrop, is there hope for WBD stock here? Yes, there is. To wit, one analyst believes shares can triple from here.
| | | |
| --- | --- | --- |
| Ticker | Company | Current Price |
| WBD | Warner Bros. Discovery, Inc. | $14.28 |
Could WBD Stock Rally To $40?
Morningstar's Neil Macker has a contrarian call on WBD stock. He believes shares have a fair value of $40 today, which would be about 180% upside from today's price. His peers have an average rating of "outperform" and price targets ranging from $18 to $52 per share.
Macker has several reasons for this bold call. For one, CEO David Zaslav is a highly respected manager in the media industry. Zaslav oversaw Discovery since 2006, building it into a powerhouse in original content. Discovery's integration with Warner Bros. gives the combined company the scale to make blockbuster movies and shows while also continuing to produce Discovery's entertaining lower-budget content.
Even prior to merging with Warner Brothers, Discovery's streaming service Discovery+ has been picking up steam. That should accelerate as the combined company now has a much larger content library to work with.
In particular, it's worth considering that Discovery channels such as HGTV, Animal Planet and Food Network have content that translates well in foreign markets, given Discovery's significant traction in places such as Latin America. Netflix's (NASDAQ:NFLX) success has come in large part from doing such a good job making localized content for large foreign language markets. Discovery's blend of programming has considerable international appeal as well.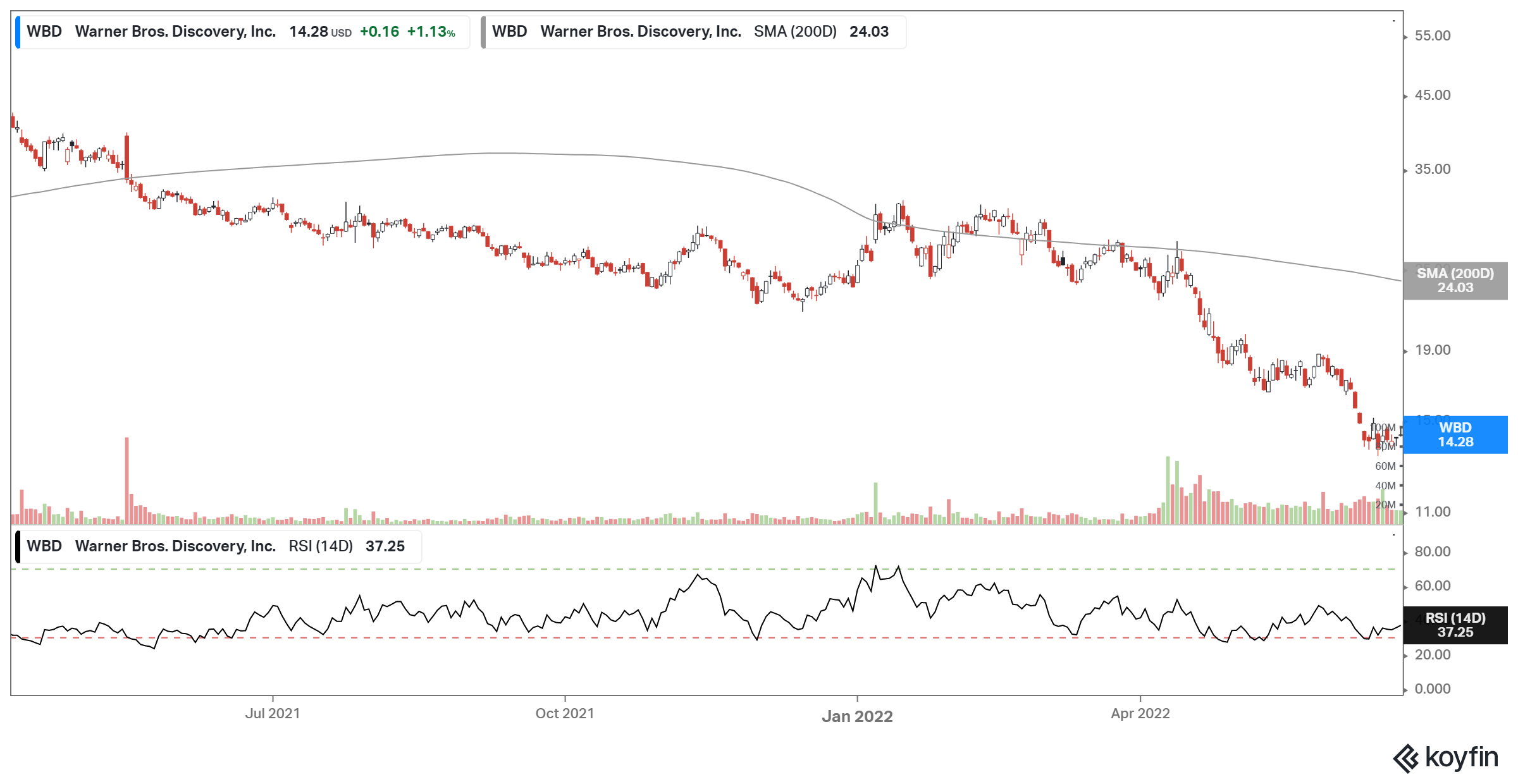 Click to Enlarge
How to get to the $40 price target? Macker believes Warner Bros. Discovery should trade at 13.5x EV/EBITDA of the combined business post-merger. That seems reasonable, as media companies historically often trade in the 12-15x range. Though, admittedly, valuations are greatly depressed across the industry at the moment, so it might take some time for traders to be willing to pay more typical prices for media stocks.
"We forecast average annual revenue growth of 6% over the next five years. We expect distribution revenue growth of 7% to be propelled by subscription growth at HBO Max and Discovery+," he wrote in mid-April.
Why are Shares Trading so Poorly?
If Warner Bros. Discovery is potentially worth $40 a share and is a clear bargain, what are traders missing? It's rare to see such a large and persistent discount to fair value.
The biggest worry is that this is a melting ice cube sort of business. Linear TV is in decline (except for sports, which Axios' Sara Fischer covered so well this past weekend). The rate and speed of that decline is up for debate. But it's clear that Millennials and especially Zoomers don't have the same affinity for cable TV that older generations did.
Over time, content producers such as Warner Bros. Discovery need to evolve toward successful streaming models to offset the loss of legacy revenue streams.
Arguably, the big point of dispute is over how fast these cash flows will diminish. If cable TV largely disappears within the span of a decade, then WBD stock's current share price might make sense. But if cable hangs on with a reasonable number of subscribers for a longer time period, Warner Bros. Discovery should be able to recoup its entire current market cap off of legacy cash flows making the streaming business and other ventures a sort of free call option.
Streaming Worries Reverberate
The other big concern is that streaming itself is looking shakier. The collapse of Netflix's stock price has sent shockwaves through the industry. Netflix spends something like $20 billion per year on generating new content. The market is currently valuing the whole Netflix business at just $80 billion.
That's an awfully low valuation for both Netflix's extensive content library and its massive subscriber base. Keep in mind that Netflix generates a cool $30 billion per year in subscriber revenues. If the market values that at just $80 billion of market cap, it's not hard to see why share prices for Warner Bros. Discovery, Paramount Global (NASDAQ:PARA) and others are so low lately. That's to say nothing of Walt Disney (NYSE:DIS) which is down 50% off its highs.
WBD Stock Verdict
It doesn't make sense that all the media companies are seeing their share prices collapse simultaneously. It's true that we don't know which of these companies will end up being the biggest winners in the new television and movie business model.
But viewers' demand for content is insatiable. Somebody is going win. Quite possibly several companies, in fact. And at the price that WBD stock is being offered at today, it doesn't take much for shareholders to make a large profit going forward.
On the date of publication, Ian Bezek did not have (either directly or indirectly) any positions in the securities mentioned in this article. The opinions expressed in this article are those of the writer, subject to the InvestorPlace.com Publishing Guidelines.