Shares of oil giant Exxon Mobil (NYSE:XOM) have certainly been under some selling pressure lately. Both oil and oil companies have been hit hard as recessionary fears begin to outweigh supply concerns. But just as the buying got overdone a few weeks ago, the selling is now reaching similar extremes. It is now time to be a buyer of XOM stock on any further weakness.
I have not always been an oil bull. My previous analysis on XOM stock from Jun. 9 had a decidedly bearish short-term outlook for Exxon Mobil going forward. Both the fundamentals and technicals were getting to extremely bearish levels at that time.
The recommendation was to buy the Sep $100 XOM puts at $6 to position to profit from a pullback. Since that time, XOM stock has fallen almost 20 points from $105 to near $85. The puts have more than doubled in price in that time frame.
Now that XOM stock has dropped sharply, my viewpoint has changed, as well. Price does matter. Additionally, the overbought fundamental and technical conditions are now looking decidedly more attractive given the punishing pullback.
| | | |
| --- | --- | --- |
| Ticker | Company | Price |
| XOM | Exxon Mobil Corporation | $84.64 |
Valuation View
The fall in XOM stock has brought the valuation multiples back toward more historic norms. The current price-to-sales ratio is 1.2X. This is a far cry from the 1.4x seen just a month ago. Other traditional metrics, such as price-to-earnings and price-to-free-cash-flow, have also softened. XOM stock now yields over 4% following the pullback with a payout ratio under 60%.
This will likely begin to attract income investors looking for a safe and solid yield in the current market environment. It is especially true now that the 10-year Treasury yield has fallen back well below the 3% level.
Technical Take
XOM stock is nearing oversold levels. The nine-day RSI is fast approaching 30 once again after briefly dipping below. The Bollinger Percent B went negative. The moving average convergence divergence reached the most oversold readings of the past year. Shares are trading at a massive discount to the 20-day moving average.
In previous times, all these indicators aligned in a similar fashion and marked significant short-term lows in XOM stock.
XOM stock is also looking better when compared to the price of oil. Normally, oil prices and Exxon Mobil move in tandem. Recently, however, XOM stock had started to get out ahead of the price of oil, as I mentioned in my previous article. Over the past month, XOM stock has dropped at almost twice the pace that oil prices have fallen. This has brought the price of Exxon Mobil back in line and more toward the traditional relationship to oil prices.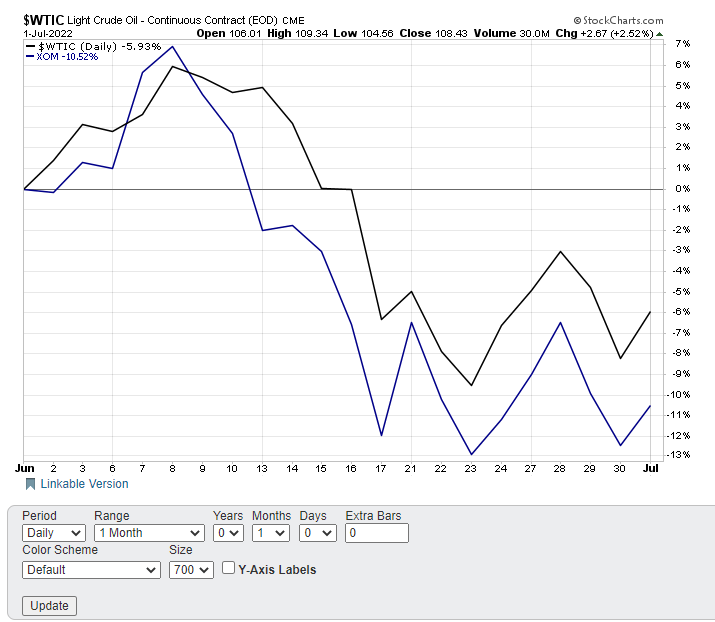 Source: StockCharts.com
How To Trade XOM Stock Now
Implied volatility (IV) has jumped sharply over the past month due to the weakness in Exxon Mobil shares. The current IV is at the 85th percentile, meaning option prices are comparatively expensive. This favors selling strategies when constructing trades.
So to position for XOM stock to begin to find some semblance of support, an out-of-the money bull put spread makes probabilistic sense.
For example, selling the September $75/$72.50 put spread would bring in a net credit of 45 cents, or $45 per spread sold. The risk on the trade is $2.05 (the spread differential of $2.50 minus the initial credit received of 45 cents), or $205 per spread sold. Return on risk equates to 21.95%.
The short $75 strike provides over a 12% downside cushion to the current price of XOM stock. It is also well below the major support area at $82. Additionally, it is a natural hedge to those who bought the Sep $100 puts recommended in my prior article.
On the date of publication, Tim Biggam did not have (either directly or indirectly) any positions in the securities mentioned in this article. The opinions expressed in this article are those of the writer, subject to the InvestorPlace.com Publishing Guidelines.