Stocks have soared higher since mid-June. And technically speaking, this market rally looks like the "real deal."
Indeed, stocks have retraced 50% of their losses. And now the current rally that started in mid-June looks a lot like an exciting new bull market. (All new bull markets of the past were kickstarted by a 50% retracement.)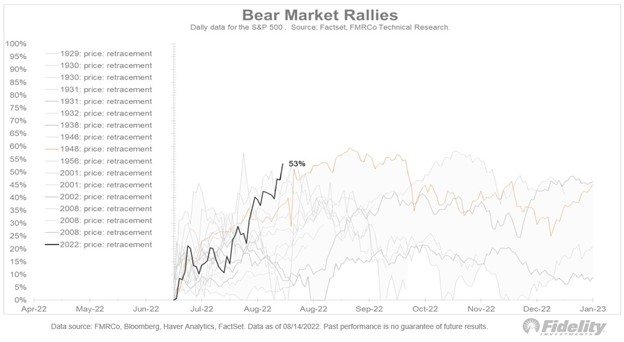 But not all investors believe in this new bull market breakout.
One particularly legendary investor – known especially for his market crash warnings – thinks stocks are doomed. And he's putting his money where his mouth is.
Dr. Michael Burry – best known for calling the 2008 financial crisis before anyone else – hates this current market rally. He's taken to Twitter (TWTR) numerous times to warn investors that the stock market crash is actually just getting started.
He's not just blowing hot air. He really believes that – so much so, in fact, that he sold all his stock positions in Q2 of 2022.
You read that right. The Big Short legend Michael Burry sold every stock he owned in the second quarter of 2022.
Now, he did buy one stock in the quarter. But that looks more like a big bet on the U.S. economy plunging into a deep recession than anything else.
This is perhaps the loudest warning shot yet for investors betting on a new bull market. Arguably the greatest bear market prognosticator of all time is 100% bearish on this market.
What's he thinking? What stock did he actually buy last quarter? And, most importantly, should you follow him?
Let's answer those questions.
Michael Burry Sells Everything
Heading into the second quarter of 2022, Michael Burry had a pretty big stock portfolio. He owned about $19 million in Booking (BKNG), $18 million in Alphabet (GOOGL, GOOG), and $18 million in Meta (META), among various other multi-million-dollar positions.
He sold those positions in Q2 – all of them. Not one was spared.


The move was shocking, to say the least. But to followers of Burry's cryptic Tweets, the moves were less surprising.
Burry has warned for months that this stock market crash could get really ugly. He once compared it to 2008's financial crisis. And he also said the market selloff was only halfway over (when the S&P 500 was already down over 20%).
The Burry bear thesis – as best as we can piece together, based on his tweets – is pretty straightforward.
Michael Burry believes that while we are due for disinflation in the short-term due to inventory builds, higher-than-usual inflation will remain for the long term, powered by persistent commodity and labor shortages.
Further, he believes that poor U.S. government policies will exacerbate the negative economic impacts of this elevated inflation. As a result, the U.S. economy will plunge into a deep recession. This deep recession, Burry reasons, will lead to a dramatic drop in corporate profits, yet to be priced into stocks.
As corporate profits drop over the next 12 months, Burry thinks stocks will collapse.
In a nutshell, that's the Burry bear thesis – or, at the least, our interpretation of it based on a piecing together of his always-cryptic tweets.
Basically, Michael Burry doesn't believe inflation will recede. And as a result, he thinks stocks are doomed. So… he sold everything.
But believe it or not, Burry selling everything wasn't even the oddest thing about his fund's recent 13F filing.
A Big Recession Bet?
In addition to selling everything last quarter, Burry also made a very off purchase. He bought more than 500,000 shares of The Geo Group (GEO) – a private prison operator.
Weird, right? The guy cashed out his entire $200-plus-million stock portfolio last quarter. Then he bought $3.3 million worth of a private prison stock.
What's going on here? Well, we think Burry is going all-in on the "America is doomed" thesis.
It reasons that if the coming recession Burry is predicting is particularly awful, then unemployment rates will soar. Typically, when unemployment rates soar, crime rates do, too. Burry's bet on GEO Group appears to be one that crime will rise dramatically over the next year as the U.S. economy crumbles into a deep recession.
Another part of the bet could be political. Former U.S. President Donald Trump supported private prisons, and private prison spending during the Trump years boomed. Indeed, during the first few months of Trump's presidency, GEO stock more than doubled.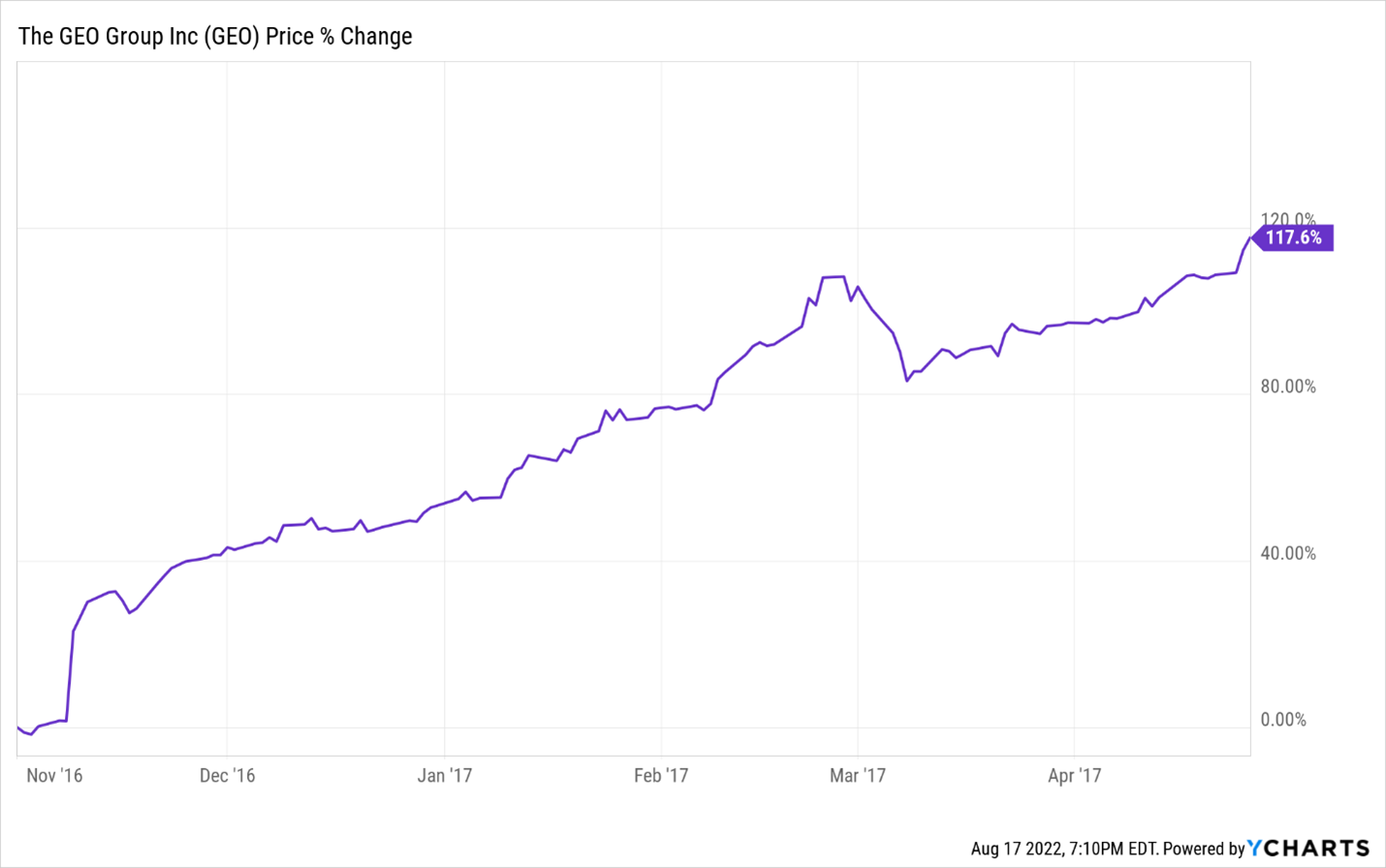 It appears Burry could be making a simultaneous bet on rising crime rates and a coming "Red Wave" in this year's midterm elections with his purchase of GEO stock.
Remember: Michael Burry Is Human
Michael Burry is a legend. He's an unequivocal genius and a master of financial markets. And he's someone you should always listen to when stocks are crashing (as they have been in 2022).
That said, he's still just a man. He doesn't have a crystal ball predicting the course of markets over the next few months or years. Like the rest of us, he uses research, math, and logic to make a guess about where stocks might go.
And his "market crash" calls haven't always been as spot on as they were in 2008. For example, in 2017, Burry called for an imminent stock market crash that never materialized.
We believe the best thing investors can do with the shocking information that Burry sold everything last quarter is this. Acknowledge it, and move on.
Burry's saying that if inflation persists, stocks are doomed. We're bullish, and we entirely agree with that thesis. If inflation persists, stocks and bonds, cryptos, and every other financial asset out there are doomed.
Plug Into the Boom
But the bulk of evidence today suggests inflation is meaningfully decelerating. Inventory levels are rising. Commodity prices are crashing. Energy costs are falling. Home prices are starting to drop. Wage growth is slowing.
All the core drivers of inflation are trending in the right direction. If these trends persist, stocks won't crash – they'll soar.
That's exactly what we think will happen. That's why we aren't selling everything like Burry. Instead, we've been buying the dip. And as a result, our portfolios have broadly risen more than 50% from mid-June to mid-August.
We think this rally is just getting started. In 12 months, we think markets will be 20% higher – and our stocks will be more than 100% higher. This is the start of a big market rally, not the continuation of a huge crash.
Bottom line: Use Michael Burry's "doomsday" thesis to acknowledge the risks. Then plug into a potential stock market boom with stocks that could potentially double your money in a year.
On the date of publication, Luke Lango did not have (either directly or indirectly) any positions in the securities mentioned in this article.