And just like that, one of my top stocks to buy for 2023 is already up almost 50% this year!
Fintech firm SoFi (SOFI) reported fabulous fourth-quarter numbers yesterday morning. And shares popped more than 12%, even as the rest of the market sank. That big post-earnings rally continued what has been a monster rally for SOFI stock in 2023. Year-to-date, shares are already up more than 45%, making this one of the hottest stocks in the market right now.
For perspective, the S&P 500 is up around 5% this year, while the Dow Jones is up a measly 2%.
SOFI stock is simply crushing it right now.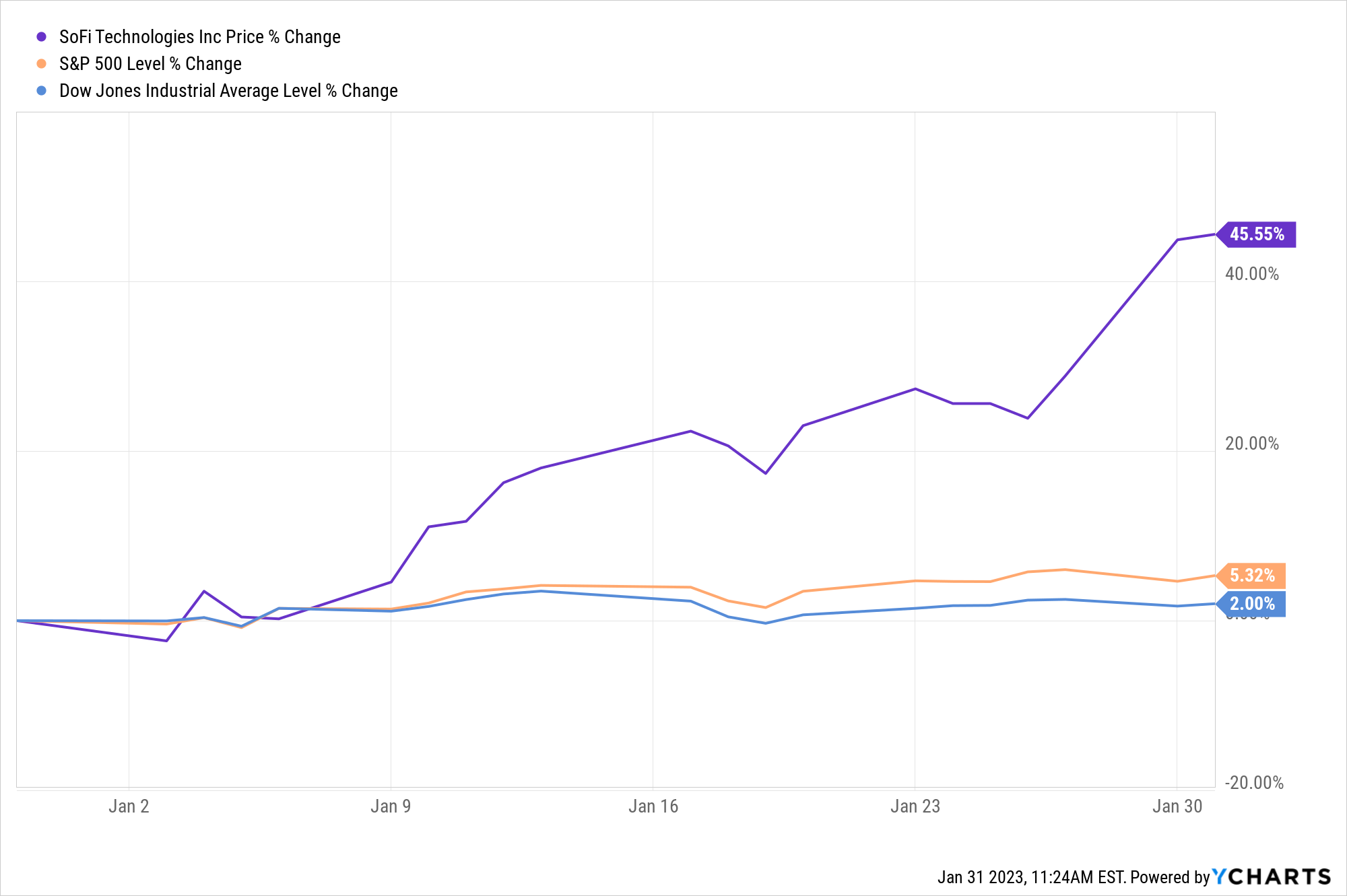 I think the rally in SOFI stock is just getting started. In fact, I think the stock is just beginning to enter a massive breakout.
A Quick Refresher
SoFi is a personal finance app that is trying to rewrite the rules of consumer banking. Forget physical banking – it's creating a new generation of digitally native online banking made for the modern consumer, all through a single "super app." Basically, SoFi is trying to do to Bank of America (BAC) and Wells Fargo (WFC) what Amazon (AMZN) did to J.C. Penney and Sears: use technology to make them extinct.
We think the company is going to do just that. SoFi is the banking of the future – the emerging "Amazon of Finance," if you will.
Yet, SoFi stock was absolutely crushed in 2022 due to a myriad of factors, including rising interest rates, slowing lending activity and consumer spending, a continuation of the student loan moratorium, and more.
But as the old saying goes, it's always darkest before dawn.
That's why we were pounding on the table on SOFI stock in late 2022. We felt this future superstar was on the cusp of staging an enormous breakout.
That breakout has arrived. Now we think it is time for the stock to fly higher.
Here's why.
Banks Suck, But SoFi Solves the Problem
Hardly anyone likes the legacy banking process.
Account fees. Clearinghouses. High interest rates. Broken digital platforms. Confusing rewards programs. Long phone calls and in-person appointments. The whole process is slow, expensive, and cumbersome. That's mostly because the industry is full of profit-taking middlemen and rooted in antiquated and costly physical processes.
So… what if technology automated out those middlemen profit-takers? What if someone created an entirely digital bank, with all technology-driven processes that delivered fast, cheap, and convenient financial solutions to customers all across America? Better yet, what if someone did all that, and then put it all into an app, allowing you to control all your banking from your phone?
That's what SoFi is doing.
SoFi was founded in 2011 by Stanford business school students who were fed up with the inefficiency of the student loan financing industry. They saw a huge opportunity to fix those inefficiencies, which they recognized were rooted in two things.
At the time, banking was a physical-first industry and, therefore, was weighed down by lots of property-related expenses that were inevitably passed on to the consumer.
Secondly, student loans were typically structured as complex transactions with tons of middle-men, all of whom had their own fee that the college student had to pay.
SoFi was created, on the idea that the platform could leverage automated technologies and a digitally-native experience to create hyper-convenient access to cheap student loan refinancing.
It worked.
Over the past decade, students across America have flocked to refinance their loans through SoFi to take advantage of their lower rates, which have been achieved through the use of technology to reduce the operating costs of the business. (And SoFi has, of course, passed those cost-savings on to its customers.)
That was the "hero product" that put SoFi on the map in the fintech world.
SoFi has since leveraged this success story to build an ecosystem of high-quality, low-cost, and hyper-convenient fintech solutions – all of which are accessible through a single, intuitive "super app."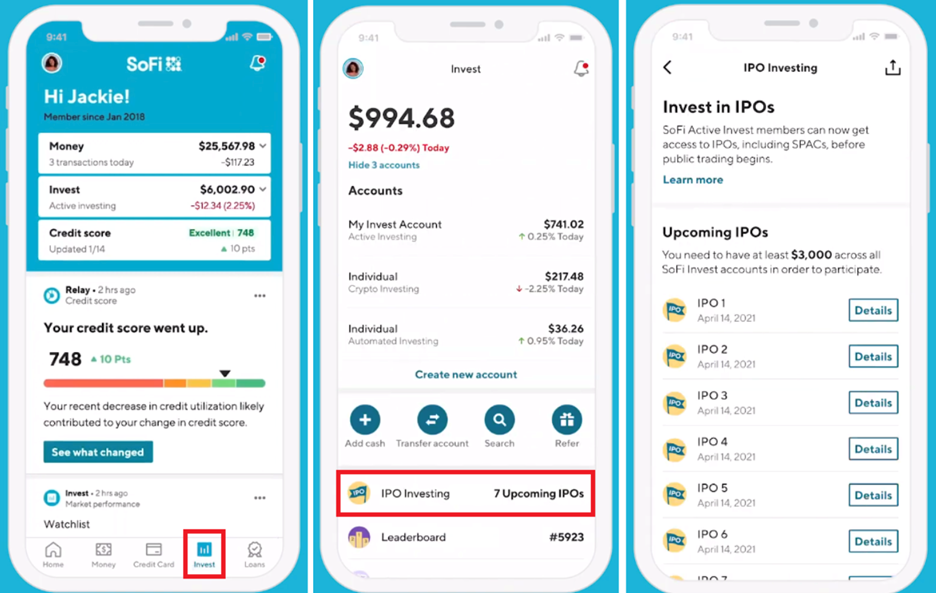 Through the SoFi app, the company offers:
SoFi Money: a cash management account that acts like a mobile checking or savings account. It has no account fees, 1% APY and an attached debit card.
SoFi Invest: an attached mobile investing account. In it, consumers can use their funds from SoFi Money to invest in stocks, ETFs and cryptocurrencies. They can also invest in pre-IPO shares, which are usually reserved for institutional clients.
SoFi Credit Card: an attached credit card. Consumers can link their Money accounts to this card and earn 2% cash-back on all purchases. Those rewards can be used to pay down debt through a SoFi loan or invest in stocks/cryptos with SoFi Invest. And there's no annual fee.
SoFi Relay: an attached budgeting software tool. Consumers can use it to track and monitor spending via SoFi accounts and external linked bank accounts. They can also check their credit score.
SoFi Education: complementary educational articles and videos that help consumers learn everything about finance. It covers topics from how to invest in cryptos, to what an APR is, to why credit scores matter.
With SoFi, you get all of that… in one application. Its all-in-one mobile money app is leveraging technology to make banking fast, cheap, and easy.
It's the future.
In 2022, investors forgot about that future. Now the market is realizing that the future of finance is on sale – and everyone's rushing to buy the dip.
SoFi Earnings Illustrate Flawless Execution
In 2022, everyone thought that the combination of higher interest rates, lower lending activity, lower consumer spending, and the student loan moratorium would significantly weigh on SoFi's operations.
After all, if people aren't spending, refinancing, or looking for loans, SoFi's revenue streams should theoretically dry up pretty quickly.
But they aren't drying up. At all. And that speaks to the holistic value proposition of the SoFi platform.
SoFi just reported fourth-quarter earnings on Monday. The numbers couldn't have been better. And they paint the picture of a company that's firing on all cylinders right now.
SoFi added 480,000 new members last quarter, more than the 424,000 it added in the previous quarter, meaning user growth is actually accelerating from an already impressive pace. Total members rose more than 50% year-over-year.
Revenues rose 58% year-over-year, representing the third consecutive quarter of accelerating revenue growth. And EBITDA margins clocked in at 16%, well-ahead of expectations and up an astounding ~10X year-over-year.
Moreover, management guided for all this huge growth to continue in 2023, too, even in light of recession risks. The team thinks revenues will grow by more than 25% this year (above consensus estimates) and that EBITDA margins will rise another 500-plus basis points (also above consensus estimates).
In other words…
Members, revenues, and profit margins are all rising very quickly and much faster than expected.
Like I said, the report couldn't have been better.
In response, SOFI stock popped 13%. Shares are now up more than 45% year-to-date.
That's a huge rally. But we think it is far from over.
SoFi Stock: A Potential "Fortune-Maker"
In the long run, we actually think SOFI stock is a "fortune-making" investment opportunity. Indeed, it could rise by many, many multiples from its current levels.
Here's our back-of-the-envelope math.
The 18-and-over population in the U.S. currently measures about 210 million people. We believe about 20% of them could be SoFi members by 2030, implying a SoFi member base of ~42 million people.
Most users will be using about three products (banking, credit card, and invest), implying total products used of 126 million. We estimate average revenue per product at that time will be about $200. Assuming so, that puts 2030 revenue at just over $25 billion.
A software-based business like this with a competitive moat should scale toward 30% EBITDA margins. Based on that assumption, we believe net profits could eclipse $5.5 billion by 2030.
Based on a simple 20X price-to-earnings multiple, that implies a 2030 valuation target for SoFi of over $110 billion.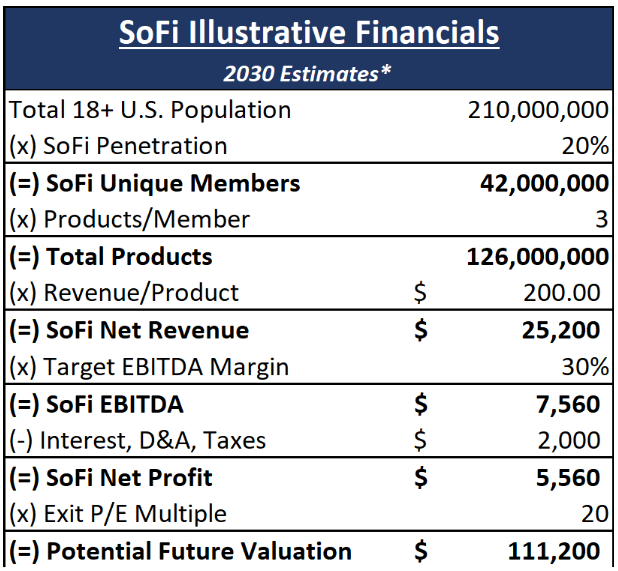 The current market cap is $5.4 billion.
In other words, we think the stock could soar 20X for patient investors.
A Short-Term SoFi Stock Breakout in the Making
SOFI stock, though, isn't just for patient investors.
We think the chart is telling us that the stock wants to run significantly higher in the short term, too.
When we look at SOFI, we see a stock that was clearly in a well-defined downtrend until about September 2022. Then it started to trade sideways in a consolidation pattern.
With yesterday's big rally, the stock broke to the upside of that consolidation channel, pushing above a critical resistance top. The stock has also retaken its 200-day moving average for the first time in this downtrend.
This trading action is consistent with a stock prepping for a big short-term breakout.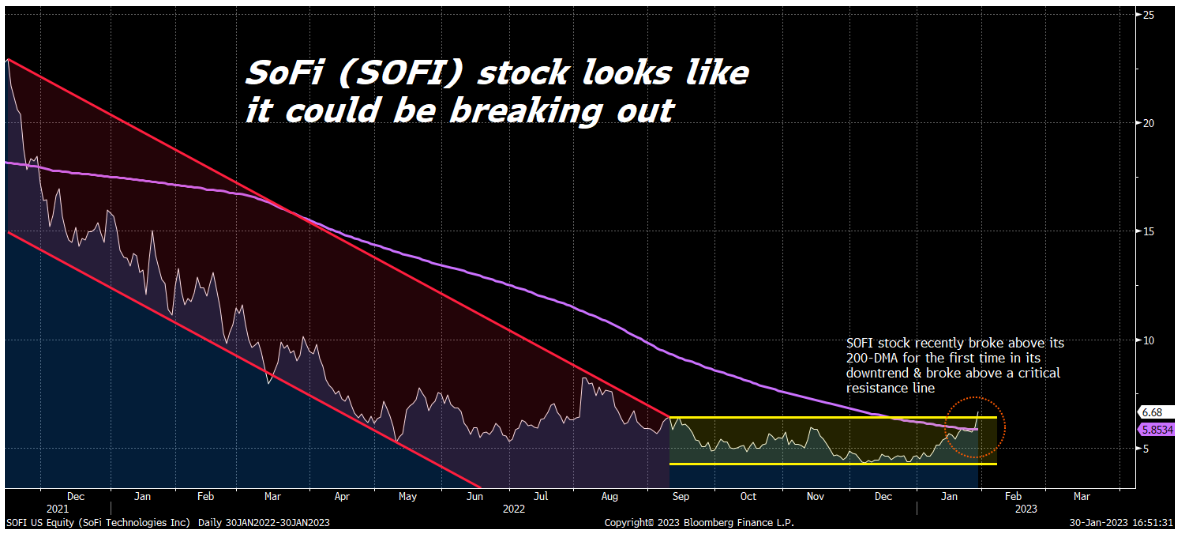 The Final Word on SoFi Stock
The nasty bear market of 2022 looks like it wants to turn into an exciting new bull market in 2023.
That means now is a fantastic time to be investing. Fortunes are most easily made in stocks when bear markets turn into bull markets.
Did you know that the stock market's best short-term runs of the past 20 years all happened when bear markets were turning into bull markets? Late 2002, early 2009, and early 2020. In each era, the S&P 500 soared more than 50% in less than a year.
Did you also know that, during late 2002, early 2009, and early 2020, dozens upon dozens of stocks doubled in less than 12 months? And several rose 1,000%-plus in less than a year!
The data is pretty clear here, so I'll repeat myself – even if I sound like a broken record. Fortunes are most easily made in stocks when bear markets turn into bull markets.
We are currently in the midst of one of these generational transitions right now.
Already, the S&P 500 is up about 5% in a month, putting it on track for a 50%-plus return in less than 12 months.
Already, 109 stocks have more than doubled year-to-date, in less than a month.
A new bull market is being born. Are you prepared to capitalize on it?
Learn how to find stocks like SOFI before they soar 50% in less than a month.
On the date of publication, Luke Lango did not have (either directly or indirectly) any positions in the securities mentioned in this article.