The equities market is heating up and price recoveries dot the landscape. Given the strength, it is far easier to spot lagging large-cap stocks. These weaklings are best avoided and could be good candidates for bearish trades. While the reasoning for each ticker getting torpedoed varies slightly, they all have utterly ignored the recent S&P 500 rally. The lack of participation is sending a clear signal to would-be buyers: Steer clear.
Another reason you should avoid the following companies is that earnings season has delivered many big winners. The number of up-trending stocks is multiplying, providing many quality patterns to chase. That leaves little room or reason for dumpster diving in names plagued by relative weakness or deteriorating fundamentals. This includes companies like those below.
The following are all top large-cap stocks to avoid for now:
| | | |
| --- | --- | --- |
| Ticker | Company | Price |
| META | Meta Platforms, Inc. | $159.10 |
| BABA | Alibaba Group Holding Limited | $89.36 |
| NEM | Newmont Corporation | $45.28 |
Large-Cap Stocks: Meta Platforms (META)
Drawdown from the Peak: -60%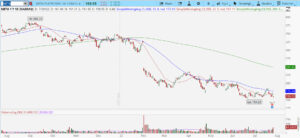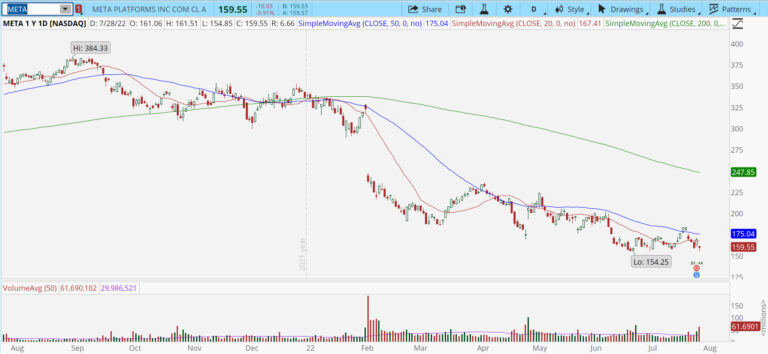 META) stock chart with downtrend and looming bearish breakdown." width="300″ height="138″ />
Click to Enlarge
Facebook parent company Meta Platforms (NASDAQ:META) is sliding after yet another quarter of disappointing earnings, bringing its share price to the brink of a significant technical breakdown at $155. This week's report missed analyst estimates for revenue and profits while delivering downbeat guidance for the next quarter.
Shares are down over 6% on Thursday and are testing their 52-week low. The past week's decline has come, mind you, while the S&P 500 has been leaping to a new six-week high. The stark underperformance is a clear warning sign.
Meta's fundamentals also paint a grim picture. Its market cap shrunk from nearly $1.1 trillion to $430 billion over the past year. As its advertising business has deteriorated and Facebook user growth stalled, the company has pivoted by placing billions of dollars into the metaverse. So far, Wall Street isn't happy with the transition. The company recorded a $2.8 billion loss in the second quarter on its Reality Labs division, which is in charge of all things related to the metaverse.
Until we see improvement on either the technical or fundamental front, Meta is an easy stock to avoid.
Alibaba (BABA)
Drawdown from the Peak: -69%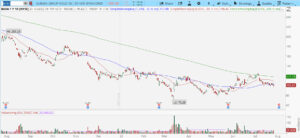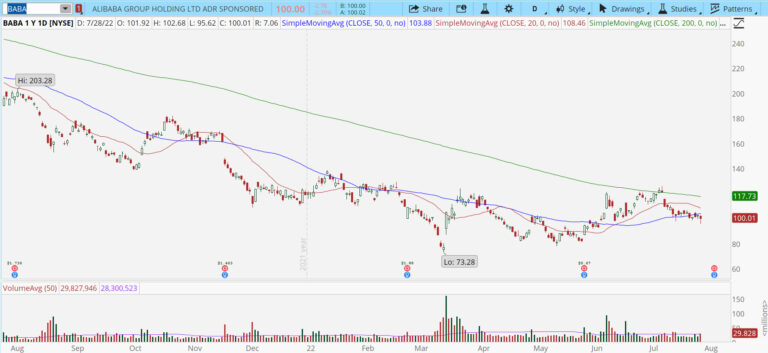 BABA) stock chart with imminent support break." width="300″ height="138″ />
Click to Enlarge
Chinese stocks were on the mend throughout May and June, but July saw bears return with a vengeance. The reversal of fortune hasn't been kind to Alibaba (NYSE:BABA), and the e-commerce juggernaut is back in a downtrend after getting monkey hammered at the declining 200-day moving average. Prices have since breached the 50-day moving average, placing them back in bear territory.
The strengthening U.S. dollar hasn't been helping foreign stocks either. Rising rates have kept the greenback flying high and it should continue to favor domestic equities over international. As if to place an exclamation point on today's mention, BABA stock is down 3%, even as the S&P 500 is jumping 1.3%.
Don't bottom fish BABA. You'll find easier pickings elsewhere.
Newmont Corp (NEM)
Drawdown from the Peak: -47%
The final ugly duckling for today's large-cap stocks to avoid is Newmont Corporation (NYSE:NEM). The gold miner was already cratering alongside its industry, but the knockout punch came during earnings. Despite entering last week's event already down 41% from the highs, NEM stock still disappointed enough to send prices down another 14% in a single session.
Shares of the Colorado-based mining giant now sit below all major daily and weekly moving averages and don't have any support until $40. That leaves more room to fall and a heap of resistance overhead to thwart recovery attempts. Like BABA, the strengthening dollar has poisoned the precious metals ecosphere. NEM is likely to remain under pressure until the buck stops flexing.
On the date of publication, Tyler Craig did not have (either directly or indirectly) any positions in the securities mentioned in this article. The opinions expressed in this article are those of the writer, subject to the InvestorPlace.com Publishing Guidelines.