One of today's most vital but growing industries is cybersecurity. Consider this: There were 93% more ransomware attacks in the first half of 2021 than in the same period last year. Ransomware attacks are a type of malware attack in which a hacker threatens to publish the victim's personal data or block access until a ransom is paid.
These attacks have been growing worse with the rise of the "Triple Extortion" ransomware attack. This is when hackers steal data from the victim and threaten to release it unless payment is made. The hackers also often go after the companies' customers or vendors in the same way.
You may remember the Colonial Pipeline ransomware attack back in early May. The American oil pipeline system from Houston was completely shut down, causing a standstill of gasoline and jet fuel to many parts of the Southeast.
Investigators traced the attack back to a hack on software from cybersecurity company SolarWinds (NYSE:SWI) that also affected several other government agencies. There was a similar attack last December on the cybersecurity giant FireEye, Inc. (NASDAQ:FEYE), which actually pointed out the SolarWinds hack.
The reality is that there is a growing need to combat these large-scale attacks.
President Joe Biden held a cybersecurity summit this week at the White House, hosting corporate, educational and nonprofit leaders.
Among others, the leaders of Amazon (NASDAQ:AMZN), Apple (NASDAQ:AAPL), Bank of America (NYSE:BAC), Girls Who Code and JPMorgan Chase (NYSE:JPM) attended.
President Biden, along with members from his cabinet and national security team, met with the executives to discuss ways to improve U.S. cybersecurity. Topics of conversation included everything from infrastructure resilience to building enduring cybersecurity to growing the cybersecurity workforce.
According to an official statement, "The U.S. needs to move to a system where cybersecurity is built into all technology." In order to do so, the White House said, strong and worthwhile cybersecurity companies must be at the forefront.
As investors, there are many cybersecurity companies out there. However, not all of them are worth your time and money.
Today, I want to go through my Portfolio Grader system and pinpoint 10 cybersecurity stocks that don't pass muster. I will also share my favorite cybersecurity stock on the market currently.
Below are the cybersecurity companies to avoid…


As you can see in the chart above, some of the biggest and best-known cybersecurity companies are on this list. With the well-publicized hacks, I talked about above, it's no surprise that SolarWinds and FireEye are on this list.
If you're considering investing in these companies, you may want to pump the brakes, especially on any with a D-rating. D-ratings are always an automatic "Sell" in my book.
With all these companies, what really stands out to me is their low Quantitative Grade. My exclusive quantitative formula measures the institutional buying pressure supporting a stock and then determines the quantitative grade.
Like individual investors, large institutional investors, such as corporations, cities and school systems, invest in stocks for income. These large institutional clients buy chunks of a stock, often worth millions of dollars. Typically, the more attractive a stock currently is to institutional investors, the better the stock will perform in the near term.
When you consider the lack of institutional buying pressure in these cybersecurity stocks, they're not worth touching with a 10-foot pole.
My Top Cybersecurity Play
Personally, I like CrowdStrike Holdings, Inc. (NASDAQ:CRWD) as a cybersecurity play right now. The company is in the lucrative cloud security business—and its business has been booming since the global COVID-19 pandemic. Specifically, CrowdStrike offers real-time endpoint security, threat intelligence and cloud workload protection, helping prevent cyberattacks on and off an enterprise's network.
The company's platform, The CrowdStrike Falcon, utilizes its proprietary CrowdStrike Threat Graph to identify security threats and prevent data breaches. CrowdStrike boasts that its platform combines artificial intelligence (AI) and machine learning with behavioral analytics and 24/7 threat hunting all in one solution to protect all workloads on the network—cloud-based, on-premises and virtual environments.
Currently, CrowdStrike offers 16 modules on its Falcon platform, which includes next-generation antivirus protection, firewall management, malware search engine and analysis, threat intelligence and threat hunting. The company also acquired Preempt Security in September to expand its offerings to include identity protection.
Back on June 3, fiscal year 2022 kicked off on a strong note, as CrowdStrike added 1,524 new subscription customers during the first quarter. Company management commented, "The CrowdStrike name has become synonymous with best-in-class cybersecurity protection and a platform that just works. Customers of all sizes are increasingly choosing CrowdStrike as their security platform of record."
For the first quarter in fiscal year 2022, revenue soared 70% year-over-year to $302.8 million, with subscription revenue accounting for $281.2 million. That topped forecasts for revenue of $291.4 million. First-quarter earnings surged 400% year-over-year to $0.10 per share, up from $0.02 per share in the same quarter a year ago. Analysts were expecting earnings of $0.06 per share, so CrowdStrike posted a 66.7% earnings surprise.
So, it should be no surprise that CRWD is much more highly rated than the other cybersecurity companies. Here's how it stacks up in Portfolio Grader: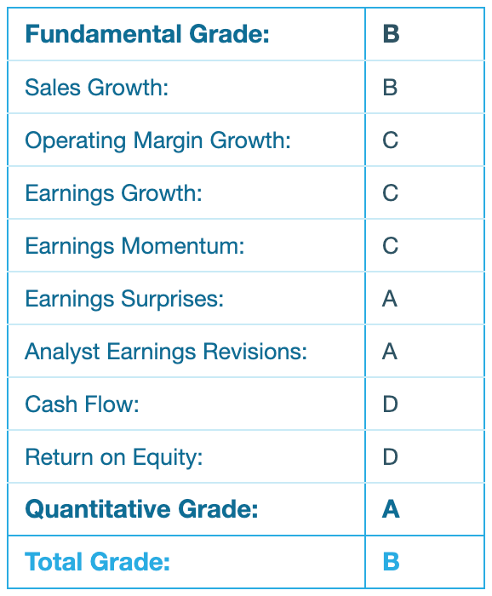 While it struggles slightly in the cash flow and return on equity categories, CrowdStrike's Quantitative Grade remains A-rated, which, as you know, means institutional buying pressure is extremely strong right now. Its Total Grade of a "B" makes it a Buy.
The company will unveil its second-quarter earnings results on August 31, after the market close. Currently, analysts are calling for earnings to surge 200% year-over-year to $0.09 per share, up from earnings of $0.03 per share in the same quarter a year ago, on revenue of $323.16 million.
CRWD rallied more than 30% since its first-quarter earnings report, and I look for a strong earnings report to really kick into high gear following its earnings results next week.
The bottom line: I expect CRWD to continue to outperform its competitors. This is why it remains a strong player on my Growth Investor Buy List.
CRWD is still under my set Buy Below price, so there really isn't a better time to join Growth Investor. Not to mention my September Monthly Issue is being released today, where I detail major positives in the market, my two solid-battery buys and two brand-new dividend stock picks. I also highlight my Top 5 High-Growth Stocks and my Top 3 picks on my Elite Dividend Payers Buy List.
Click here for the full details.
Sincerely,
Louis Navellier
P.S. There's a great divide opening up in America and investing in my Growth Investor stocks will help get you on the right side of it. On one side is a new aristocracy that's amassing more wealth more quickly than any other group in American history. For people like me, the one percent, life has never been better, more prosperous.
On the other side, the opposite is happening. Wealth is flowing out of the pockets of ordinary Americans at an unprecedented rate.
What's happening is only going to gather in strength over the coming decades. It certainly won't weaken.
Few Americans even know that any of this is going on. I've never seen anyone from my side of the chasm step forward to explain any of these things.
It's why I put together this video. In it, I'll lay out exactly what is happening, including several key steps every American should take right now.
It doesn't matter if you have $500 in savings or $5 million. You can benefit from the information in this video.
It's free to watch and by doing so, I know you'll be ahead of everyone else struggling to understand what is really going on.
Note: The Editor hereby discloses that as of the date of this email, the Editor, directly or indirectly, owned the following securities that are the subject of the commentary, analysis, opinions, advice, or recommendations in, or which are otherwise mentioned in, the essay set forth below:
Amazon (AMZN), Bank of America (BAC), JPMorgan Chase (JPM), CrowdStrike Holdings, Inc. (CRWD)
Louis Navellier, who has been called "one of the most important money managers of our time," has broken the silence in this shocking "tell all" video… exposing one of the most shocking events in our country's history… and the one move every American needs to make today.