Broadridge Financial Solutions, Inc. (NYSE:BR) is my pick in the Best Stocks for 2018 contest. And I'm pleased to say BR stock bucked the overall market trend so far. As of this writing, BR stock is in second place overall.
The first quarter has been a roller coaster for the market, with the broad indices suffering two corrections after having gone nearly two years without a pullback of 10%. The S&P 500 is down about 2% so far this year. BR stock is up 21.10%.
Through its technology, Broadridge Financial provides investor communications and other solutions to the financial sector. It's one of the pioneers in its industry and stands to benefit greatly as blockchain — the technology behind bitcoin — changes the way financial business is conducted.
This $12.5 billion company has emerged as a standout name in this budding trend. Last year, BR — in collaboration with two large European banks — completed a successful pilot test of a blockchain-based technology in the repurchase agreement market. Now, it's working on developing blockchain-based applications for Asia-Pacific markets.
The upside for this once slow-growth business has increased dramatically with the introduction of blockchain to its model. And considering the technology increases efficiency, the speed of transactions, overall transparency and cost savings, there aren't many financial firms that shy away from it. Given that BR is already a well-established player in its sector, blockchain was an easy sell to its current clients.
Plenty More Upside Potential for BR Stock
As I mentioned, the first quarter was a tough one across the board. But I was thrilled with how well Broadridge held up amid the volatility. BR stock did get hit a bit during the first correction — briefly dipping below its 50-day moving average (the blue line) — but bounced back quickly.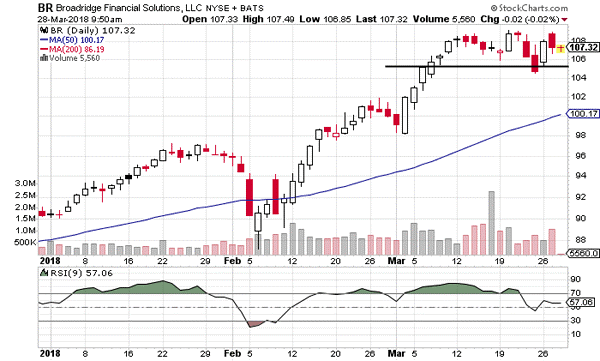 BR is up more than 20% here in the first quarter. And it's currently consolidating just above $105 (the black line). But even after that strong performance, I continue to see plenty of upside potential.
Interest rates on the rise is a boost for the banks and other financial stocks. And that increased buying heading into the latter half of the year will likely spill over to BR and keep pushing it to historic highs.
We are here to ride that trend higher.
Matthew McCall is the founder and president of Penn Financial Group, an investment advisory firm, as well as the editor of FUTR Stocks and the ETF Bulletin. Matt just launched two new investment advisories focused around the "next" generation investing theme. His trademark three-prong investing approach targets the mega-trends old Wall Street is missing out on. Click here for more information on the "NexGen" Experience.