The future of genetic medicine — and DNA stocks — is extremely bullish over the long term. But as is normal of any emerging technology, there will be plenty of bumps along the road. The good news is that those bumps will provide many opportunities to buy DNA stocks along the way.
We can look at the sector's recent performance by analyzing the ARK Genomic Revolution Multi-Sector ETF (NYSEARCA:ARKG). The ETF, which encompasses many companies that use genetic medicine, is up 25% year to date — well ahead of the overall market.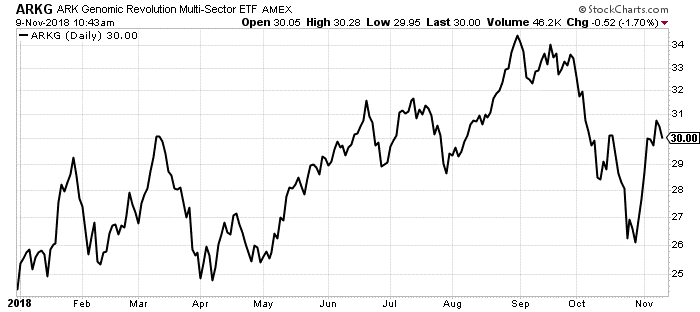 There are many ways to play the bullish future of genetic medicine. Investment opportunities in DNA stocks range from lab companies to genetic testing to biotechs and even specialized gene-editing names.
I suggest gaining at least some exposure to every niche angle. You can do that by investing in an ETF like ARKG, or you can build your own diversified portfolio of DNA stocks that will benefit from the long-term trend.
Today, I want to talk about three such DNA stocks to get you started:
Genomic Health (GHDX)
Genomic Health (NASDAQ:GHDX) is the leader in genomic-based lab services that analyze the underlying biology of cancer. This gives physicians the ability to create treatment programs that are tailored specifically to each patient, their type of cancer, and individual genetic makeup.
GHDX reported blockbuster earnings earlier this week and doubled its net income outlook for the full year. The company now expects earnings of $1.03-$1.08 a share, up from previous forecasts of $0.39-$0.56 a share.
The stock gapped to a fresh high on the news, and from here I see plenty of upside as this promising trend continues to grow in the years ahead.
CRISPR Therapeutics (CRSP)
CRISPR Therapeutics (NASDAQ:CRSP) is one of the Big Three companies in the gene-editing world. It has a slight lead in the race, as it made headlines last month when the FDA removed its clinical hold on the company's gene therapy CTX001 to treat sickle cell disease. This led to the acceptance of the investigational new drug (IND) application, and now CRSP can begin trials of the treatment in both sickle cell disease and beta thalassemia.
This milestone is very positive, but the company still has a very long road ahead as it looks to gain approval for its products. Keep in mind, though, that all novel and cutting-edge therapies have had to take this same path.
There is big risk associated with betting on one small biotech company such as CRSP, but I am confident that approval is in the cards. That makes this a potentially huge winner in the years ahead.
Illumina (ILMN)
Illumina (NASDAQ:ILMN) is the leader in the gene-testing industry. The $49 billion company was in the news last week after purchasing a competitor for $1.2 billion. Pacific Biosciences was never a true threat to ILMN, but now it is working for the fast-growing company rather than against it.
Illumina was one of the pioneers of gene sequencing a human's genome. And as costs have plummeted in recent years, the number of procedures has skyrocketed.
That tells me there is still plenty of growth here. ILMN is up nearly 2,000% in the last decade, but I believe there remains big upside for this trending stock over the long term.
Matthew McCall is the founder and president of Penn Financial Group, an investment advisory firm, as well as the editor of FUTR Stocks and the ETF Bulletin. Matt just launched two new investment advisories focused around the "next" generation investing theme. His trademark three-prong investing approach targets the mega-trends old Wall Street is missing out on. Click here for more information on the "NexGen" Experience.