Last night was fantastic.
I want to thank all who joined me yesterday to find out about the financial revolution taking place in America right now. It's a phenomenon that's just getting started … and it has the potential to be an absolute game changer for you.
We had a great turnout for The Main Street Revolution Event, but if you weren't able to participate I want to make sure you also have access to the important information we talked about.
I sat down with crypto legend Charlie Shrem to discuss the coming revolution. Charlie was one of bitcoin's earliest backers and today is considered one of the most influential people in cryptocurrencies.
He knew that Bitcoin (CCC:BTC-USD) — and the blockchain technology it runs on — would unleash the most powerful wealth creation force in American history years before it actually occurred.
And we agree that what is coming now is even bigger. There's even more money to be made.
I wrote to you yesterday about one of the craziest charts I had ever seen.
It was that of GameStop (NYSE:GME), a video game retailer that was not well liked by Wall Street.
Then a group of individual investors "ganged up" through social media platform Reddit and bet against it. The stock shot up … and it's been volatile ever since. It was up 53% just today!
This is a David and Goliath type of story. By joining together and focusing their collective buying power, everyday Americans created a stock market stampede.
But the GameStop story was a microcosm of a much, much larger trend …
A populist revolt of the "little guy" taking on big, entrenched, bureaucratic institutions … and it all has to do with cryptocurrencies.
Cryptocurrencies are the #1 weapon regular folks have against Wall Street.
During last night's Main Street Revolution Event, Charlie told the story of Genesis Vision — a blockchain venture he began working with in 2017.
Genesis is revolutionizing the way folks buy and sell stocks. It's bringing financial assets to the blockchain, which makes trading more transparent for the average investor.
In other words, it's trying to cut out the Wall Street middlemen who prey on hardworking Americans.
And here's the kicker … Genesis Vision could have raised money for this project the traditional way — by filing an initial public offering (IPO) and raising institutional funds.
Instead, Genesis released its own altcoin. Altcoins are any cryptocurrency — or "revolutionary software program" as I call them — other than Bitcoin.
Since Charlie joined Genesis as an advisor, its altcoin has soared as high as 2,358%.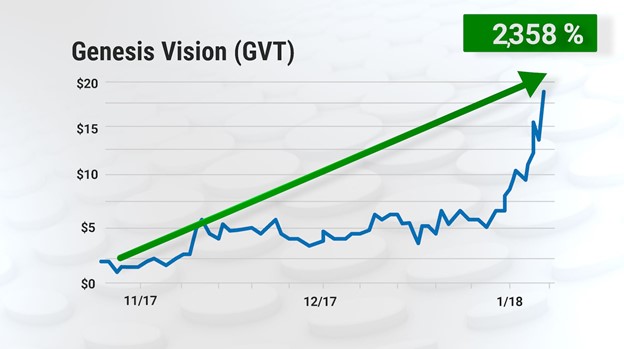 The key takeaway here is simple.
We are entering a new phase in the evolution of cryptocurrencies … what Charlie and I call "Blockchain 2.0."
Bitcoin earned the bulk of the gains during the first phase.
But this new era belongs to hypergrowth altcoins.
Just like what happened with GameStop, investments in these altcoins are a way for the little guy to get one up on Wall Street …
Both in terms of the kinds of technologies the altcoins are bringing to the market and the kinds of gains investors can see by investing.
Like with GameStop, the gains are incredible … and in many cases they're even greater.
That's exactly why Charlie and I put together The Main Street Revolution Event. We saw how fascinated people were with the GameStop story … but we saw a bigger, far more important part of the story that wasn't being told.
The vast majority of Americans don't understand the true power of altcoins.
They saw the GameStop story on the news and thought that was the end-all and be-all in the fight against Wall Street.
But as incredible as the GameStop situation was, that was just a small sample of the transfer of power taking place from the elites into the hands of everyday Americans.
It's been building for a while … and it's gaining more and more momentum.
And as we discussed last night, the single best way to capitalize on this trend is through altcoins.
What happened with GameStop proved that everyday Americans want to see more fairness from our big institutions. We want more transparency in things like savings, loans, insurance, trading, betting and more.
That's what altcoins and Blockchain 2.0 can provide.
Thanks to altcoins, anyone with an internet connection can access crucial financial services all in one place — cheaper, easier and safer than if they went with a big institution.
With just a single click of your finger, you'll be able to take out a loan or mortgage … buy a new insurance policy … make money loaning out your money … invest in stocks, bonds or any other asset class.
You'll do all of this in one place. And the best part is that you won't have to deal with a middleman and their unnecessary fees.
This is a massive cryptocurrency catalyst that is about to fuel select altcoins to never-before-seen heights. (I even gave away one of my altcoin picks during the event.)
It's a global movement toward an open financial system … and the biggest revolution to occur in finance in centuries.
The flood gates are just beginning to open.
On the date of publication, Matthew McCall did not have (either directly or indirectly) any positions in the securities mentioned in this article.
Matthew McCall left Wall Street to actually help investors — by getting them into the world's biggest, most revolutionary trends BEFORE anyone else. Click here to see what Matt has up his sleeve now.