When stablecoins first came on the scene, they were often dismissed as "Bitcoin, but boring." Of course, that's more or less what they're programmed to be!
And yet institutional cash has poured in… Such that the #1 stablecoin, Tether (CCC:USDT-USD), has a market cap nearly equal to Solana (CCC:SOL-USD) and Cardano (CCC:ADA-USD) combined.
The next biggest stablecoin, USD Coin (CCC:USDC-USD), and the decentralized stablecoin provider Terra (CCC:LUNA-USD), are both firmly in the Top 10 Cryptocurrencies, too.
Along the way, investors in Terra's native token, LUNA, are up a nice 9,600% in the past year (even amid the crypto crash)!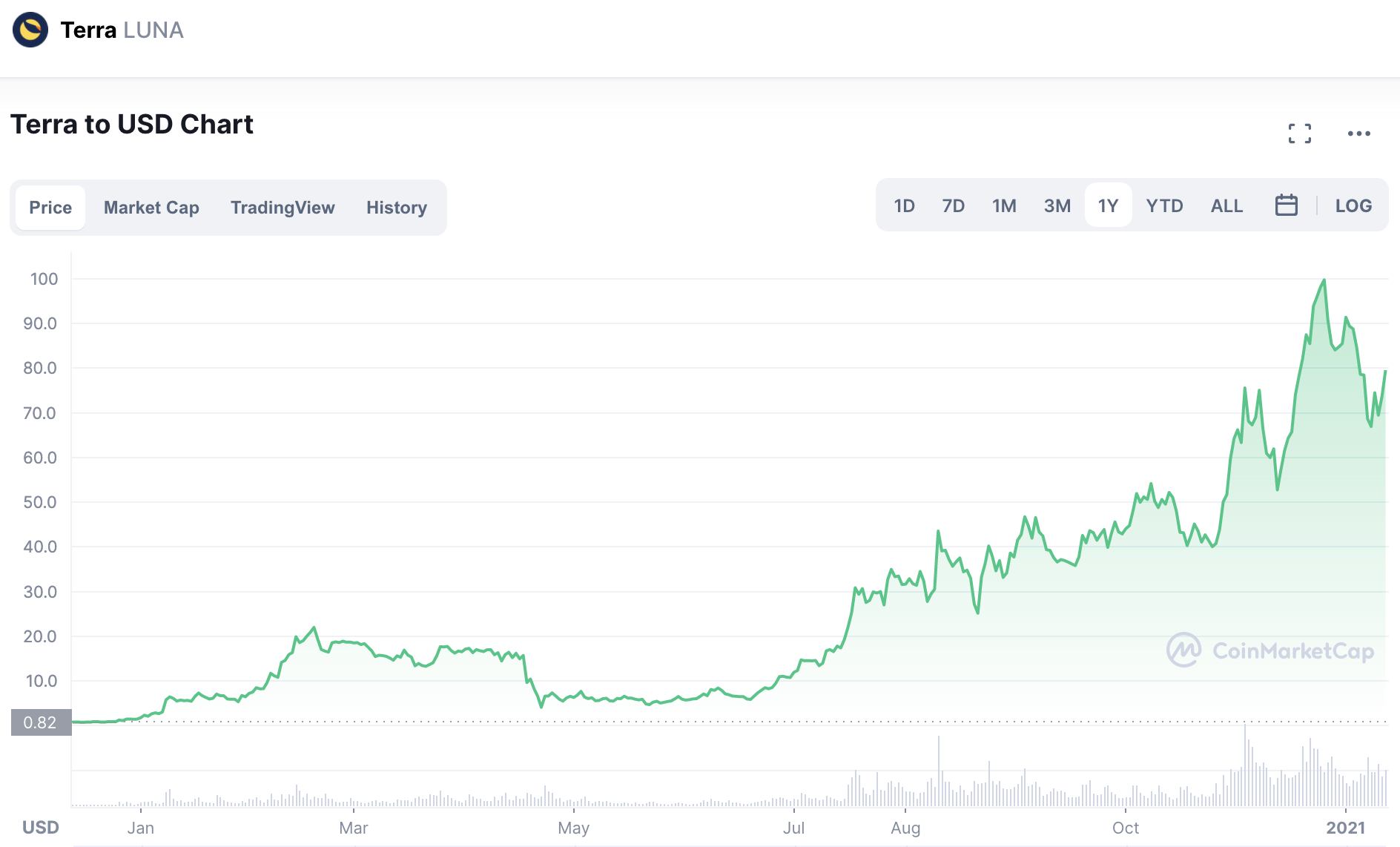 Hard to call that boring. Here are some recent developments in the space that support stablecoin as the "gateway" that could usher the general public into the New Digital World.
If you're not familiar, stablecoins are a form of cryptocurrency that's tied to fiat currencies – namely, the U.S. dollar. So, while they're not going to see the kind of momentum we saw in that crypto chart above… They're also less volatile.
Meanwhile, stablecoins still offer all the benefits inherent to the blockchain: direct, faster, encrypted transactions…without hidden fees from financial "middlemen." You can also earn a much better yield than traditional banks will pay you these days: 3%, 7%, even more like 9%!
Jerome Powell Comes Around on Stablecoins
On Tuesday, the Fed's head honcho, Jerome Powell, was brought before the Senate Banking Committee to be confirmed for a second term. At the hearing, Sen. Pat Toomey (R-PA) asked: "If Congress were to authorize, the Fed were to pursue a central bank digital dollar, is there anything about that that ought to preclude well-regulated, privately issued stablecoins from coexisting with [it]?" Powell replied: "No, not at all."
When Powell talks blockchain, he tends to talk about having a centralized "digital dollar." He's a central banker, after all! But he has commented on stablecoins more and more in the past year.
Originally, this was more in criticism of Tether, specifically. This past summer, Powell joined the swelling criticism of this stablecoin giant and its questionable backing.
Theoretically, stablecoins are safer than other cryptos because they are backed by the U.S. dollar, in reserves held by the stablecoins' issuers.
Tether, however, is backed just 10% by cash and bank deposits as of its August report. Nearly half of Tether is backed by short-term corporate debt, which "most of the time [is] investment grade [and] very liquid," but "the market just disappears" in a financial crisis, Powell noted in July.
By December, though, Powell's commentary on stablecoins was more positive. At his press conference following the latest Fed policy statement, Powell noted that, with regulation, stablecoins can be "useful, efficient…[with] the potential to scale" into a new payment network.
Powell is a member of the Financial Stability Oversight Council (FSOC) that, experts say, could issue regulations for stablecoins this year.
While few of us like to be "regulated" personally, it does create a playing field where more Americans can feel comfortable moving into a high-yield savings account with stablecoin. (For instance, if they can be FDIC insured.)
PayPal Coin About to Burst Onto the Scene?
Right now, the top platforms for stablecoin services – like BlockFi, Celsius Network (CCC:CEL-USD), Compound.finance (CCC:COMP-USD), Nexo (CCC:NEXO-USD) – are growing fast… But they're hardly household names.
PayPal (NASDAQ:PYPL), on the other hand, most certainly is!
On Friday evening, Bloomberg reported a tip from developer Steve Moser that he'd looked at the PayPal app and spotted code for a new "PayPal Coin," backed by the U.S. dollar.
Bloomberg, naturally, followed up with PayPal itself, which confirmed:
"We are exploring a stablecoin; if and when we seek to move forward, we will of course, work closely with relevant regulators."
– Jose Fernandez da Ponte, PayPal's senior vice president of blockchain, crypto and digital currencies
PayPal may be noncommittal, but issuing stablecoin would fit the brand. PayPal was an early mover in handling crypto, and its data shows that "Customers who purchase cryptocurrency have been logging into PayPal at a rate 2X" what they did before they jumped into crypto.
No wonder PayPal announced a whole new business unit and acquired a cybersecurity company to help it expand its crypto operation.
If anyone could turn stablecoin into the pathway for mass adoption of crypto – and, specifically, crypto payments – it would be PayPal. The app is up to 416 million active users.
As for other, existing stablecoins like USDC, Visa (NYSE:V) already became the first payment processor to allow stablecoin last March, with Mastercard (NYSE:MA) following suit in July.
When everyone from Visa, Mastercard, and PayPal to the Federal Reserve are coming around on stablecoins, it's pretty clear that stablecoins are the future.
On the date of publication, Ashley Cassell did not have (either directly or indirectly) any positions in the securities mentioned in this article. The opinions expressed in this article are those of the writer, subject to the InvestorPlace.com Publishing Guidelines.