Pity anyone who shorts Facebook Inc (NASDAQ:FB). Understandably, the short interest in FB stock is extremely low. However, low is not zero, which means that some bears do, in fact, exist. This isn't a problem at all. In order to have proper markets, an exchange between buyers and sellers is necessary. My issue is that I don't see why anyone would cast doubt on Facebook stock.
I get the point that FB stock has enjoyed a phenomenal run. After its initial public offering, the first day of trading ended at $38.23.
Its early days were fraught with fear as investors questioned how a social media company could engender meaningful growth. FB stock eventually closed at an all-time low of $17.73. But ever since then, Mark Zuckerberg and company has never looked back.
Today, Facebook stock is rapidly approaching $140. From its trough, the social media giant catapulted to a near-700% profit in the markets.
Indeed, FB stock is very close to what speculative traders call the "ten-bagger." Essentially, it's the touchdown or the home run of the investing world. However, such monikers usually apply to no-name penny stocks. That's hardly a description for Facebook, which is one of the most recognizable and powerful brands in the world.
Because of the enormous momentum of FB stock, a genuine concern arises that shares are exceptionally overbought. In normal circumstances, that typically results in a correction. But these are not normal circumstances, and I would advise against a risky contrarian play.
FB Stock Is Fundamentally Sound
In order to justify a bearish trade, you want to see more evidence besides a "gut feeling" of technical over-extension. You can stare at the fundamentals for Facebook stock up and down. You're just not going to find too many weaknesses.
The easiest one to point to is the price-earnings ratio. At 40-times trailing earnings, FB stock is "expensive," at least relative to the S&P 500. Against the global internet content and information industry, FB also finds itself well outside the norm. To make matters worse for value investors, shares are overpriced against forward earnings as well.
To that, I say boo hoo! Attempting to forecast market value using price-to-earnings alone is a hit-or-miss affair. Take a look at some of the publicly traded social media names, like Twitter Inc (NYSE:TWTR) and Line Corp (ADR) (NYSE:LN). Both these names, as well as FB stock, have vastly different valuations, yet all would be considered overvalued. Only one of them — FB — is doing outstandingly well this year.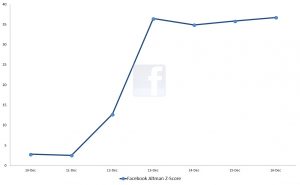 Click to Enlarge I would urge contrarians, or those tempted to become contrarians, to peruse the Altman Z-Score for Facebook stock. This fundamental tool measures the stability of a firm across multiple financial metrics. The Z-Score is especially useful for forecasting whether a company will go bankrupt.
In the two years prior to going public, FB was a middling opportunity — not bad, not great. However, financial stability skyrocketed shortly after FB stock launched. Now, it's not even a question. Because of this upward dynamic, I'm not comfortable in suggesting a sell rating unless there's good reason.