Twitter Inc (NYSE:TWTR) is trumping bears off and on the TWTR stock chart … but if you're looking to make your trading account great again, using a Twitter spread in lieu of shares is definitely worth the time spent. Let me explain.
TWTR stock is back. Long pronounced dead by bears and the platform of choice for our fair nation's Commander-in-Chief, Twitter recently issued a rousingly good report. For their part, traders bid up shares of Twitter by 7.50% in the immediate aftermath while adding 24% over the five-day period.
The way it looks now, TWTR stock could be on the verge of significantly higher prices, too.
In a nutshell, top- and bottom-line beats and higher-than-expected monthly average user (MAU) growth suggests the turnaround may finally be working. The report also confirmed Twitter is more than just a popular bully pulpit these days.
Additional support for TWTR stock bulls may be found by looking at a still bearish-leaning Street. Analysts maintain a median price target of $14.66, that's 20% below current levels. Additionally, a "hold" rating is the overwhelming favorite among those polled and sets up the possibility of future upward revisions.
Net, net a low bar for expectations from the analyst community, as well as not-too-worrisome, but potentially helpful short interest of 11% could combine to assist today's TWTR stock bulls to healthy gains.
TWTR Stock Daily Price Chart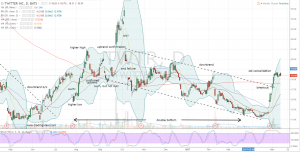 Click to Enlarge Looking at the current price action in TWTR stock and the chart is giving bulls something to tweet about. Shares recently vaulted above an established downtrend channel and have held nicely in a tight consolidation above 50 and 200-day simple moving average support.
Twitter, as many are aware, has been down this road before. The road I'm speaking of is TWTR stock's past attempts to establish an uptrend that persists. The provided daily chart's notations over the past year reflect a volatile attempt at an uptrend this past year, only to fail bulls miserably by late 2016.
Technically, though, if you believe in breakouts (or even second or third chances), as well as the durability of lengthy double-bottoms and the sentiment factors noted above, then TWTR stock is offering traders a bullish opportunity worth consideration.