According to some, you don't trade Apple Inc. (NASDAQ:AAPL), you simply own it. But for like-minded traders or investors, given the current environment off and on the price chart, it's our view that Apple stock is riper for purchase with a modified bullish fence strategy. Let me explain.
A month ago I wrote about AAPL stock. Subsequently, and for all intents and purposes, shares have done nothing in absolute price terms.
But don't let Apple's technical ennui fool you into simply buying the stock right here, right now. There are more than a few risks lurking.
Bottom line, AAPL faces risks such as its ongoing legal battle with Qualcomm, Inc. (NASDAQ:QCOM) or when the company delivers its early August earnings report. Either could send shares jumping or dumping, but there's more, too.
With earnings looming, there's the increased possibility of analyst calls in front of the corporate confessional. And of late, that trend has been bearish. Elsewhere, it wouldn't be a surprise if a product information leak or speculation related to the company's upcoming iPhone 8 rollout later this year pops up and acts as a price driver in AAPL, good or bad.
Lastly, while the broader market has once more has lulled investors into a state of complacent confidence, there remains macro risks lurking in the background.
And for a market bellwether of AAPL's stature and combined with the more obvious danger on the Apple stock price chart, owning Apple shares is more approachable without owning stock just yet.
AAPL Stock Weekly Chart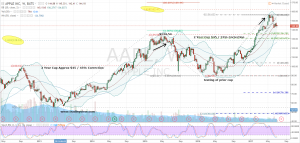 Click to Enlarge Our analysis on AAPL last month and its stock chart offered a cautious warning of history maybe not repeating but prone to rhyming and positioned for a modestly deeper correction.
Over this period, Apple shares are essentially right where we last left off and price action has taken on the shape of a tight consolidation. It's our view the technical contraction is a bearish flag.
A breakdown from this pattern could result in a corrective move of about 8% ultimately dipping by 10% to 15% from AAPL's May high while still maintaining the integrity of the uptrend on the weekly price chart of Apple.
If this type of healthy correction were to occur, AAPL would test a price zone of around $133 to $141 for support before reasserting it's bullish trend.
AAPL Modified Bullish Fence Strategy
In anticipation, Apple is still prone to a deeper but contained correction. At the same time, it's a stock I'd rather buy on weakness; and with earnings in a couple weeks, a bullish modified fence is an attractive strategy.
Reviewing the Apple stock options board with shares at $144.18, selling the Aug $135/$130 bull put spread in conjunction with purchasing the August $150/$155 bull call vertical is priced for a small debit of 40 cents.
What's this spread package offer like-minded traders? First, and bearing in mind the earnings event with its elevated gap risk (good or bad), the combination contains potential losses to $5.40 below $130.