"Sell! Sell! Sell!" That's what many analysts, pundits, bears, and bloggers would tell you to do regarding Apple Inc. (AAPL) stock right now. The naysayers claim that since smartphone growth is stalling and sales of the iconic iPhone are the only reason for Apple's success, the AAPL stock price is in serious trouble. As if another record quarterly profit of over $18B and one billion mobile devices in use can be considered trouble.

That said, many investors seem to have listened to the negativity, and AAPL stock has now tumbled from a high around $134 last year to settle in the the mid-$90s.
However, I would like to point out that there are several reasons why Apple is not named the iPhone Company and the future is not as bleak as the blogosphere and anti-Apple types would have you believe.
Apple's non-iPhone businesses are still growing in the aggregate and as of Sept. 2015 were generating more than $78 billion in annual revenue — most of which didn't exist five years ago.
If broken out separately revenue from these segments would easily rival the totals generated by Alphabet, Inc. (GOOG,GOOGL) and Facebook, Inc. (FB). While the Google parent recently reported that its non-core businesses actually lost a good chunk of money, AAPL is likely profiting from its own.
Let's take a look at some of the details.
Apple Stock's Non-iPhone Catalysts
Services
The "Services" segment was a bright spot in the latest earnings report. Revenue from Apple Pay, the App Store, Apple Music, and Mac App Store is averaging a growth rate of about 10% year-over-year and totaled $6 billion in the latest quarter. An anticipated 10% decline in overall revenue, much of that from the iPhone, in the current quarter would be much worse if not for this category.
The App Store has taken on a life of its own and the site App Annie estimates that it outsells, and is growing faster than, the comparable service offered by Alphabet, Google Play, by almost a 2:1 margin, in spite of a much lower share of the market. AAPL receives 30% of the revenue from each paid download of an iOS app.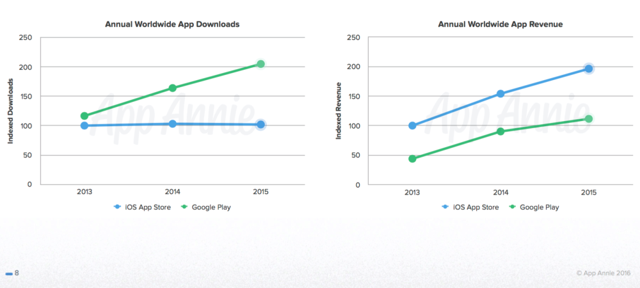 Source: App Annie
Other
The "Other" category includes a hodge-podge of hardware items that individually generate less than $10 billion per year. The iPod, Apple TV, and the new kid in town, the Apple Watch, are included here. Together these products comprise only about 5% of overall revenue but are part of the fastest growing segment within AAPL. At the current rate it could become the company's second-most important business within a few years, pushing past the Mac and iPad.
This category is being fueled by the initial success of the wrist-mounted computing device that Apple released last spring. The company hasn't broken out sales yet but based upon some analyst estimates it is possible that Apple has sold more Watch units at this stage in its life cycle than it did the iPhone nearly nine years ago. If this continues into the future, AAPL stock could have a legitimate new catalyst on the horizon.
The second iteration of AAPL's Watch, one that is likely to be a standalone unit and not tethered to the iPhone, will probably be released in fall 2016. Since many people like to wait and not purchase the first version of a brand new product line, Watch 2.0 could do even better than the original. The device is also likely to become more popular as more apps come online.
Mac
Despite a generally declining personal computer market the Mac lineup has held up pretty well. It had been growing for the most part until AAPL stock released its most recent quarterly numbers. Still, unit shipments dropped by just 4%.
Macs contribute only about 9% toward overall sales but will always be a big part of the company.
iPad Pro
The tablet market is stagnating due to the popularity of larger smartphones, the phablets, and the fact that these devices do not need to be updated as often as a phone does. Plus, the life cycle is likely measured in five-year increments and not a year or two.
AAPL is trying to counter these trends by offering up the bigger iPad Pro. According to some analysts and market watchers the Pro so far is outselling the Surface Pro 4, 2-in-1 tablet/computer supplied by long-time nemesis Microsoft Corp. (MSFT).
Also, the iPhone Lives
In spite of the gloom and doom the iPhone is not dead.
iPhone growth is taking a pause for many reasons, including currency issues (the stronger dollar cut down revenue growth by 3/4 in the December quarter), a slowing global economy, and a tough act to follow — the pent-up demand for a bigger phone, the hugely popular iPhone 6 and 6 Plus.
In fiscal Q1 of 2016 sales of the "s" versions of those devices, only slightly up over the previous year, disappointed many AAPL stock owners and guidance for Q2 was not favorable. The iPhone 7, due out in the fall and expected to have more significant updates than the "6s", has a good chance to reverse the slowdown and return the company to a higher growth trajectory.
Conclusion
Those of you that think of AAPL stock as solely an "iPhone company" fail to realize that other products and services it provides, ranging from Apple Pay to Apple Watch, generate more than $78B in revenue, a figure which is growing at a decent rate considering the present economic circumstances, and which rivals the revenue of other tech giants, such as Alphabet and Facebook.
Apple is much more than just the iPhone.
Disclosure: The author owns shares of AAPL stock.