Small-cap stocks have been leading the market higher with the Russell 2000 Index leading the broader market out of the February bottom. Typically, small-cap outperformance represents a "risk-on" trading environment, as it means that investors are looking for more speculative investments.
Fast forward to today and the small-cap leadership is beginning to wane, indicating that we may be entering a "risk-off" climate, which should translate to broader weakness. While the small caps may be retreating, there are always groups of equities worthy of holding through the storm.
Historically, our empirical data shows that small-cap companies with larger analyst coverage tend to trade with less volatility in relation to the herd. For that reason, the first step of looking for safe small-cap harbors is to narrow our search to companies with more than 15 analysts covering them. This knocks 2000 companies down to 112.
So we ran these 112 companies through our scoring models to find companies that are set to provide a safer storm for the small-cap stormy weather.
Small-Cap Stocks to Buy: Cheesecake Factory Inc (CAKE)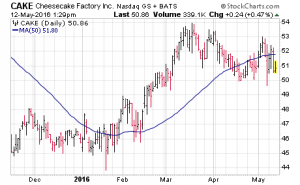 Click to Enlarge Casual dining has been hitting the spot with consumers as companies like Darden Restaurants, Inc. (DRI) and the Cheesecake Factory Inc (CAKE) have benefitted from increased traffic. This is the same reason that the consumer discretionary stocks have continued to thrive.
From a fundamental perspective, the Cheesecake Factory is bucking the revenue and earnings trend as the company has been showing year-over-year earnings growth. The last four quarters have seen earnings per share that have bested the Street's expectations along with positive revenue growth. Digging a little deeper, the Cheesecake Factory's price-earnings ratio is the lowest of its peers, suggesting a potential value in the sector.
Technically, CAKE shares are trading in bull market territory as their price remains above the longer 20-month moving average. Additionally, shares have a propensity to consolidate with support at $50. While this level may not hold as the market drops, it shows that technical buyers are active.
From a sentiment perspective, CAKE stock shows low buy recommendations from the analyst community, which means that the risk of downgrades is reduced. Recently, we've seen reiterations of bullish outlooks. In addition, short interest is relatively high, suggesting that the stock could benefit from being "pre-sold". For now, we're expecting the stock to maintain relative strength against the small cap and broader markets and is worth a hold.
Small-Cap Stocks to Buy: Werner Enterprises, Inc. (WERN)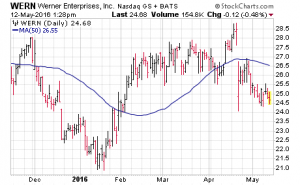 Click to Enlarge Growth in the economy equates to more goods shipped, and America's road and rail companies continue to show improvement on that front.
Werner Enterprises (WERN) is right in the middle of this industry as they are a logistics trucking company that ships commodities. With basic materials and commodities on the move, we should expect continued demand for their services.
Fundamentally, we like the fact that the stock has one of the lowest betas among its peers as we head into what may be a more volatile environment. Additionally, among its peer group, Werner's price-earnings ratio is in the lower half of companies and less than the current S&P 500 P/E ratio.
Analysts have remained sidelined, as only 35% of those covering the stock have it ranked a "buy," suggesting that the stock is underloved and not likely to be affected by downgrades.
The long-term charts are showing potential support at the $24 level, which should provide some support for the shares in case the "risk-off" trade closes.
Small-Cap Stocks to Buy: Texas Roadhouse Inc (TXRH)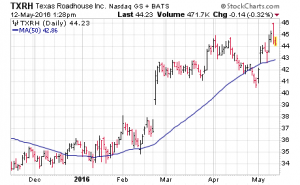 Click to Enlarge Not surprisingly, there's another casual dining company that finds itself among the list of our small-cap companies to hold. Technically, Texas Roadhouse (TXRH) is moving to the mid-cap universe on May 12 as the company has been knocking the cover off the ball, but is still in the Russell 2000.
Texas Roadhouse has shown impressive year-over-year revenue growth, averaging 13.5% each quarter over the last year. Earnings have been mixed, however, as the company beat expectations in just one quarter over the last four; but TXRH is still showing year-over-year growth counter to the trends we're seeing in the market and positive for its outlook.
The chart for Texas Roadhouse is impressive to say the least, returning around 30% over the last year and 24% year-to-date. That puts TXRH among the stronger trending small caps. Operating and gross profit margins are better than the average among the industry, reflecting the effectiveness of management's long-term efforts.
Unbelievably, the analysts covering the stock haven't budged from their outlooks, which show 36% buy recommendations and 59% holds, on a stock that has been killing it. Short sellers are starting to get squeezed from their bearish positions as short interest has just started a decline from its highest levels in more than two years.
The continued technical strength and current short squeeze puts Texas Roadhouse not only on the list of stocks to hold through any market weakness, but also on the list of companies that should be considered as dip-buying opportunities.
As of this writing, Johnson Research Group did not hold a position in any of the aforementioned securities.