The wild market swings are bringing more bears into the market as downside volatility on the exchanges is starting to tip the technical scales to point to a brewing October decline. This, of course, would play into the seasonality of the month perfectly as October is best known for being the Cardiac Kid month. This is a reference to it being the month where the market gives heart attacks, but always seems to finish strong as it leads us into November and December (the strongest months of the year).
Before we make that leap, today's Three Big Stock Charts looks at Home Depot Inc (NYSE:HD) and Wayfair Inc (NYSE:W) as short-term bearish patterns are emerging. In addition, we look at the iPath S&P 500 VIX Short-Term Futures ETN (NYSEARCA:VXX) as a potential hedge for the expected October decline.
Home Depot Inc (HD)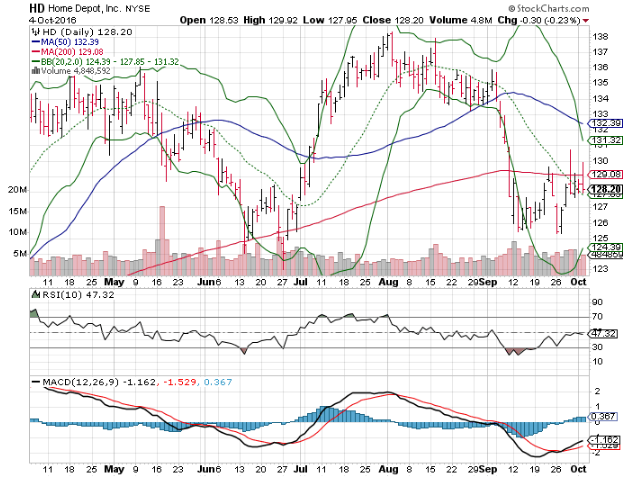 Home Depot shares are taking a double hit from their exposure to the consumer and homebuilding sectors. HD shares have been trading in a wide range since March, as the homebuilding sector added support to the fundamentals. Now, consumer and homebuilding spending is slowing, setting Home Depot up for a decline.
HD shares recently broke through their 200-day moving average, which is transitioning into a bearish pattern itself. In addition, overhead resistance in the form of Home Depot stock's declining 50-day moving average is getting ready to pressure the stock lower as it prepares to cross under the 200-day, a "death cross" for those that like to use the term.
Momentum and the RSI indicate some movement to the upside is possible for HD stock, but given the consistency in selling volume, this would likely just set-up the dead cat bounce that we expect to take the stock below $125 over the near-term.
Wayfair Inc (W)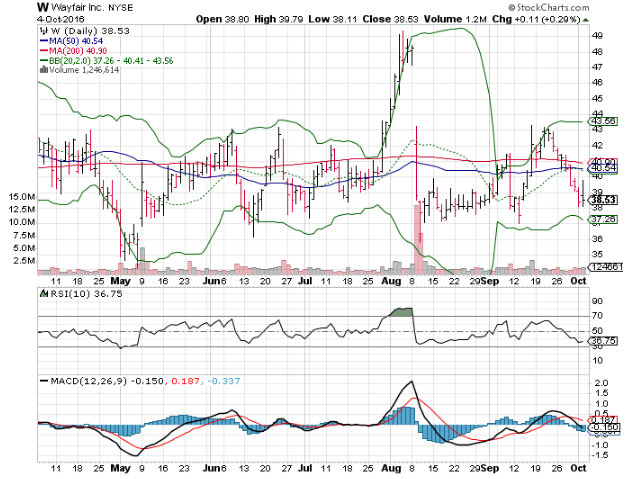 The online retailer that had been setting things on fire a few months ago is now sputtering at the bottom of its recent range and showing signs of an imminent drop further. Shares of Wayfair have made a fast and steady decline to the $38 level, the site of some chart and round-numbered support, but the buying volume hasn't come in to support W shares.
Wayfair shares' RSI gave a short-term oversold signal, but given the transition that the trendlines are in, which is neutral to bearish, it appears that W is another retail stock that is set for a dead cat bounce too.
From a longer-term perspective, Wayfair shares are perched on their 20-month moving average, which is the line of demarcation between a technical bull and bear market. Long-term investors should start to move cash away from W stock if we spend much time below this key technical indicator. Look for the next round of selling to take Wayfair shares to $35.
iPath S&P 500 VIX Short-Term Futures ETN (VXX)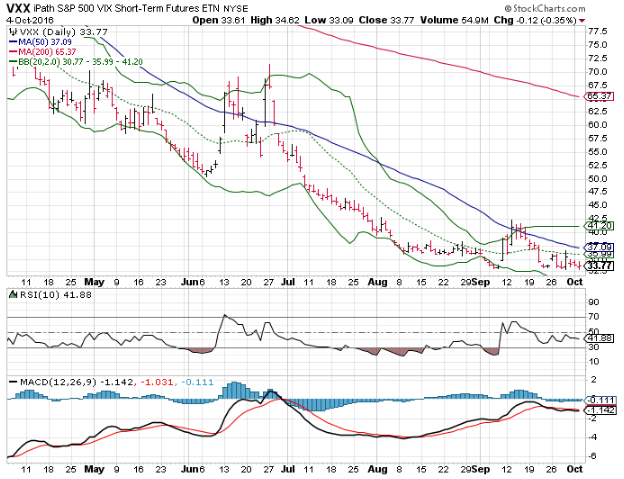 As mentioned, October is typically the most volatile month of the year. That means that a hedge, or trade, on the potential volatility makes sense. This is the perfect time to look at the iPath S&P 500 VIX Short-Term Futures ETN as a way to hedge a portfolio or just trade the volatility.
VXX shares move higher with the CBOE Volatility Index (INDEXCBOE:VIX), meaning that their value increases as volatility increases. Lately, the VIX has been stuck in a rut, trying to break out of the readings that are well into the low end of their one-year range. Typically, this happens when the market breaks a bullish trend and sets in for a decline.
After a quick 20% spike in value last month, VXX shares are sitting back at their support, coiled-up for another strike at higher levels. The short-term trendlines are beginning to shift into bullish trade patterns, suggesting that the next spike may grab some technical support to maintain its move higher.
The first level of resistance for VXX is the $37.75 mark, an 11% jaunt from its closing prices last night. From there, it has a clear shot to the $41.20 level as its next target, a total move of 22%.
Given the volatility of the moves in VXX, the traders that use it as a hedge, and there are many, will be fast to act on closing positions, meaning that the selling power will result in a rapid0 crescendo in its value. In other words, don't get greedy with the profits on a VXX position. Chart support is in at $33.20 and it is relatively staunch, so last night's close appears to be a safe entry for the next rally in these shares.
As of this writing, Johnson Research Group did not hold a position in any of the aforementioned securities.
More From InvestorPlace