News that the FBI will not be recommending charges against Hillary Clinton, again, are bringing the bulls back to The Street. The reduction of election-related volatility has traders in a buying mood this morning.
As always, we're more interested in what the charts are showing us for opportunities as they tend to filter out some of the headline noise and get right to the facts.
Visa Inc (NYSE:V), Boeing Co (NYSE:BA) and Tripadvisor Inc (NASDAQ:TRIP) are among the stocks that have been able to remain relative strength leaders, suggesting that their recent declines are offering traders an opportunity to jump in ahead of any post-elections rally that may kick-off.
Visa Inc (V)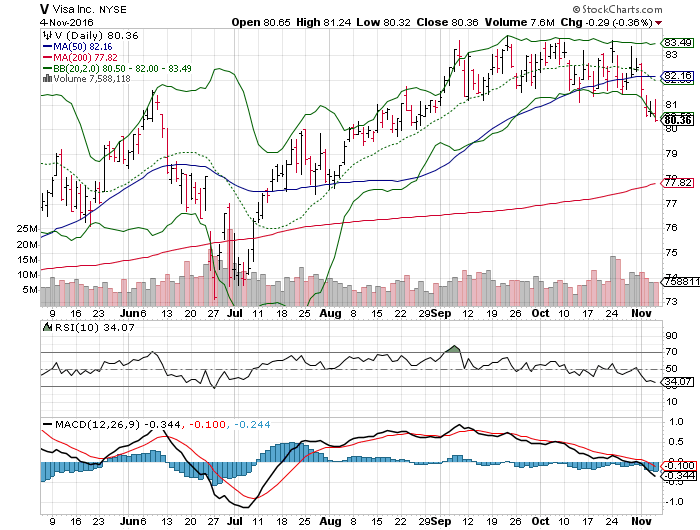 Despite some slowdowns in retail and consumer discretionary spending, payment processor Visa and other electronic payment companies have maintained their strength as revenue and earnings figures for the quarter showed stronger-than-expected performance.
Last week's decline took Visa shares back to the $80 level, which is the site of chart support and the stock's 100-day moving average. Shares have been slow to move from a trading range that initiated in September, however the short-term chart appears ready to bring some change.
Visa shares are close to triggering a short-term oversold condition after last week's seeing. That, along with the trendline support and round-numbered support, suggests that the stock is set for a short-term bullish run of 5% or better.
Boeing Co (BA)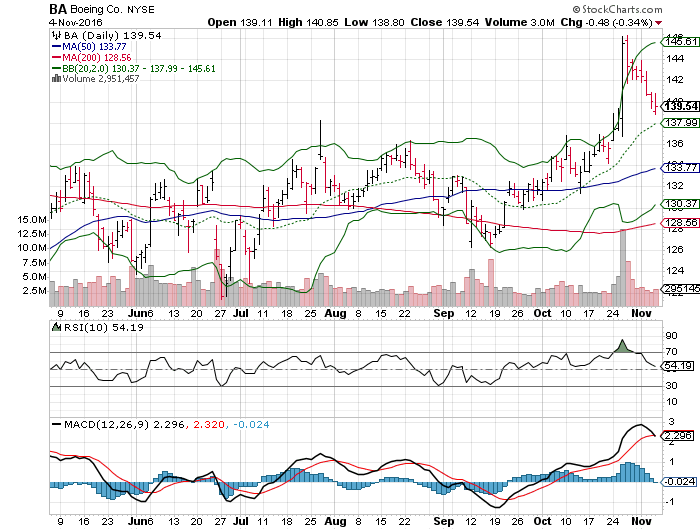 Like many stocks, Boeing Co shares have pulled back to their pre-earnings levels in declining 4% last week. This means that you can now buy the stock as if you knew the earnings results that drove a 4% rally.
In other words, now that the sell the news traders are out of the way it's time to step in and benefit from that earnings beat.
We expected to see some overhead pressure from the $150 level on Boeing as this represents the highs from earlier this year. The market pressure from the uncertainty of the elections helped to expedite the pullback and offer a trading opportunity to the bulls.