U.S. equities sold off hard on Tuesday, with the Dow Jones Industrial Average testing the 18,000 level and threatening to fall to four-month lows. Small caps are already there, moving down to levels not seen since July.
All because the market is re-pricing the chances that Republican Party contender Donald Trump wins the presidency next Tuesday in the wake of a shocking poll from ABC News-Washington Post showing Trump ahead of Democratic Party challenger Hillary Clinton — reversing a 12-point deficit from a week ago — and gets a chance to enact his aggressively nationalist trade, immigration and financial reform ideas. This after the bombshell announcement the FBI was looking into new emails concerning Clinton's private server.
But here's the big thing: The more that Trump's odds rise and the more the market weakens in response, the more Trump's odds will rise. The cycle is self-feeding because, historically, stock market volatility heading into Election Day has benefited the non-incumbent party's candidate. Which, in this case, is Trump.
In the end, the Dow lost 0.6%, the S&P 500 Index lost 0.7%, the Nasdaq Composite dropped 0.7% and the Russell 2000 ended lower by 1.1%. Treasury bonds were mixed, the dollar was notably weaker, gold gained 1.2% and crude oil lost 0.4%.
Energy stocks led the way with a 0.1% gain while dividend sensitive REITs and telecoms were the laggards, down 1.8%, and 1% respectively. Valeant Pharmaceuticals Intl Inc (NYSE:VRX) surged 22.7% after the WSJ reported the company is in advanced talks to sell its Salix stomach-drug unit to Takeda for $10 billion. Amkor Technology, Inc. (NASDAQ:AMKR) gained 10.6% on a third-quarter earnings and revenue beat as management noted strength in smartphones.
On the downside, heavy equipment maker Terex Corporation (NYSE:TEX) lost 5.5% on a Q3 earnings miss on in-line revenue. Pfizer Inc.(NYSE:PFE) fell 2% on an earnings miss driven by expenses. Engine maker Cummins Inc. (NYSE:CMI) lost 4.3% after management warned it continues to face weak demand in a number of its most important markets. And BP plc (ADR) (NYSE:BP) fell 4.1% after quarterly cashflow missed expectations on weak upstream results.

Chesapeake Energy Corporation (NYSE:CHK) fell another 2.7% to push the Nov $6 puts recommended to Edge Pro subscribers to a 105% gain since recommended on Oct. 27.
On the economic front, October's ISM manufacturing index increased to 51.9 in October from 51.5 in September, slightly beating estimates. But new orders declined to 52.1 from 55.1. All eyes are on Wednesday's Federal Reserve policy decision and Friday's non-farm payroll report, however, for clues as to the chances of a December interest rate hike.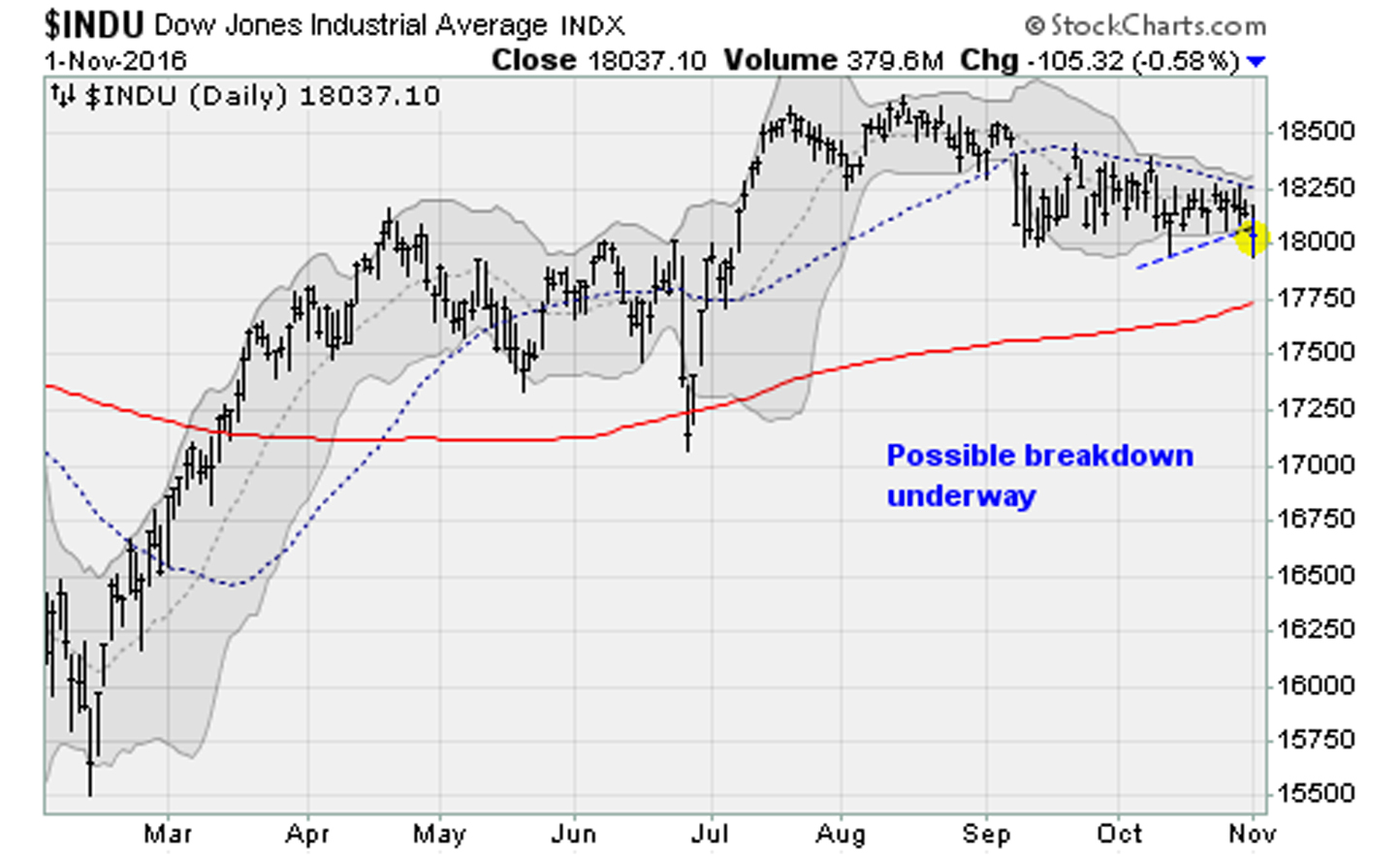 Much depends on whether Trump will continue to enjoy polling momentum all the way until votes are cast. Technically, the market is extremely vulnerable to a breakdown here as the Dow has been ambling in a four-month sideways pattern that has tightened and narrowed in a historic way.
October trading volumes were the lightest in 40 years for a month that has had its share of excitement (1929, 1987 and 2008 market crashes). Market breadth, or the percentage of stocks moving higher, has been declining for months.
Other dynamics in play include fresh weakness in crude oil (on OPEC's inability to agree on a production freeze) and new U.S. dollar strength, both of which will weigh on corporate earnings going forward.
And don't get me started on Friday's ridiculous Q3 GDP report which, on its face, was the best in two years. Only after factoring out one-time boosts related to soybeans (I'm serious), growth was closer to 1.4% — in line with the tepid pace we've seen all year.
I continue to recommend a defensive positioning, including the ProShares UltraShort Crude Oil (NYSEARCA:SCO) which is up 13% for Edge subscribers.
Anthony Mirhaydari is founder of the Edge and Edge Pro investment advisory newsletters. A two-week and four-week free trial offer has been extended to InvestorPlace readers.
More From InvestorPlace