The market is heading into a relatively light week in terms of data and headline risk, meaning traders and investors will start to take more focus on stock price levels and probably have a more particular eye towards the technical charts.
Today's three big charts look at the changing trends in Home Depot Inc (NYSE:HD), SPDR Gold Trust (ETF) (NYSEARCA:GLD) and Tripadvisor Inc (NASDAQ:TRIP). All three of these equities are showing signs that the bears are taking the reigns on the near-term price moves.
Home Depot Inc (HD)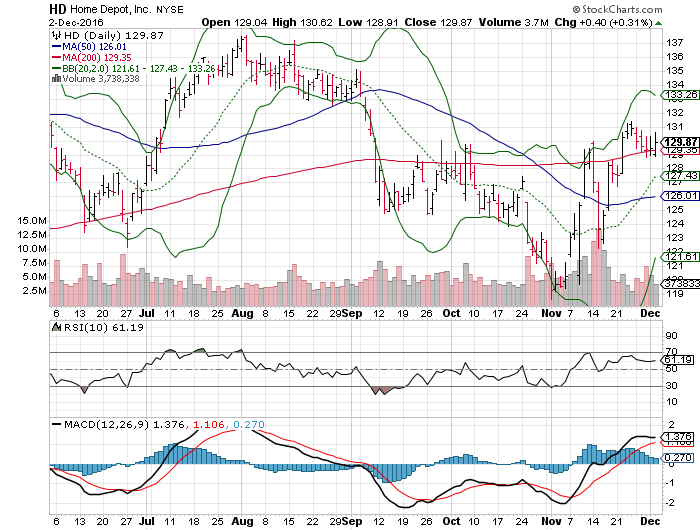 Shares of Home Depot got to lead the market higher during the Trump Rally after a positive earnings report. HD shares have gone stale lately though as the stock has been unable to break above the $131-level. The failure for Home Depot to break higher would make for another in a line of lower highs and lower lows for the retailer, a pattern that the technicians like to avoid or short.
Despite stronger consumer-related data last week, shares of HD continued their slight slide and are testing critical support. On Friday, Home Depot shares closed right on their 200-day moving average. This trendline held shares from a rally in October, and previous to that, it had provided support for the continuation of a rally in HD.
We're also watching the momentum indicators for Home Depot slip towards negative territory, which will add pressure to the stock. From a seasonal perspective, the weeks after Thanksgiving tend to see a slowdown in the retail rally as investors and traders tend to "sell the news" from Black Friday and early holiday sales results.
For now, watch HD for a break below support at $130, as this will likely trigger a move back to the $122 price in short order.
SPDR Gold Trust (ETF) (GLD)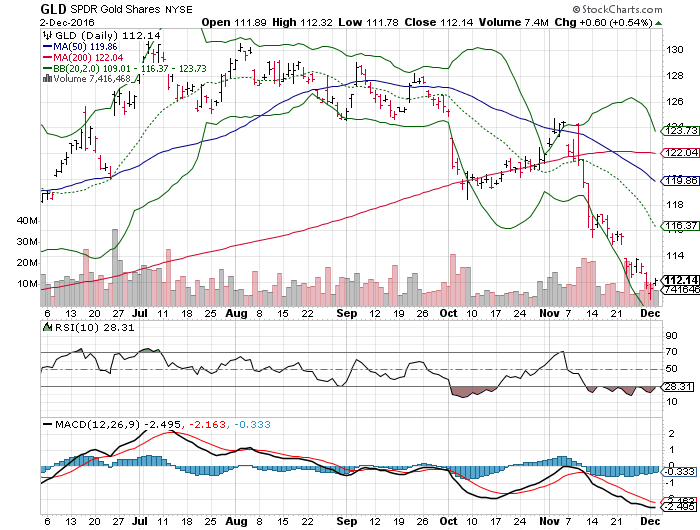 The SPDR Gold Trust ETF has been in the eyes of traders for some time, looking for a point to purchase as either a trade or an investment. The bad news for one group is that GLD is not going to be the long-term hold that it once was, but rather it has been sent back to its days of unending declines.
The trends in interest rates and the dollar are continuing to pressure prices in the gold pits. Currently at $111, shares of the GLD are trying to mount a short-term bottom, but the odds are stacked against them. The overwhelming pressure of the strengthening dollar has stifled any strength in GLD, maintaining a bear market trend in the short-, intermediate- and long-term outlooks.
With the next decision on interest rates a week away, we're expecting to see some slowdown in the rally of the dollar and interest rates, but this will likely just be a pause as Fed Fund futures continue to suggest that the next interest rate hike will happen sooner than expected. This, of course will put more pressure on gold to move lower. For now, watch for some technical support at the $100-level for GLD shares, but from there the precipitous drop should continue.