Bank of America Corp (NYSE:BAC), a Dow Jones Industrial Average constituent and the country's second largest financial institution, reports fourth-quarter earnings Friday morning. The big question that awaits: Will BofA's corporate confessional be enough to drive BAC stock even higher, or will the mega-bank miss expectations?
We'll take a look at recent announcements from Bank of America, BAC's stock chart and what the options market is suggesting to traders.
Bank of America's Earnings Picture
Ahead of Bank of America's Q4 earnings release, analysts are forecasting profits of 38 cents per share. Range estimates are from 35 cents to 42 cents.
Wall Street expectations imply an increase of 35% in earnings growth over the year-ago period's result of 28 cents and a sequential decline of 7.25%. Revenues are estimated to grow by 7% to $20.9 billion compared to 2015's sales of $19.5 billion. Sequentially, BAC is forecast to decline modestly by 3%.
Most recently, Credit Suisse chimed in on BAC stock and other financials such as JPMorgan Chase & Co. (NYSE:JPM) and Wells Fargo & Co (NYSE:WFC) with a bullish stance. Unsurprisingly, they see an improving yield curve, GDP and more supportive regulatory environment as translating into upwardly-revised top and bottom-lines.
Short-Term Trading Record for BAC Stock
Bank of America has established a consistent pattern of beating Street profit views by topping estimates in 9 of its last 12 reports. Investor reaction has proven even stronger. Shares have gained immediately following earnings in five of the past six announcements.
Working backwards from the most recent release, BAC has moved 0.31%, 3.32%, 2.57%, -1.54%, 0.79% and 3.22% on a close-to-close basis. The net reaction has produced an average gain of 2.19% in the first full session of trading.
Variability of 2.02% based on a one-standard-deviation reading yields an estimated range of 0.02% to 4.21%. BAC's seven-day stock performance has shown a similar net positive result 83% of the time. The average gain has been 3.29%, though a higher standard deviation of 5.69% sets up a bumpier range of -2.40% to 8.98%.
BofA's Stock Chart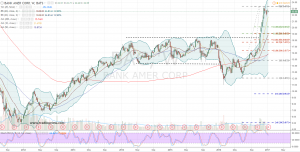 Click to Enlarge BAC stock has gained more than 100% since last February's ignominious low of $10.99. And looking at the current price chart, it's easy enough to establish that Bank of America is in fact in a bullish uptrend.
What's also apparent is an overbought condition in Bank of America shares. Weekly stochastics now are turning lower from extremes. The aggressive way in which BAC stock climbed to its current levels are typically exhaustive and lead to backing and filling.