Is 2017 the year Tesla Motors Inc (NASDAQ:TSLA) motors higher? So far TSLA stock is off to a strong start. And after checking the rear view mirror, there's definite reasons for bullish investors to hop on board with a bull call spread for a drive higher.
Tesla. It's a cult stock. TSLA could crash under a less-green and less-subsidy friendly Donald Trump administration. Those are just a couple of the worries of some investors.
There's also General Motors Company (NYSE:GM). The company just won Car of the Year for its Chevy Bolt EV, its first mass-market entry into electric vehicles. And when competition from other auto manufacturers enter the EV market in force — that will spell certain calamity for TSLA stock!
Some of Tesla's 40% bearish short interest may also be muttering that Tesla will delay its Model 3 rollout which, because of its lower $35K price point, is supposed to compete head-to-head against the Bolt. Watch out TSLA bulls!
There's also ominous chatter that Tesla will undoubtedly announce another secondary, or TSLA stock is burning cash and, and, and … and the list of bearish warnings is nonstop.
Nevertheless, TSLA is also up over 6% in just the second week of 2017 and shaking off some of those concerns for Tesla's 'cult' of bullish investors.
It might also be pointed out Tesla has over 400,000 Model 3 sedan preorders and is sold out until mid-2018. Tesla, as an analyst from Baird recently noted, may also have an ace in its pocket with its energy storage business. The cult of TSLA is sounding a bit more grounded, yes?
Lastly, TSLA continues to look like it wants to motor north in 2017.
Tesla Stock Weekly Chart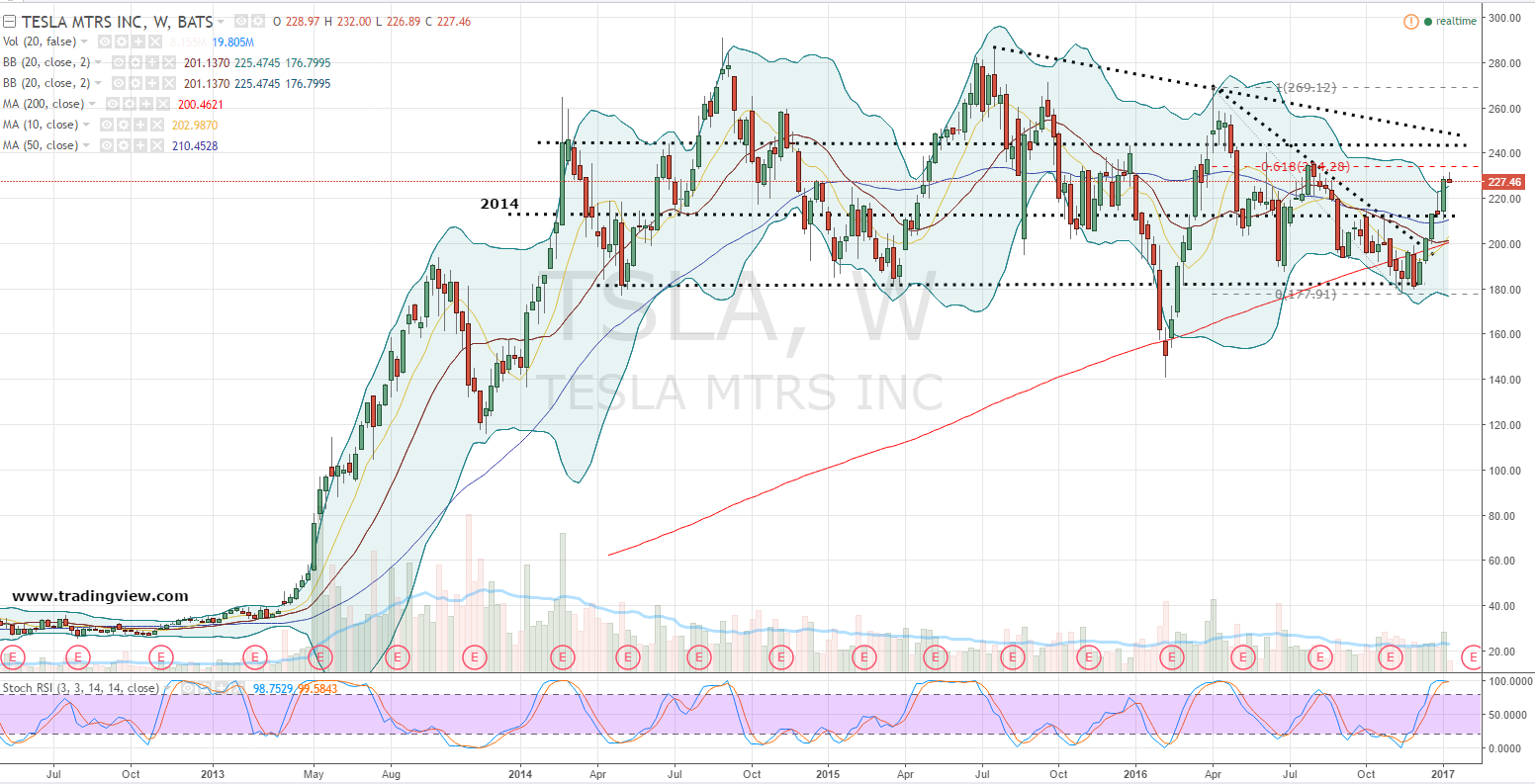 As noted above, it has been a good start to 2017 for TSLA. Shares are up about 6% and demonstrating relative strength versus averages like the NASDAQ Composite and S&P 500 with gains of around 2.7% and 1.1% respectively.
It's our view Tesla shares will continue to motor ahead as well. It's a point of view discussed just over a week ago.
Technically, after nearly three years of volatile, but mostly stalled and lateral price action, TSLA is due to make a meaningful move in 2017. With its early out-the-gate gains, shares of Tesla have also reclaimed and tested the 200-day simple moving average for support and broken out to fresh 4-month highs.
Net, net Tesla looks good overall. Of course, that's not to say it's all puppy dogs and rainbows for the cult of TSLA bulls. The provided weekly chart of TSLA suggests shares still face overhead resistance from congestion and a trend line or two. And on this time frame, Tesla is overbought based on its stochastics.
TSLA Bull Call Spread
Last week's discussed March $230/$250 bull call vertical notched intraday gains in excess of 50% or $2.50 in profit during yesterday's session and definitely worthy of adjusting. Having said that and after reviewing the board for fresh ideas, I still like this spread as a way to ride TSLA higher.
Currently and with TSLA at $228.40, the vertical is priced for $6.95. The spread stands to gain $13.65 or 215% if shares of Tesla can rally 9.5% and through $250 into March expiration.
As stressed last time though, our preference is to either exit or adjust the position during the life of the position as TSLA begins to move up or down — and either validating or wrecking our bullish position on the name.
Investment accounts under Christopher Tyler's management do not currently own positions in any of the securities or their derivatives mentioned in this article. The information offered is based upon Christopher Tyler's observations and strictly intended for educational purposes only; the use of which is the responsibility of the individual. For additional market insights and related musings, follow Chris on Twitter @Options_CAT.
More From InvestorPlace