Millennials, analysts and advertisers have been giving Snap Inc (NYSE:SNAP) some love, but investors aren't buying it — and neither should you. For traders looking at the SNAP stock chart, it could reflect a disappearing act in its own right, deserving of a bearish put vertical. Let me explain.
SNAP has been the most hyped initial public offering of 2017. That's not exactly new information. Maybe slightly less obvious, SNAP stock is also an initial public offering that has earned the reputation of "investors pulling out." In our opinion, it's price action to respect.
Personally, it's easy to see why investors are less-than-impressed with the parent company of the notorious blink-and-you-missed-it, photo messaging mobile app. For one, SNAP stock has a market cap roughly two and one-half times the size of Twitter and a massive price-to-sales multiple of 11.
That type of pricing for SNAP stock is far from cheap. And if you think Snap needs to simply grow into its pricing, think again. There's a far healthier 800 lb. gorilla by the name of Facebook Inc (NASDAQ:FB) that's already flexing its muscle much to the dismay of SNAP stock investors.
As InvestorPlace's James Brumley noted entering April, after Facebook added the Stories feature to its Instagram app, Snapchat witnessed a drop of 82% in its user growth rate. So much for stickiness, right?
SNAP also sports losses that, for lack of a better description, will be hard-pressed to disappear anytime in the near future. Despite advertisers affinity for Snap as a means to capturing the millennial, teen and tween demographics — SNAP stock lost over half a billion dollars on an otherwise impressive $404 million in revenues last year. Boo!!
And let's not forget Wall Street. While Snap Inc.'s posse of underwriters were more than happy to pay lip service in the form of a flurry of buy ratings for the company late last month; shares have been one of the worst-rated stocks by firms not having that same conflict of interest.
What's more, investors aren't buying SNAP stock's story either. Shares are off more than 8% from when underwriters tried to muscle shares higher, 13% below the opening print on March 3 and nearly 30% below the March 4 high.
In fact, the only group of investors not wishing SNAP stock would disappear from their portfolios are those lucky few allotted shares during the IPO at $17. But with SNAP at $20.85 and 150 million unrestricted shares whose slightly shortened 150 day lock-up period expires in early August; I'm guesstimating that value will disappear or self-destruct as well.
SNAP Stock Daily Chart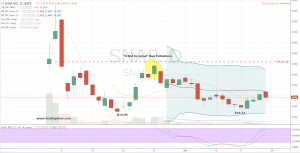 Click to Enlarge Looking at the brief daily chart of SNAP stock and the only technical event bullish investors might consider as supportive is last week's higher low pivot. Compared to SNAP's all-time-low of $18.90 set in March, one could cling to a variation of a double bottom pattern as being in place. But is that really enough? I don't believe it is.
As the price action in SNAP shows, since the quick-to-disappear enthusiasm wore off in only its second day as a publicly-listed company, bears have ruled the SNAP stock chart. To recap from above, SNAP shares have failed to hold the opening day low and couldn't even muscle above its 50% retracement level amidst a flurry of buy recommendations from SNAP stock's underwriters.
If you can't be dissuaded from owning shares, I'd personally recommend using a stop-loss given the poor overall picture both off and on the SNAP stock chart. More to the point, SNAP looks more appealing as a stock for shorting through the options market.
SNAP Stock Bear Put Spread Strategy
Reviewing SNAP's options and with earnings, or a lack thereof, on the horizon in early May; I like using a bearish vertical for positioning. The vertical limits risk to a defined amount and cuts down additional options risks as the spread is contract neutral.
With shares of SNAP at $20.93, the May $20/$18 bear put spread is priced for 65 cents. If the stock heads lower, the max payout of $1.35 occurs if SNAP is below $18 at expiration. To break even, this trader would need shares to drop to $19.35. That's marginally below last week's pivot and in effect, would break the bullish higher low pattern.
In the interim and should SNAP begin to decline sooner rather than later, profits will slowly begin to accrue. Ultimately though, verticals like this are a compromise, as the safety features of lesser Greek risks works both ways.
Bottom line though, this type of position isn't as likely to disintegrate either … now that's something I'd definitely snap.
Investment accounts under Christopher Tyler's management do not currently own positions in any of the securities or their derivatives mentioned in this article. The information offered is based upon Christopher Tyler's observations and strictly intended for educational purposes only; the use of which is the responsibility of the individual. For additional market insights and related musings, follow Chris on Twitter @Options_CAT.