One of the toughest sectors to call this year has been the consumer retail sector. Although the financial markets have lifted under President Trump's promise to make America great again, retail hasn't felt the love. More precisely, certain brick-and-mortar names have yet to benefit. Surprisingly, that includes discount specialists like Dollar Tree, Inc. (NASDAQ:DLTR).
Good economy or bad, you would expect a company like Dollar Tree to weather most storms. Getting a discount isn't an exclusive aspiration to any one social class. And the most bullish of bull markets certainly would not include every single American. Thus, DLTR stock seems like an all-around safe bet.
To be fair, Dollar Tree has been exactly that for quite some time.
But over the past year-and-a-half, sentiment has shifted to the lukewarm. Aside from short-term bursts, DLTR stock hasn't moved much since December of 2015. The exact same thing can be said about Dollar Tree rival Dollar General Corp. (NYSE:DG). That brings up an uncomfortable reality for Dollar Tree — it's not you, it's not me, it's the industry.
InvestorPlace contributor Vince Martin covered DLTR stock for its Q4 earnings. His assessment? Good, but not good enough. Same-store sales were down well below the usual standard for Dollar Tree. Most of the positive data was attributed to the discount retailer having an extra week in the fiscal year, as well as "synergies related to the Family Dollar acquisition." Its key rival also struggled to gain traction.
With Dollar Tree earnings for Q1 less than 48 hours away, should investors give DLTR stock another chance?
Significant Doubts Cloud DLTR Stock
This upcoming round will be particularly challenging. Wall Street has pegged the Dollar Tree earnings-per-share target at 98 cents, 17 cents higher than the year-ago quarter's estimate. At that time, the actual EPS came in at 98 cents, producing a 21% earnings surprise. For the fiscal 2018, any kind of positive surprise would be a victory.
For starters, the current EPS forecast is near the lower end of expectations, which ranges from 94 cents to $1.05. Over the last several years, the Dollar Tree earnings reports have been a literal crapshoot. Some of the misses have been particularly alarming, unsurprisingly leading to volatility for DLTR stock.
More importantly, the sales situation — as Mr. Martin has pointed out — needs to improve right quick. Thanks to the aforementioned synergies, previous Dollar Tree earnings reports featured triple-digit sales growth. But in the most recent two quarterly statements, revenue expansion has averaged 3%. That's simply not going to cut it. DLTR stock has averaged double-digit annual sales growth before the Family Dollar acquisition, so shareholders rightfully have higher expectations.
Aligned with those concerns is foot traffic. Thanks to giant store closures from J C Penney Company Inc (NYSE:JCP) and Sears Holdings Corp (NASDAQ:SHLD), DLTR will have less residual sales moving forward. Without these whales, shopping center properties will be pressured, sending an indirect, negative impact on all retailers.
Thus, it's vital that management prove that DLTR stock is more than just an accounting gimmick. Otherwise, this upcoming Dollar Tree earnings report could get very interesting, and not necessarily in a pleasant way.
Dollar Tree Has Nowhere to Run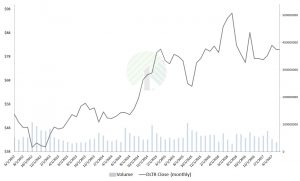 Click to Enlarge Of course, stranger things have happened. Irrespective of the earnings results, Dollar Tree shares could burst skyward. The argument is a technical one.
DLTR stock has been consolidating in a tighter range since peaking in August of last year. In many cases, such consolidation patterns result in a breakout move.
However, I would classify this as a lower probability event. The reason is that traders would be buying into a murky future. Retail is an ugly sector. It doesn't matter if you're selling to the rich or the not-so-rich. Plus, DLTR stock is a secular — read unsexy — investment.
The company has absolutely nothing special about it.
I'm not saying that to be a jerk. But let's be real — Dollar Tree is a volume game. Neither it nor rival Dollar General are playing that game well. Furthermore, reputable but embattled retailers like Target Corporation (NYSE:TGT) will have to start discounting to stay upright.
The consumer has so many choices. In fact, they likely have too many choices. That is the ultimate challenge that DLTR stock must overcome.
As of this writing, Josh Enomoto did not hold a position in any of the aforementioned securities.