There's an old saying that can be paraphrased as such: "you can never please all the people all the time." If only I had taken that advice when I was analyzing General Electric Company (NYSE:GE). I was dazzled by its incredibly diverse business. It was more than just an energy company, or healthcare equipment provider or a budding technology firm. But I failed to answer the critical question, just what is General Electric?
Over the past few months, I've written several stories about GE stock, and a few basic motifs appear.
I establish the fact that General Electric is an industry stalwart and it is unlikely to fade away. I also mention that despite its "old dog" status, GE demonstrates youthful vigor. The company is clearly willing to gamble on multiple, and many times, completely unrelated sectors. I should have questioned whether this was an asset or a liability.
I credit InvestorPlace writer Tom Taulli for simply calling General Electric stock for what it is: an overly complicated investment. Taulli rightly mentioned that it's difficult to track the financial performance of GE. He writes that the industry giant "is a sprawling global organization, with businesses in far-flung categories like energy, renewables, additives, lighting, aviation, power systems, healthcare, transportation and even the Internet of Things."
Taulli also pointed out that management often victimizes GE stock with a penchant for bad decisions. For example, General Electric divested Synchrony Financial (NYSE:SYF), which later went on to strong gains. And the oil and gas business was just classic GE, and not in a good way.
GE Stock Has an Overgrowth Problem
With all that said, much of the woes of General Electric stock were caused by former CEO Jeff Immelt's poor leadership. I also give a ton of credit to InvestorPlace contributor Dana Blankenhorn for identifying the problem early. But with John Flannery taking over the reins, will GE stock return to its former glory?
Don't count on it, says analyst Vince Martin. In his view, "This remains an old-line, low-growth industrial business. The merger of GE and Baker Hughes Incorporated (NYSE:BHI) gives some growth potential in oil field services and equipment — and some added risk if the resurgent shale boom again recedes." Furthermore, Martin writes "… GE stock still isn't cheap, given its growth prospects, and the GE dividend appears at some risk for a cut."
That's why, today, JPMorgan analyst Stephen Tusa, Jr. slashed his price target from $27 to $20, maintaining an "underweight" rating on GE shares. According to Tusa, Steve Bolze stepped down "unexpectedly early" during a time when GE Power's fundamental business is weakening.
For me, one of the worst omens was that General Electric stock secured zero gains off the news. Sure, GE shares popped up on the announcement itself. But a little shake and a dance, the company dropped nearly 4% in the markets. On a year-to-date basis, shares are down 14%.
Another great point that Mr. Martin brings up is that investors have options. GE stock tried to be the "everyman, everything" investment. Let's just be honest: It's not working out. However, Honeywell International Inc. (NYSE:HON) is doing almost exactly what General Electric had in their mind, but failed.
Frankly, it's a big ask to eschew a proven investment over something that has bumbled its way forward in recent months.
General Electric Is Getting No Love From the Markets
I can overlook poor leadership, bad decision-making and undisciplined financials because these are largely solvable issues. But what really raises the red flag on GE stock is that some of its industries face exceedingly tough challenges.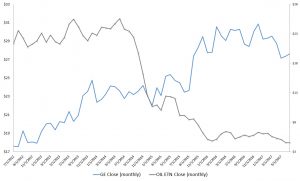 Click to Enlarge
Of course, I'm talking about the oil markets. InvestorPlace's Richard Saintvilus cited the energy recovery as a potential tailwind for the contrarian argument. Unfortunately, I don't think oil is going to recover anytime soon based on its hideous technical posture. For the sake of the economy, I hope Saintvilus is right, but it just doesn't look good at all.
Ultimately, I think Wall Street is looking at GE stock as a jack-of-all-trades, and master of none. Previously, I thought that asset and business diversity will benefit General Electric, especially under these uncertain times. That has not turned out to be the case, and I think time is better spent seeking viable opportunities.
As of this writing, Josh Enomoto did not hold a position in any of the aforementioned securities.