U.S. equities crawled higher again on Wednesday — posting the ninth straight gain for the tech-heavy Nasdaq Composite and the 10th gain out of 11 sessions — to hit new record highs. The summer doldrums are fully upon us, with a lack of trading volume and meaningful catalysts. Yet investors don't seem to care, with higher prices coming as naturally as breathing the air right now.
In fact, by multiple measures, this is the easiest market condition in decades.
In the end, the Dow Jones Industrial Average gained 0.3%, the S&P 500 gained 0.5%, the Nasdaq gained 0.6% and the Russell 2000 gained 1%. Treasury bonds were little changes, the dollar was mostly stronger, gold was little changed and crude oil rallied on a surprise inventory draw gaining 1.6% and boosting the energy sector.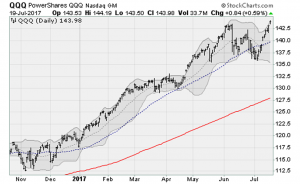 Click to Enlarge Breadth was heavily positive, with advancers outpacing decliners by a 3:1 ratio with NYSE volume at 83% of its 30-day average. Energy stocks were the leaders, up 1.4% while industrials were the laggards, up just 0.2%.
Early earnings reporters were in focus, with Morgan Stanley (NYSE:MS) up 3.3% on a top- and bottom-line beat driven by investment banking and trading activity. The bank's fixed-income, currencies, and commodities activity dropped around 4% from the year prior vs. drops of upwards of 40% posted by its peers, evidence of strong execution in a difficult environment.
On the downside, United Continental Holdings Inc (NYSE:UAL) lost 5.9% despite better-than-expected earnings as forward guidance disappointed. McCormick & Company, Incorporated (NYSE:MKC) fell 5.2% after agreeing to acquire Reckitt Benckiser's food division for $4.2 billion, at a higher deal valuation than was expected. And International Business Machines Corp. (NYSE:IBM) fell 4.2% after beating second-quarter earnings expectations on another "low quality" print as taxes provided a boost amid light revenues.
Conclusion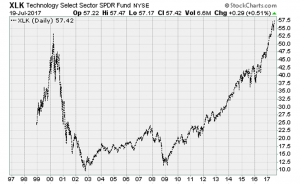 Click to Enlarge The big news of the day was that the S&P 500's technology sector has finally surpassed its dotcom bubble peak set on March 27, 2000. The bulls are cheering the result, noting that tech-sector valuations while elevated are far from the extremes seen 17 years ago. It's worth remembering, however, that on an inflation-adjusted basis tech stocks are still down 30% from their prior peak.
For now, nothing seems to matter besides the ongoing flow of central bank asset purchases led currently by the Bank of Japan and the European Central Bank. But that it poised to change in September, with the Federal Reserve expected to unleash its "quantitative tightening" program to roll back its $4.4 trillion balance sheet.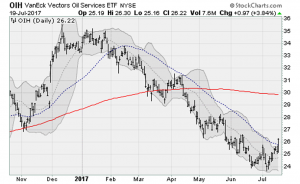 Click to Enlarge Until then, it's truly hard to find any potential headwinds that could rattle stocks here. Fresh opportunities are appearing in the energy sector, with the Vectors Oil Services ETF (NYSEARCA:OIH) in particular looking ready for new long-side plays.
Check out Serge Berger's Trade of the Day for July 20.
Today's Trading Landscape
To see a list of the companies reporting earnings today, click here.
For a list of this week's economic reports due out, click here.
Tell us what you think about this article! Drop us an email at editor@investorplace.com, chat with us on Twitter at @InvestorPlace or comment on the post on Facebook. Read more about our comments policy here.
Anthony Mirhaydari is founder of the Edge (ETFs) and Edge Pro (Options) investment advisory newsletters. Free two- and four-week trial offers have been extended to InvestorPlace readers.