Monday's surge in the market may have been the boost in the arm that was needed as we have been seeing a number of stocks that have been slipping into technically challenging situations. We often watch these volatile moves for signs of impending rallies or reversals that are more easily traded.
Today's three big stock charts look at the technicals for Bristol-Myers Squibb Co (NYSE:BMY), United Parcel Service, Inc. (NYSE:UPS) and Intuit Inc. (NASDAQ:INTU). Each of these stocks pierced their respective top Bollinger Bands yesterday, which put them on most technical trader's radar. Now the question, buy or not?
Bristol-Myers Squibb Co (BMY)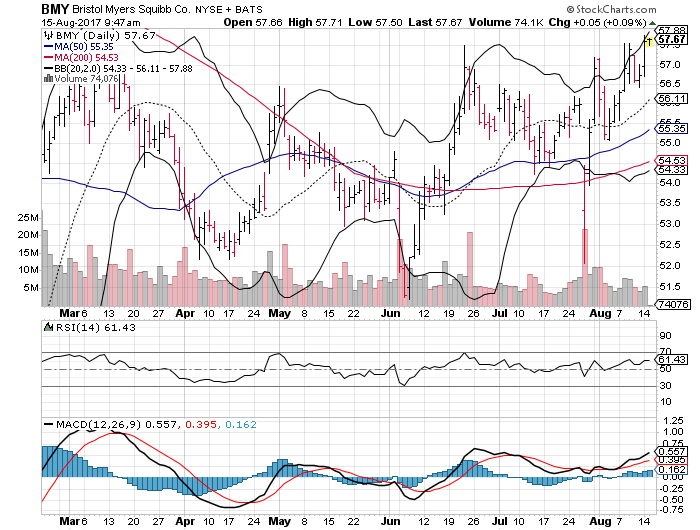 Like much of the Pharmaceutical sector, Bristol-Myers Squibb shares have been volatile, trading with little trend. BMY stock broke its top Bollinger Band yesterday, signaling that more volatility is on the way. The question, will it be good or bad for the stock?
From a bullish perspective, Bristol-Myers Squibb shares' turned bullish from an intermediate-term outlook in July as the stock's 50- and 200-day moving average transitioned into a bullish uptrend.
BMY stock has a technical battle ahead as it will try to break into a long-term bull market within the next few weeks by rallying above $58.60. This is the site of Bristol-Myers Squibb shares' 20-month moving average.
According to the MACD indicator for BMY stock, the shares are gaining momentum, which will help to push them into a long-term bull market trend. This will attract even more buyers and also upgrades from the analyst community.
United Parcel Service, Inc. (UPS)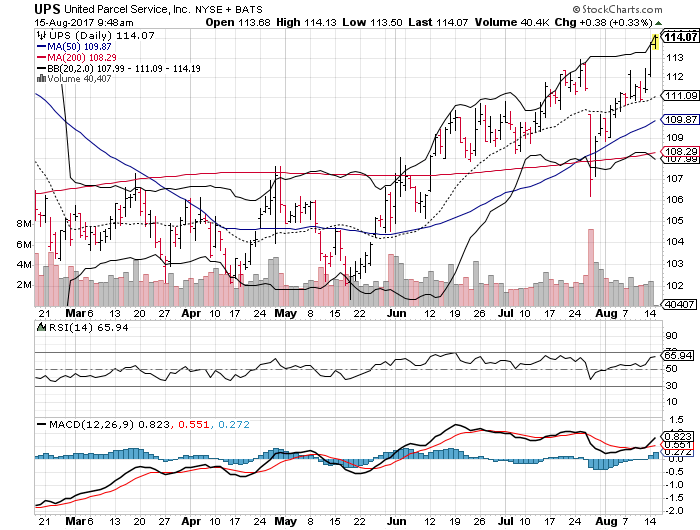 Transportation stocks have struggled through much of 2017. Through much of the year, UPS shares have traded in a range.
The rally that did lift United Parcel Service stock in June was set back by the company's earnings in July, but the stock recovered and is now sending bullish signals worthy of following.
Monday, UPS shares surged above their top Bollinger Band on rising volume as the crowd is clearly moving back into this sector leader. The last two breaks of the top Bollinger Band saw the stock sell-off in the following weeks, but other technicals are more supportive of the bullish outlook.
The 50-day moving average for United Parcel Service stock is on the rise after transitioning into a bullish outlook in June. This targets higher prices as the "friendly trend" will attract even more buyers to the stock.
From a long-term perspective, UPS remains in a bull market. The stock is approaching $115, which has been chart resistance in the past. Last month, United Parcel Service saw a Golden Cross pattern form when the 50-day crossed above the 200-day. This often sets a bullish tone for stocks that should help UPS break through $115 and move higher.
Intuit Inc. (INTU)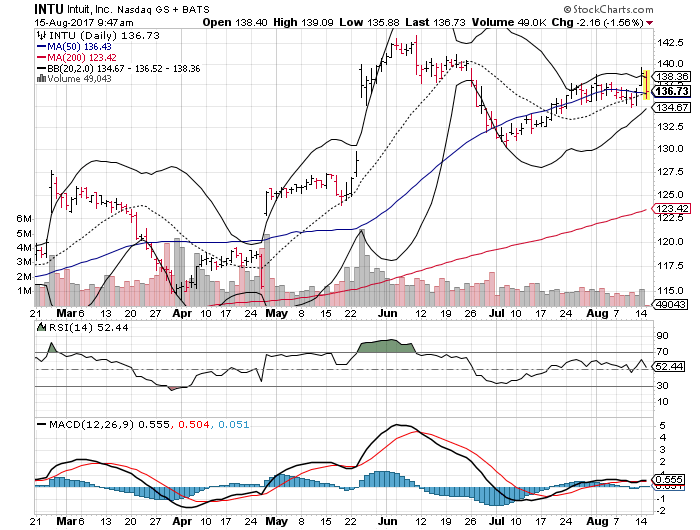 Traders had been rallying Intuit stock ahead of their earnings report that is due to hit the news next week.
As a result, the stock tapped its top Bollinger Band on Monday, but something else happened that now has the stock's outlook a little more questionable.
The last instances of a top Bollinger Band break for INTU stock have resulted in rallies that have averaged 5% a little over a week, so the market's reaction should be bullish.
Tuesday morning, Citigroup added Intuit shares to their "negative catalyst" list, which has traders in the selling mood. The stock is moving towards $136, which has been a consolidation level as this is where the stock gapped higher to immediately after their last earnings report.
In addition to chart support, INTU stock's 50- and 20-day moving averages currently sit near the same price. This makes $136 a make-or-break level for Intuit. A hold above this price will mark INTU stock a buy ahead of its earnings next week.
As of this writing, Johnson Research did not hold a position in any of the aforementioned securities.