The broader market is working itself between a rock and a hard place as the S&P 500's trading range begins to tighten. This, and a drop in volume in the market, suggest that a tradable move is in the works for stocks as a group. The number of companies that are trading below their respective 50-day moving average is on the rise, indicating that the market's bias is turning.
Today's three big stock charts looks at the technicals of Cisco Systems, Inc. (NASDAQ:CSCO), Intuitive Surgical, Inc. (NASDAQ:ISRG) and Microsoft Corporation (NASDAQ:MSFT) as three stocks that are threatening to slip into intermediate-term bearish outlooks as they battle to stay above their respective 50-day trendlines.
Cisco Systems, Inc. (CSCO)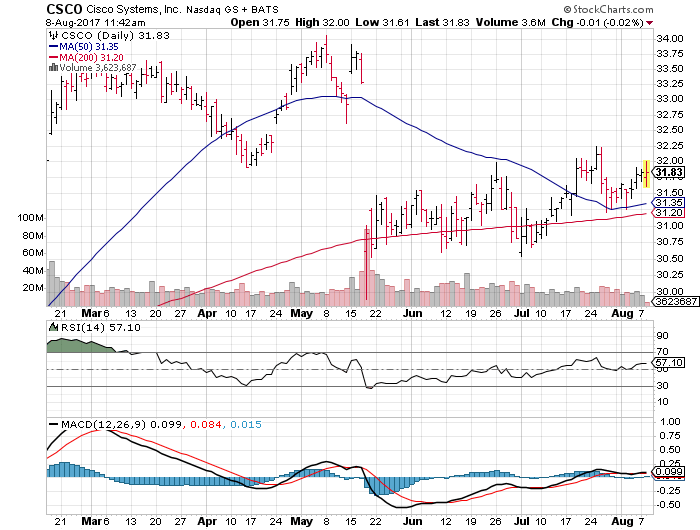 The networking giant will report their quarterly earnings results in a little more than a week. For months, Cisco stock has wandered aimlessly in a broad range and is now in a technical battle that will determine the next 5-10% move in the shares.
The last three days, CSCO shares have bounced between their 50- and 200-day moving averages. These critical trendlines are acting as support and resistance respectively. The first of these trendlines to break will trigger technical traders to take action.
Currently, the 50-day moving average is trading below the 200-day, which is bearish for the stock's outlook, adding potential pressure to the need for Cisco shares to rally.
Adding to the bearish outlook, CSCO's 100-day moving average is overhead at $32.45. If the shares are able to break above the 200-day they will immediately run into this additional hurdle. In all, there aren't any trends that are Cisco's friend right now.
Intuitive Surgical, Inc. (ISRG)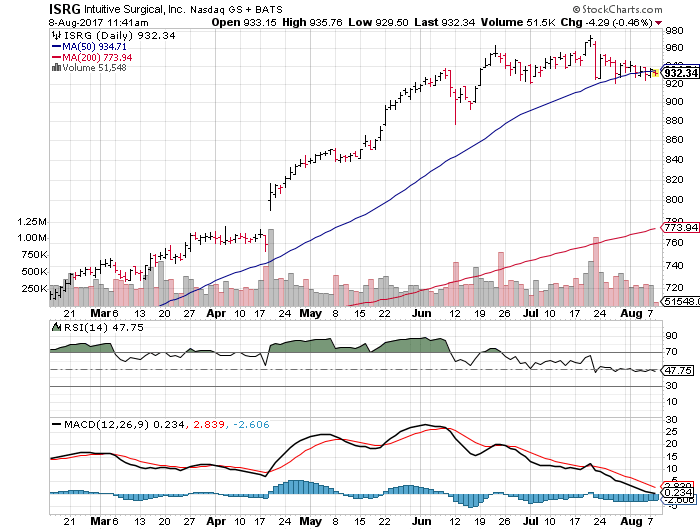 Healthcare and related stocks are starting to lag again after playing some catch-up. Intuitive Surgical shares have gone from a volatility leader to a wandering laggard.
This indicates that the technical traders may have moved away from the stock, leaving it to form a longer-term top.
The last week has seen ISRG shares track along their 50-day moving average as if it were a rail. A break below this trendline will bring technical sellers into the market as this stock is still 45% higher for the year.
Volume on Intuitive Surgical has dried-up, indicating that the traders are taking a wait-and-see approach instead of actively supporting the stock.
ISRG is continuing to correct from a short-term technically overbought condition that arose in late July as well as an intermediate-term oversold condition that still exists. This means that the stock has some time to go before it becomes a technical "value" for the market.