The retail sector is showing signs of life as the brick-and-mortar companies have been showing some strength while leaders like Amazon.com, Inc. (NASDAQ:AMZN) have been pulling off of their highs. Year-to-date, the retail sector, as measured by the SPDR S&P Retail (ETF) (NYSEARCA:XRT), is down more than 11%, but the sector has turned into a stock picker's dream as we're now seeing some technical turnarounds worthy of traders' attention.
Today's three big stock charts look at three of these companies as Best Buy Co Inc (NYSE:BBY), Dollar General Corp. (NYSE:DG) and Groupon Inc (NASDAQ:GRPN) are presenting charts that are suggesting that these stocks will continue to buck the bearish trend of its sector peers.
Best Buy Co Inc (BBY)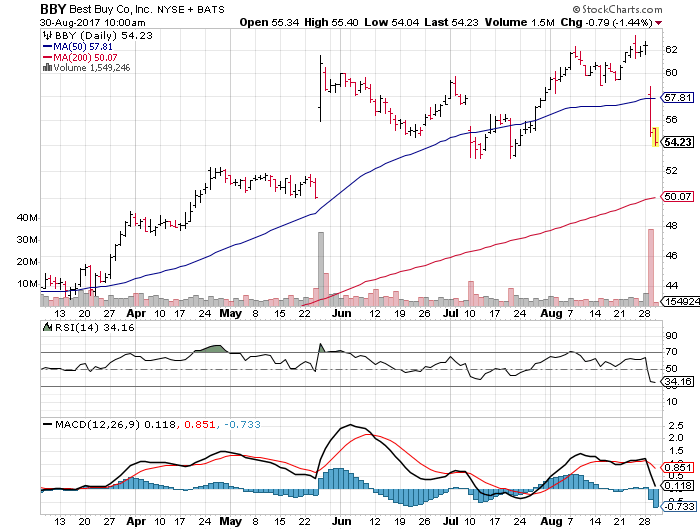 Best Buy shares plummeted yesterday after the company reported better than expected earnings and revenue growth. The problem, a comment on the conference call that suggests mid-single digit growth is not the new normal. That was enough to send traders into the market as sellers. BBY stock lost more than 10% in one day, but it may be ready to roll higher already.
Best Buy's one-day move took the shares to the round number trading level of $55. This price has supported the shares on pullback over the last two months and it is likely to be defended by traders over the next few days.
Tuesday's trading dropped the RSI for BBY stock to 34.5, just slightly above an oversold reading that would cause technical traders to come in and buy the shares on the prospects of a technical bounce.
From a long-term perspective, the 50- and 200-day moving averages continue to trend higher. This indicates a bullish environment for Best Buy shares.
Dollar General Corp. (DG)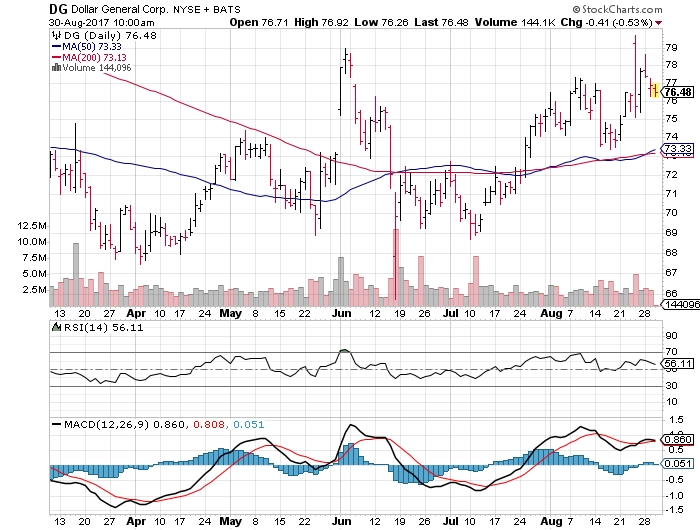 Consumer confidence and spending is on the rise as the economy continues to show that the expansion is real. While there are some higher-end stores that are flourishing, it's the discounters like Dollar General that are making the more impressive recoveries right now.
DG is coming off of a positive earnings season that turned its technicals bullish.
Dollar General saw a significant surge after its latest earnings showed better results than investors had priced into the stock. Currently, we're seeing DG stock drop on some profit-taking; however, this is shaping up to what is likely an intermediate-term buying opportunity.
Dollar General stock is likely to spend some time consolidating at $76 as this has been a price point of interest for the chart traders. A hold of this level will bring buyers into the market.
Finally, DG stock saw a bulling "Golden Cross" pattern form last week as the 50-day moving average crossed above the 200-day again. These trendlines are currently trading in close proximity, but are trending higher, which indicates bullish momentum is building.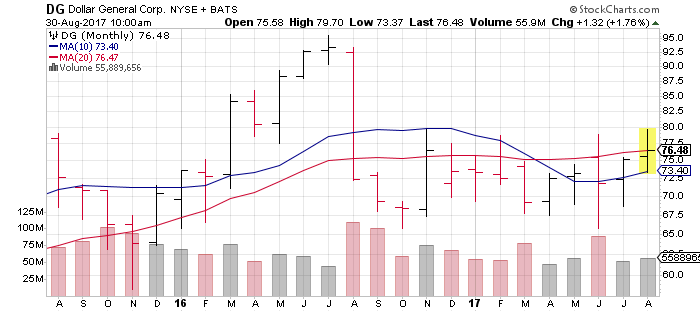 Groupon Inc (GRPN)

Groupon has been that company that most investors and traders appeared to have left for dead, but that is sometimes the best time to start grabbing stocks like this.
Under new Management, GRPN is now building a bottom from its 2015 lows and showing promise that the trend is becoming friendlier for investors.
Trading at $4.30, most traders have taken Groupon off of their list, but this single-digit giant is now pressing for a breakout higher as it appears to be ready to take out what has been chart resistance at the same price (see monthly chart below).
Two weeks ago, GRPN stock made a decisive bullish "Golden Cross" as the 50-day moving average shot above the 200-day trendline.
Currently, almost 10% of the float of Groupon stock is held as short positions. We expect this to help trigger a short covering rally as GRPN stock breaks above $4.30. Traders should expect a rally to $5 on this move.
As of this writing, Johnson Research Group did not hold a position in any of the aforementioned securities.