A second technical challenge for Alphabet Inc (NASDAQ:GOOGL) is looking a bit less friendly for bulls. And considering other evidence both off and on the GOOG stock chart, a well-placed and cost-effective put vertical spread appears to be the better opportunity for traders. Let me explain.
It's been a week since Alphabet easily trumped Wall Street views with impressive items like solid revenue growth of 22%. Yet, GOOGL stock slumped nearly 3% in the report's immediate aftermath.
Before you think it's a simple case of "sell-the-news" profit-taking and a one-off for bulls, shares have dropped an additional 2.4% over the last four trading sessions. So, what gives with GOOGL these days?
The less-friendly trend could have to do with a couple items of some importance. For one, Alphabet's failure to split apart its "Google properties revenues" and offer investors stronger insight into the company's wildly popular YouTube business, could be a point of contention.
Another source of concern might be Alphabet's key cost-per-click metric dropped 26%, which in turn is encroaching on Google's margins. The weakness is not entirely new. In conjunction with increased traffic acquisition costs of 28%, however, investors may be worried of a less-desirable trend developing off the price chart.
Lastly, there's the threat of a building trend on the GOOGL stock chart.
GOOGL Stock Weekly Chart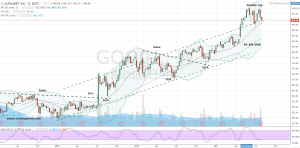 Click to Enlarge In my last discussion of GOOGL stock on July 11, I was confident shares had found a meaningful low. On the weekly chart, a bullish hammer candlestick testing a long-standing upper channel line coupled with decent corrective work and a stochastics bordering on being oversold supported the technical case for higher prices.
GOOGL did move higher by nearly 6% following our write-up, but then proceeded to establish a gap-and-crap double-top pattern in the earnings aftermath.
The price action has now set up a second test of the channel for support. And similar to last time, stochastics are toying with an oversold condition. But it's also not the same type opportunity for investors.
It's our view, GOOGL stock's newly-formed double top and a historically-stingy period on the calendar are two fairly obvious factors that need to be factored in. And that's not supportive of a bottom occurring.
Maybe less apparent, this strategist is also respectful of the "sell-the-news" reaction following a lengthy bullish trend and a sign GOOGL stock may have run its course.
GOOGL Stock Bear Put Spread
A modified bullish Aug $985/$1000/$1005 butterfly on GOOGL discussed prior did quite well in expanding from a conservative purchase price of $4.25 to $7.25 per spread immediately in front of the earnings event. Nice.
The bad news for this GOOGL stock spread trader is if he or she held through the report and failed to reduce or exit the position. The combination is now worth $1.85 and failing a decent rally, will expire worthless in a couple weeks.
Given our belief GOOGL is now more likely to go lower before eventually heading higher, I like approaching the name with the Sept $915/$900 bear put spread for up to $3.50.
The positioning of this vertical is such that if the recent low of $915.31 is broken, the spread will begin to build actual intrinsic value if shares continue to fall. With a max value of $15 below $900, the trader requires a move of less than 6% to capture a profit of $11.50 at expiration and realize a return of 337% in less than two months for the equivalent of less than 0.4% GOOGL stock risk
Investment accounts under Christopher Tyler's management do not currently own positions in any securities mentioned in this article. The information offered is based upon Christopher Tyler's observations and strictly intended for educational purposes only; the use of which is the responsibility of the individual. For additional market insights and related musings, follow Chris on Twitter @Options_CAT and StockTwits.