U.S. equities finished sharply lower on Friday as Wall Street watched as yet another member of the Trump administration was unceremoniously kicked out the door. This time, it was nationalist firebrand Steve Bannon. Rumors of his departure at mid-day drove a surge of buying interest before confirmation of the departure drove concerns Trump's foreign policy could now take a more aggressive turn (Bannon was a strong supporter of non-interventionism).
In the end, the Dow Jones Industrial Average lost 0.4%, the S&P 500 lost 0.2%, the Nasdaq Composite lost 0.1% and the Russell 2000 lost 0.1%. Treasury bonds was largely unchanged, the dollar was down, gold was little changed and oil rallied on ongoing tensions in Venezuela up 3%.
Breadth was slightly positive on heavy volume, with NYSE activity at 113% of its 30-day average. Utility stocks led the way with a 0.6% gain while REITs were the laggards, down 0.8%.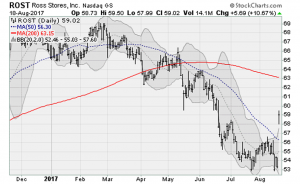 Click to Enlarge Ross Stores, Inc. (NASDAQ:ROST) gained 10.7% after reporting a second-quarter earnings and revenue beat with comp-store sales ahead of estimates on traffic gains.
But elsewhere in the retail space, Foot Locker, Inc. (NYSE:FL) lost 27.9% after reporting a top- and bottom-line miss on a 6% drop in comps. Management flagged weak sales of top styles and limited innovative new products, warning comps were likely to remain under pressure.
Conclusion
The Trump White House is set to continue to be the center of focus with a joint U.S.-South Korea military exercise scheduled for Monday and the U.S. debt ceiling limit set to become in issue over the next two weeks.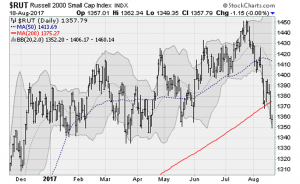 Click to Enlarge The Federal Reserve — and central banks in general — will be in focus as well ahead of the start of the Kansas City Fed's Jackson Hole Conference starting on Thursday. Fed Board Chair Janet Yellen will speak on Friday morning on financial stability.
Her comments will be closely watched in the wake of this week's release of the July meeting minutes in which Fed officials warned that policy tightening would continue despite weak inflation readings.
Why? Because financial conditions, driven by rising stock prices, have continued to fall since the rate hike campaign started in 2015. And they're not happy about that.
The stakes for the market's reaction to all of these catalysts is raised by the technical fragility, with the Russell 2000 moving below its 200-day moving average for the first time in more than a year. Any follow-on selling will eventually affect the Dow Jones Industrial Average, which remains well above its 200-day average thanks to the persistent strength in the likes of Boeing Co (NYSE:BA) and Apple Inc. (AAPL).
Today's Trading Landscape
To see a list of the companies reporting earnings today, click here.
For a list of this week's economic reports due out, click here.
Anthony Mirhaydari is founder of the Edge (ETFs) and Edge Pro (Options) investment advisory newsletters. Free two- and four-week trial offers have been extended to InvestorPlace readers.