U.S. equities moved lower in trading on Wednesday, but ended off of their worst levels as some of the fear faded after Tuesday's dramatic Twitter war between President Donald Trump and North Korea.
Trump said the hermit nation would suffer "fire and fury" if it kept threatening the United States; to which Pyongyang replied it was considering a preemptive attack on Guam. A late-session headline that Trump's comments were his own and didn't reflect U.S. policy bolstered sentiment into the close.
In the end, the Dow Jones Industrial Average lost 0.2%, the S&P 500 lost a fraction, the Nasdaq Composite lost 0.3% and the Russell 2000 lost 0.9%. Treasury bonds were stronger, the dollar weakened, gold gained 1.3% and oil gained 0.8% after inventory data showed a crude draw.
Breadth was negative, with decliners outpacing advancers by a 2.3 to 1 ratio. NYSE volume was inline with the 30-day average. Healthcare led the way with a 0.2% gain while utilities were the laggards, down 0.5% on yield compression.
Hertz Global Holdings, Inc. (NYSE:HTZ) had a wild ride, rising 23% after reporting a big operating earnings miss on higher fleet costs as investors focused instead on a turnaround U.S. procing (up 3% year-to-date) on tighter fleet inventory. Red Robin Gourmet Burgers, Inc.(NASDAQ:RRGB) gained 9% on an earnings beat helped by lower taxes and a 1% traffic gain.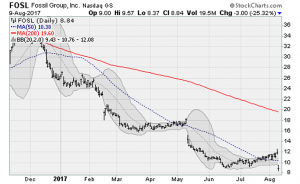 Click to Enlarge On the downside, Office Depot Inc (NASDAQ:ODP) fell 25.9% after reporting an earnings and revenue miss with margins tight. Fossil Group Inc (NASDAQ:FOSL) fell 25.3% as the company continues to struggle to stay relevant amid the rise in smartwatches (replacing wristwatches) and smartphones (substituting for wristwatches).
And Walt Disney Co (NYSE:DIS) fell 3.9% after reporting mixed third-quarter numbers — with media and networks operating income down 23% — as ESPN subscriber declines remain a point of concern.
Conclusion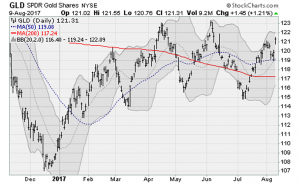 Click to Enlarge The historic quiet period in the market continued with the S&P 500 recording its 15th consecutive day without an up or down move of at least 0.3%.
But there are signs that fear is breaking through the façade with gold, shown above, rising to a two-month high. The threat of thermonuclear war will do that to the world's oldest safe haven asset (versus bitcoin and other crypto currencies).
While the media and investors focused on indications the White House was trying to deescalate — with Secretary of State Tillerson saying Americans should sleep well at night — Secretary of Defense Mattis released a statement during North Korea to cease consideration of a pre-emptive strike as it would "lead to the end of its regime and the destruction of its people."
For what happened next, your guess is as good as mine. Keep an eye on Trump's Twitter feed. Just remember that, as I've covered over the past week, historically period of extreme market calm and confidence like now are normally followed by periods of weakness. Plus, we are entering a very poor time of the year seasonally, with August-October the scene of many harrowing selloffs.
Check out Serge Berger's Trade of the Day for Aug. 10.
Today's Trading Landscape
To see a list of the companies reporting earnings today, click here.
For a list of this week's economic reports due out, click here.
Tell us what you think about this article! Drop us an email at editor@investorplace.com, chat with us on Twitter at @InvestorPlace or comment on the post on Facebook. Read more about our comments policy here.
Anthony Mirhaydari is founder of the Edge (ETFs) and Edge Pro (Options) investment advisory newsletters. Free two- and four-week trial offers have been extended to InvestorPlace readers.