Any way you slice it, Qualcomm, Inc. (NASDAQ:QCOM) is looking riskier by the day. But where there's risk, there's often opportunity — and I believe that to be the case in QCOM stock at the moment.
The last time I looked at Qualcomm, in early July, shares offered no discernible advantage for bulls or bears. The lack of a tradable edge resulted in my recommendation to remain on the sidelines.
But the bears appear to be gaining the upper hand in QCOM stock.
There's the much-talked-about threat from Apple Inc. (NASDAQ:AAPL). Not much has changed there. Qualcomm's status as an Apple supplier and its licensing business remain in limbo.
But now, as InvestorPlace's Vince Martin recently noted, there's growing worry Qualcomm is unlikely to secure its tender offer for NXP Semiconductors NV (NASDAQ:NXPI) without paying a good deal more for the company's Internet of Things and automotive opportunities. The required support from existing NXPI shareholders simply isn't there at the current bid price.
And Qualcomm's business in South Korea could be at risk if the threat of war with North Korea escalates. QCOM currently generates 17% of its revenues, totaling more than $4 billion, from that country, so any disruption could prove painful to the top and bottom lines.
Lastly, there's the QCOM stock chart, which in my opinion has gone from neutral to ugly.
Qualcomm's Chart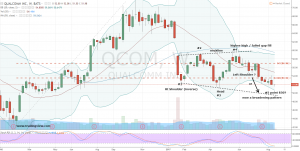 Click to Enlarge As I mentioned earlier, I wasn't sure about Qualcomm's technical picture in July and determined that the best policy was to leave things alone.
At the time, an inverse left shoulder was building between the 50% and 62% Fibonacci retracement levels. However, a bearish, broadening continuation pattern looked to be an effective counter.
Over the last several weeks, however, conditions have firmed up for the bears. A breakdown of key 62% support and failure of the inverse head-and-shoulder pattern increases the likelihood that QCOM stock will challenge its prior low near $42.
The only bull arguments I will point out are oversold stochastics and a broadening pattern. If shares falter just a bit from current prices, the $50 level does hold "whole-number" significance. Also, a successful challenge and reversal off $50 would maintain the symmetry of the broadening pattern.
Having said that, I still support the bear case today. Let's bet on the path of least resistance, then make adjustments or exit if conditions deteriorate bullishly.
The Strategy for QCOM Stock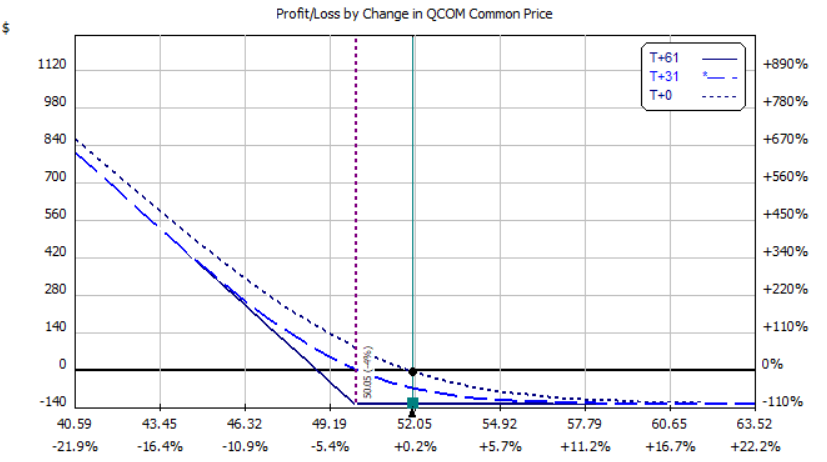 With Qualcomm shares at $51.97, I like the Oct $50 put for up to $1.25. This will allow investors to position bearishly without having to worry about more open-ended risk from outright shorting the stock.
Risk for this limited-risk strategy is contained to less than 2.5% of Qualcomm's share price in the event QCOM fails to drop below $50 at expiration. That's not unreasonable, especially since the open profit profile stands to do well if downside momentum picks up.
If Qualcomm shares don't cooperate technically, my suggestion would be to have a 50% money stop ready to close out the position. If QCOM stock forces this type of exit in the next couple of weeks, it'll likely be the result of significant technical strength. That'll make it worth locking in the smaller loss.
Investment accounts under Christopher Tyler's management do not currently own positions in any securities mentioned in this article. The information offered is based upon Christopher Tyler's observations and strictly intended for educational purposes only; the use of which is the responsibility of the individual. . For additional market insights and related musings, follow Chris on Twitter @Options_CAT and StockTwits and feel free to click here to learn more about how to design better positions using options!