U.S. equities ended lower on Wednesday as investors were spooked by comments from Trump on Tuesday night that he was willing to shut down the government to push ahead on his border wall campaign pledge. This sapped the energy out of the reason for Tuesday's rally: Hope for an easy effort on tax reform, which in retrospect, was a bit of a pipe dream.
In the end, the Dow Jones Industrial Average lost 0.4%, the S&P 500 lost 0.4%, the Nasdaq Composite lost 0.3% and the Russell 2000 lost 0.1%. Treasury bonds strengthened, the dollar weakened, gold gained 0.3% and oil jumped 1.2%.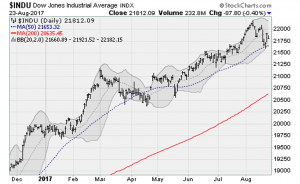 Click to Enlarge Breadth was slightly positive, with 1.1 advancer for every decliner, with light volume at 83% of the NYSE's 30-day average. REITs led the way with a 1.1% gain while industrials were the laggards, down 0.9%.
Express, Inc. (NYSE:EXPR) gained 19.3% after reporting better-than-expected second-quarter results on a 28% growth in e-commerce. Fiat Chrysler Automobiles NV (NYSE:FCAU) gained 7.1% after Bloomberg reported the company is looking to enhance shareholder value, possibly with a spinoff of its Maserati/Alfa Romeo brands.
On the downside, La-Z-Boy Incorporated (NYSE:LZB) lost 20.2% after missing quarterly results on weaker margins and a slowdown in organic sales growth. Lowe's Companies, Inc. (NYSE:LOW) fell 3.7% on a Q2 earnings and revenue miss.
And on the economic front, July new-home sales fell 9.4% missing estimates. The flash manufacturing PMI missed expectations but remains in monthly growth territory. And the flash services PMI beat expectations.
Conclusion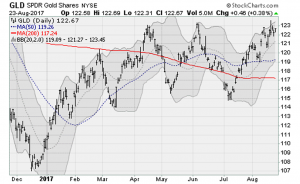 Click to Enlarge Fears of a government shutdown as the debt ceiling approaches and Trump's relationship with Congress breaks down is resulting in a safe haven bid into the precious metals — which have been moribund and range bound for years.
The chart above shows how the Gold Shares SPDR (NYSEARCA:GLD) is coiling up near the upper end of a five-month consolidation range.
Watch for a breakout to the $132 region, revisiting last summer's highs, for a gain of nearly 10% from here.
Check out Serge Berger's Trade of the Day for Aug. 24.
Today's Trading Landscape

To see a list of the companies reporting earnings today, click here.
For a list of this week's economic reports due out, click here.

Tell us what you think about this article! Drop us an email at editor@investorplace.com, chat with us on Twitter at @InvestorPlace or comment on the post on Facebook. Read more about our comments policy here.