Stocks started Thursday on a mixed note with the major market indices taking a break, at least in early trading. Some of the weakness is the result of investors digesting the first round of earnings results from the larger bank stocks as expectations for these earnings had the banks priced to perfection. We expect to see this sector track sideways for the next week or so, but there are opportunities in other areas of the market.
The charts for Advanced Micro Devices, Inc. (NASDAQ:AMD), Fitbit Inc (NYSE:FIT) and Nvidia Corporation (NASDAQ:NVDA) are all showing potential for breakouts over the next week as the earnings continue to roll in. Today's three big stock charts will review the trends and indicators behind these forecasts.
Advanced Micro Devices, Inc. (AMD)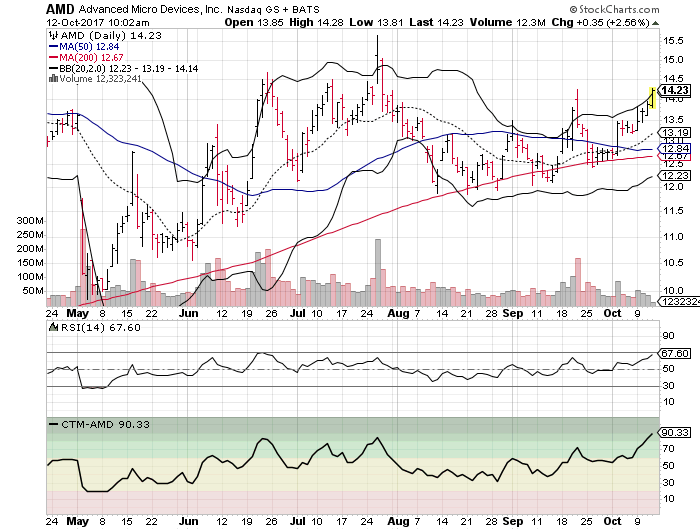 Funds have migrated out of the technology sector into the financial sector over the last month, but many of the semiconductor companies continue to benefit from positive fundamental and technical indications that have helped maintain the chip sector's leadership role. Advanced Micro Devices shares are now on the cusp of a potential breakout as a result.
This morning's move in AMD stock has broken above the top Bollinger Band, indicating that a volatility rally is in the process of initiating.
In addition to the break above the top Bollinger Band, Advanced Micro Devices is also breaking above significant historical chart resistance at $14. This will draw even more technical buyers into the stock.
AMD shares will face another technical test at $14.50. This price will represent a near overbought signal from the RSI and another chart resistance level. Momentum indicators are suggesting that the stock is likely to break through this point and rally to highs around $15.50.
Fitbit Inc (FIT)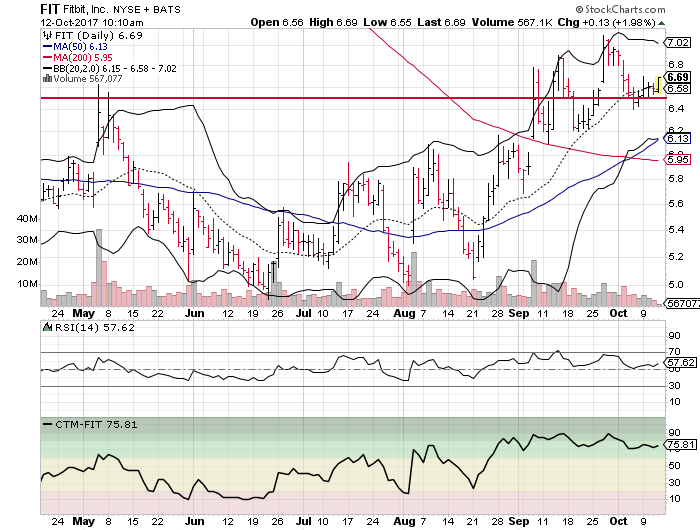 We analyzed the chart for Fitbit a few weeks ago as the stock was poised for a breakout that indeed came to fruition. Now, FIT stock is retracing some of those gains after hitting some overbought readings, triggering some profit-taking.
The company doesn't report earnings until Nov. 1, leaving time for the traders to take advantage of the pullback, which is what we expect to see.
After a 13% rally, shares of Fitbit saw a pullback to the $6.50 price-level where support has kicked in with trading interest. This looks to have formed a short-term bottom for the stock.
The RSI for FIT is indicating that there is room for another 10% rally in the shares ahead of the company's earnings on Nov. 1. We expect a "buy the rumor" rally to drive prices higher.
Last week, Fitbit stock saw a Golden Cross signal as the 50-day moving average moved above the 200-day. This suggests higher prices over the next four to six weeks for the fitness gadget stock.