Square Inc (NYSE:SQ) has been one of my favorite companies. It's got strong growth, improving fundamentals and a unique, sticky ecosystem. With that said, SQ stock has been on absolute fire.
Shares are up a blistering 142% so far on the year and Square is up more than 33% over the past two months.
Despite how great everything is going, is this rally too much, too soon? I think it might be and as a result, have recently booked profits and taken a short position in the name.
Shorting Square Stock
First of all, I am not much of a short-seller. I would much rather take profits or sell upside calls and wait for a pullback.
Further, on names I really love — like Starbucks Corporation (NASDAQ:SBUX) or Nike Inc (NYSE:NKE) — I'm willing to sit through the ups and downs thanks to hefty long-term gains. Square is like that, too, but the recent rally has become hard to justify.
From a valuation perspective, SQ stock is anything but cheap. Shares trade at an expensive 77 times 2018 earnings estimates. It also trades at 6.7 times sales, a rather lofty premium considering the company still has negative operating and profit margins.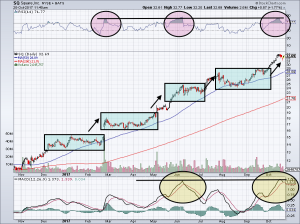 Click to Enlarge Then there's the stock price. Taking a look at the chart, we can clearly see Square stock tends to rally big, then trade lower to sideways for weeks or months at a time.
Now look up top at the relative strength index (RSI), which measures how overbought or oversold a stock is. In March and June, a reading of 83 on the RSI measurement has led to tough sledding for SQ stock.
On the bottom of the chart is the MACD reading, which measures a stock's momentum. Obviously SQ stock has strong momentum at the moment. But based on its previous reading, that too could be nearing a reversal. It's hard to imagine that SQ stock can keep up this kind of run for much longer.
The Case Against Shorting SQ Stock
Investors could easily argue that SQ stock was a short at $30, $31 and $32. Why now is $33 any different? What's to stop Square stock from running to $34, $35 or even higher? Nothing. And that's why investors have to be disciplined. The numbers and levels on the chart line up, although a decline isn't a guarantee.
Why's Square stock attractive? Its business is sticky, allowing Square to rope in customers and keep them. As fees continue to pile up, so too will SQ's earnings, revenue and margins. This is why we like Square stock so much. Square Capital — its loaning business — continues to do great too, with volumes up 68% year-over-year.
Admittedly, its valuation is tough to get a grip on because it's still a young, fast growing company. Square really just got its fundamentals rocketing in the right direction, turning investors more optimistic. The company has beat earnings and revenue expectations for at least four straight quarters. Last quarter, management increased guidance to top consensus expectations.
Square currently has a $12.6 billion market cap, roughly one-seventh that of Paypal Holdings Inc (NASDAQ:PYPL) and its $82 billion market cap. PYPL stock stock trades at a similar but slightly higher 6.9 times sales. One could argue that given its growth, SQ deserves to trade in-line with PYPL stock. However, one could also make the case that because PayPal has a larger market position and is more profitable, it deserves its premium.
I don't think that SQ should trade with a premium over PayPal, given how fast the latter is also growing. That said, I don't find SQ egregiously overvalued because of its future potential.
The Bottom Line on SQ
Square is scheduled to report earnings on Nov. 11th, and it's possible that the stock will continue rallying into that event. I still like the company very much and agree that it would make for a fitting acquisition target.
I don't like the market cap argument against PayPal very much though. PayPal is quite profitable and is expected to generate revenue of $12.8 billion this year. That's far above the $942 million Square will generate.
PYPL's recent earnings only emphasize how well it's doing. On a sales basis, the two have very similar valuations. While Square's market cap gives it room to run, it shouldn't be based solely on the fact that it's so much smaller than PYPL.
Again, I love this name, but looking at it objectively, I think the market's already been quite fair to SQ stock. I expect SQ to consolidate or trade lower in the near-term at least, and possibly for the next few months.
Bret Kenwell is the manager and author of Future Blue Chips and is on Twitter @BretKenwell. As of this writing, Bret Kenwell had a long position in SBUX and NKE, and a short position in SQ.